Like magic, a good point of sales (POS) system works in the background, saving the business owner time and helping to ensure that the store's inventory management is at peak performance. Choosing the right POS, or assessing if your current POS is meeting your needs, is essential for your business.
POS systems typically fall into one of two categories — legacy and modern. Both can handle things like your store's transactions, inventory, business operations, customer relationships, employee schedules and sales performance. Many storefronts use legacy POS systems which are tied to a physical server and location. However, legacy POS systems are designed for physical stores and can bring certain challenges if a merchant decides to expand to selling online. This is why many omni-channel retailers have opted for modern, cloud-based POS systems.
"Many legacy POS lack efficiency and require a lot of manual labour. If you have a system where all of these things come together and the data from all of them can just be fed to one another, then you would be surprised at the amount of time it can save you."
Modern POS systems are key for managing inventory across sales channels, printing labels, syncing orders, making payment possible in a variety of formats, managing order fulfillment and more. Are you leveraging your POS system for all of this?
Whether you're thinking about upgrading or modifying your existing POS system, or testing out your first POS system, choosing the right one is a critical decision for your business, as it can help you create several business efficiencies. Many storefront businesses thrive with legacy POS systems, but if you operate physically and online, a modern POS system might be a better fit. If you are a physical store thinking of adding an online sales component to your business, it's not impossible to connect a legacy POS system with an ecommerce system, but it's not ideal. You can do so through your Order Management System or manually, but it won't be seamless. Modern POS systems, on the other hand, are cloud-based. They're ideal for businesses with both physical and online stores, or businesses that operate solely online. When choosing the right POS system for your bricks and clicks business, you'll want one that can:
Streamline your orders in store and online
Integrate with all functions of your business
Help you manage your data (what you're selling, how much and when)
Below we take a closer look at these capabilities and flesh out why they're so essential for your bricks and clicks business.
Streamline your orders in store and online with the right POS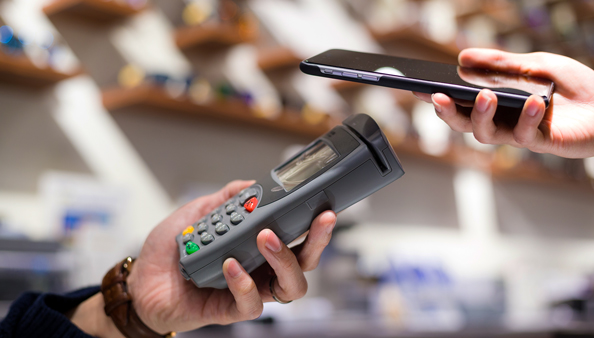 If you want to sell in store and online, while utilizing your resources efficiently and offering customers the best possible experience, you'll need a great POS. Here are some things that the right POS system can help you do:
Manage your inventory in-store, online, or both, in one place
Working with multiple inventory catalogues can be challenging. Look for a modern POS that features a central catalogue where you can manage all your inventory in one place and easily pick and choose what will be sold in each channel. Popular options include e-commerce platforms like Vend, Shopify, Squarespace etc. 
Manage your orders efficiently, avoid overselling, and avoid running out of stock 
You will want to avoid selling items to your customers that you don't actually have in stock, and avoid being out of stock for what your customers want. This is an easy mistake to make — imagine you sell a pair of shoes online, but the only pair of them you have in stock is mid-purchase in store. You've made two sales for one item. It's an awkward situation that all merchants aim to avoid. A modern POS will help you maintain optimal visibility on your stock, flag certain stock items for certain sales channels exclusively, and make order fulfillment a breeze. 
Accept multiple payment types 
There's nothing worse than not being able to make a sale because your customer doesn't have the right payment method. A good POS lets you accept many payment types.
Read more: Avoid the most common inventory management mistakes
Integrate your POS system into all functions of your business
To have a successful business operation, it's important to reduce errors whenever possible and make more efficient use of staff, accounting and marketing time. This can become even more challenging if you operate in both digital and brick-and-mortar channels. To succeed you'll want to choose a POS system that enables you to:
Send daily sales information straight to your accounting system
This saves you time on accounting entries, and helps you reduce the possibility of mistakes.
Update your customer relationship management (CRM) software
This lets you incorporate integrated data about each customer's buying journey and purchases, so you can get to know them and market the right offers and products to them.
Determine which of your marketing campaigns are most effective
Track how offers are performing and see how factors like geography, day of the week and even time of day affect a promotion's uptake by customers.
Your POS is a data intelligence tool. Here's how you can leverage it.
All merchants want a clear picture of their operations and numbers. The clear picture makes it easier to decide which part of the business to invest in and helps determine what to tweak. A modern POS system can generate helpful sales reports and analytics (for both your physical and online stores) so you can assess the performance of your business. This is essential as it will help you:
Use your data to identify trends or issues that need attention, such as your store's peak and slow periods.
Understand who your best customers are, how much they spend in your store, and what they like to buy from you. This can help you better plan retargeting strategies to increase your customers' lifetime value.
Pull sales reports to assess how your stores are performing, what products are most popular in-store versus online, and identify your top sales people.
Access your data from anywhere. Because modern POS systems are cloud based, you can access and pull reports wherever and whenever.
Stay well stocked. A great POS lets you see the stock you have and your inventory levels at a glance, helping you ensure that you have enough of your best products.
Which POS system is right for you?
If you are trying to find the right POS for your business, or modify the system you currently have in place, you need to assess where you're at and where you're going. If you're currently brick-and-mortar but you're moving towards online sales and operate on a legacy system, switching to a modern POS may be a good choice for you, but keep in mind it can be costly.
Before you take the plunge, talk to your POS service provider to see what integrations and upgrades are available to get the functionality that you need. Compare those costs to the costs of changing your POS system altogether. If you decide to migrate to the cloud, look for a robust POS system like Vend or Shopify that can tackle all of your needs. If you're a bricks and clicks business on the hunt for your first POS, a modern POS just makes sense as it will sync what you have and help you track and analyse everything in one place. A modern POS will also be automatically improved and upgraded by the service provider over time, unlike legacy systems that regularly require costly upgrades at your expense.
Ultimately, your decision on the right POS for you should depend on your business priorities and the resources you have at your fingertips.
Learn how to optimize every stage of your e-commerce operations – and satisfy customers. Get your free eBook full of resources designed to help merchants, like you, succeed in their online business.
Get eBook
Content built for Canada's online merchants
Stay in the loop. Get the latest e-commerce tips, resources and news delivered right to your inbox.
Sign up now