Global e-commerce sales are on the rise. In 2014 they hovered at around $1.3 trillion, and are expected to skyrocket to $4.5 trillion by 2021 – a 246% increase. This growth isn't exclusive to traditional e-commerce segments like fashion, health, and beauty. Emerging segments like subscription boxes are also finding success.
Over the last few years, online visits to subscription service websites in the US have increased rapidly by approximately 3,000% – with no sign of slowing down.
If you are a Canadian merchant operating, or aspiring to operate, in the subscription box segment consider how the American market can help your business grow.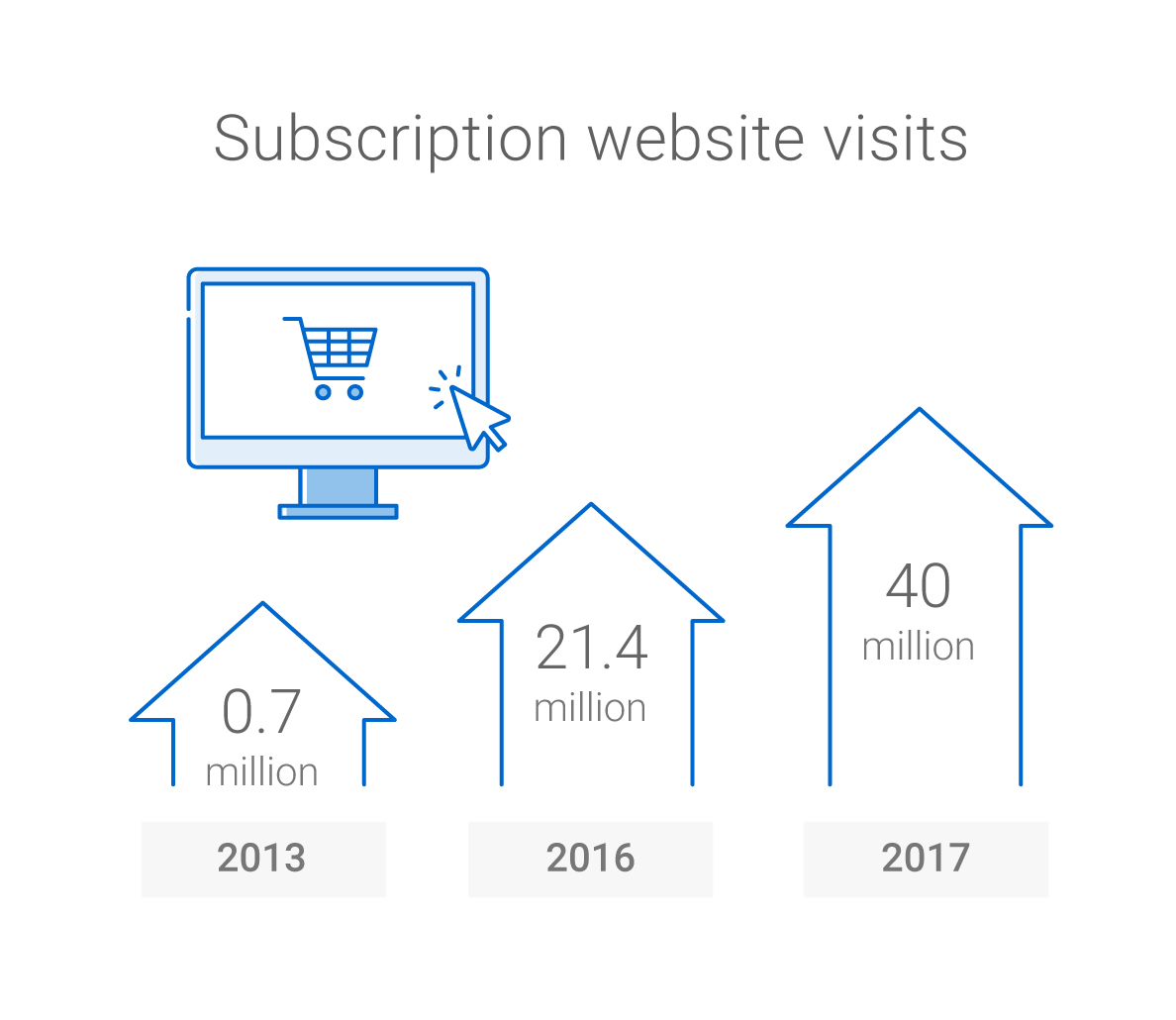 Who buys subscription boxes
It is estimated that there are currently 11 million subscription shoppers in the U.S. This growing e-commerce segment appeals to busy shoppers who don't have time to browse through products on countless websites. Instead of ordering à la carte, subscription box merchants curate packages of products that their customers might like, so they don't have to pick and choose. Subscribers love that the subscription model saves them time, and introduces them to new products. They also value merchants that succeed in catering to their shopping preferences.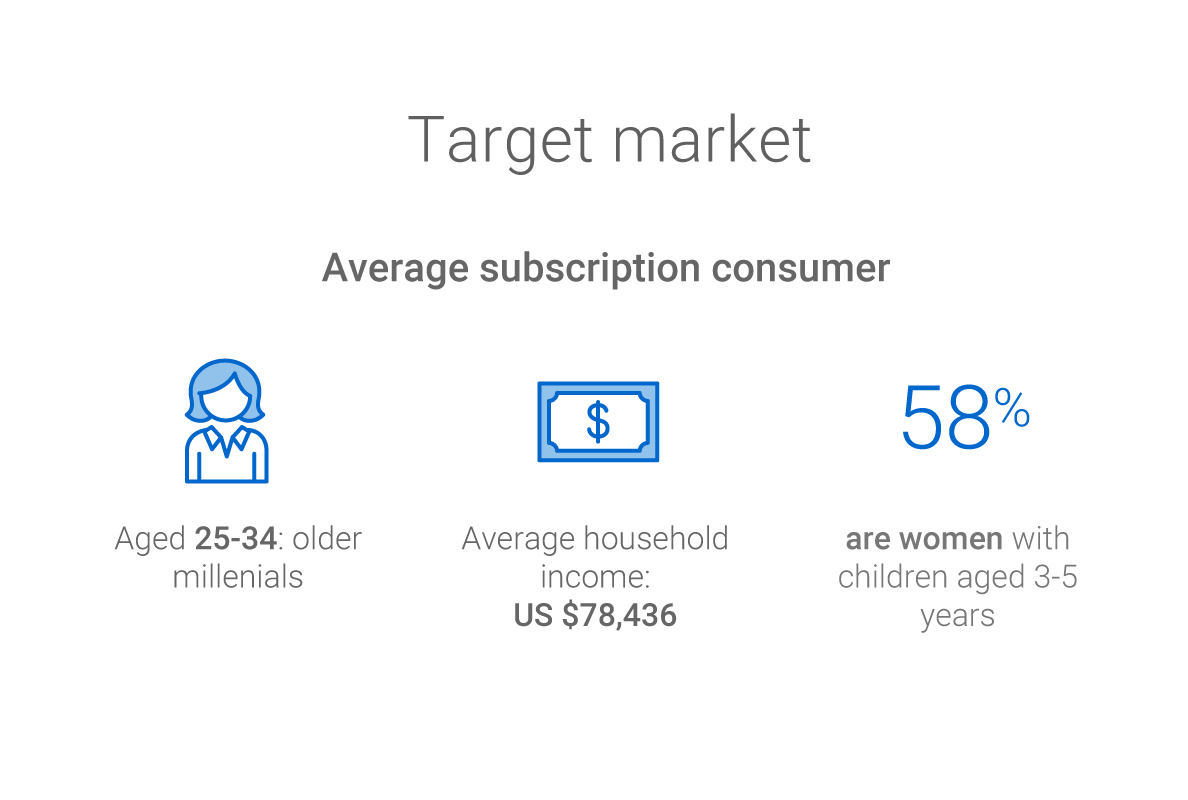 Most of these shoppers are older millennials – between 25 and 34 – and over half of them are women with young children. They are comfortable with sharing personal information in exchange for curated and unique shopping experiences. And most of them seek convenience, fresh ingredients, and unique goods.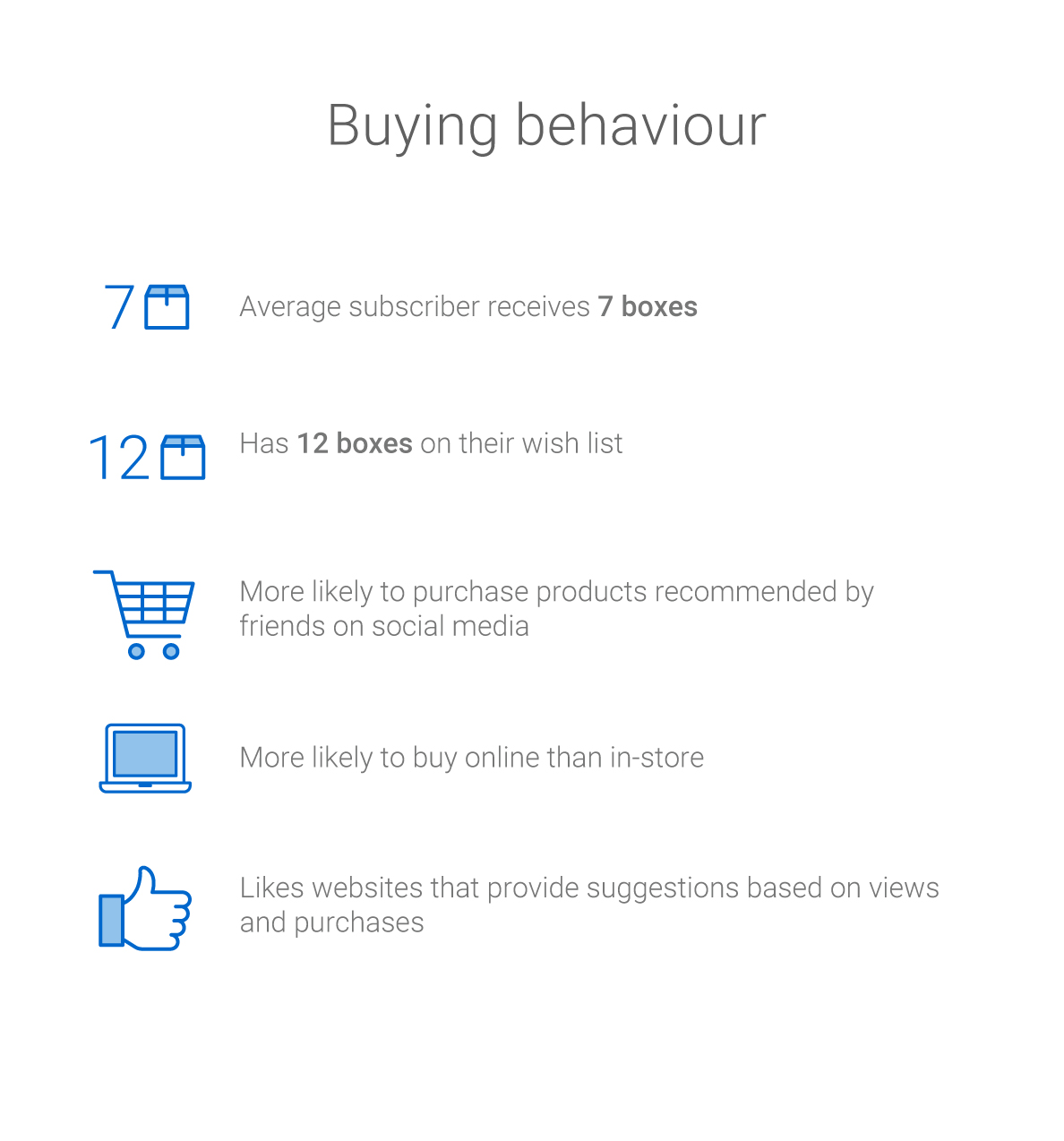 Understanding their buying behaviour is also important to offer a great shopping experience. Our research indicates that they prefer to shop online, and actively minimize their time shopping in-store. They value convenience in every step of the online shopping journey, so a simple purchase process is key. The majority of them visit subscription box service websites while they are on-the-go, using their mobile devices. They are influenced by their peers, and are inclined to purchase products recommended by their friends on social media.
They also value a continuous relationship with subscription box merchants. As a result, they have a preference for websites that offer product suggestions based on their shopping history – including past views and previous purchases.
The most popular types of subscription boxes
While many industries have successfully adopted the subscription box model, beauty, food and apparel boxes are most popular with shoppers worldwide.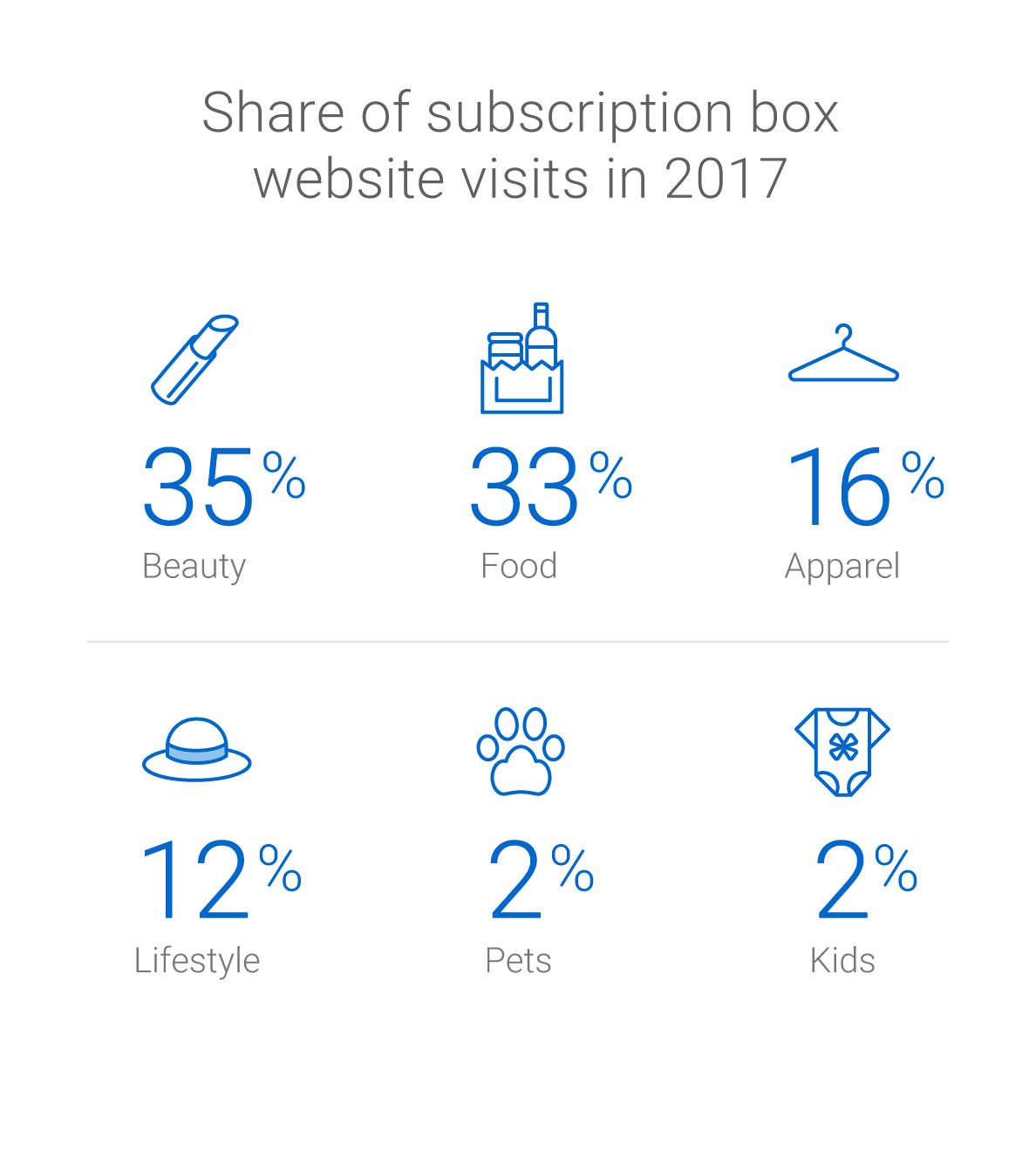 The food industry will likely see the most growth in the near future as shoppers become more comfortable with buying consumable and perishable products. The meal kit segment in particular is poised to grow 20% per year over the next five years.
With the widespread and steadily increasing popularity of subscription boxes, it's no surprise that major retailers like Walmart, Starbucks and Sephora are also testing this model. While it may enhance the segment's popularity, it will also create challenging competition for smaller merchants operating in this space.
Stay in the loop. Get the latest e-commerce tips, resources and news delivered right to your inbox.
Sign up now
What subscription box merchants should know
Merchants who aspire to leverage the popularity of subscription boxes to enter the US market should keep the following principles in mind:
Be mobile-friendly
Most subscribers explore subscription box service websites on their mobile device. A subscription box service website should be mobile-friendly, and the merchant should promote it regularly on social media – where potential subscribers will discover it.
Be personal
Detailed customer data is an essential resource for subscription box marketing. Merchants should take advantage of every opportunity to acquire data from their customers and their preferences. The more data a merchant has on a customer, the easier it will be to get the right products into their hands.
Be memorable
Attractive packaging is incredibly important for subscription boxes. Good design can increase customer loyalty, and enhance brand recognition.
Be accessible
Because of the curated nature of subscription box services, good customer care is key. Subscribers will likely have questions, may want to voice complaints, or wish to coordinate returns with the merchant. The more open communication channels between merchant and customer are, the better.
Show appreciation
The subscription box model relies heavily on repeat customers, so encouraging customer loyalty is key. Merchants should incentivize customers to come back again and again with special offers, promotions, and discounts. Customer communications should be cordial, and offers and rewards should be crafted with customer preferences in mind.
Selling abroad
If you are a Canadian merchant aspiring to sell subscription boxes to the American market, there's no better time than the present to get started. Now that you understand who buys these boxes in the US, their buying behaviour patterns, which box types (beauty, food, and apparel) are thriving in the segment, and how to interact with potential buyers, you are ready to get started.
Offering your subscription boxes to cross border shoppers can be very lucrative, and isn't as complex as you might think. Canada Post can help you reach global shoppers, and ship your boxes with ease.
Sources
1 Statista, Retail e-commerce sales worldwide from 2014 to 2021 (in billion U.S. dollars)
2 Hitwise Consumer Insights Report. Discovery, surprise, inspiration: The rise of subscription box shopping, (n.d.), (consulted on January 26, 2018).
3 Hitwise. Hitwise Analysis Shows Visits to Subscription Box Sites up 3000%, (March 16, 2016), (consulted on January 26, 2018).
4 Shorr Packaging Corp, The State of Subscriptions: A look at e-commerce subscription services, (n.d.), (consulted on January 24, 2018).
5 Daniel McCarthy, P.F. "Subscription Businesses Are Booming. Here's How to Value Them", (December 19, 2017), Harvard Business Review (consulted on January 12, 2018).
6 Whitten, S. "It's not a fad. Meal kits are going to change the way you eat", (November 16, 2016), CNBC (consulted on November 10, 2017).
7 Canada Post. "The Growing Canadian Subscription Box Market", (March 31, 2017), Shipping Solutions (consulted on January 24, 2018).
8 Andrea Cheng. "Meal-kit Segment Attracts Some Big Names – Everyone from Amazon to Tom Brady", (July 17, 2017), eMarketer Retail (consulted on January 23, 2018).
COOK IT, facebook.comcookitboutique, banner image
Want to sell more beyond Canada?
Canada Post has the insights and solutions to help your online store reach the world.
Contact an expert