Running a successful e-commerce business is a constant challenge. The key to success: Ensuring that your online store's e-commerce platform and shipping features are working together smoothly.
3dCart, one of North America's top e-commerce platforms, and Canada Post have worked closely together to integrate features that boost the power of your e-commerce operations and allow you to deliver a superior end-to-end shopping experience.
What Canada Post features are available for my 3dCart store?
Produce automated shipping labels
Boost productivity by creating your own shipping labels directly within your 3dCart store. It's easy, and eliminating the need to measure and weigh individual shipments gets your parcels from the warehouse to your customer's doorstep that much faster.
Here's what you'll see within 3dCart: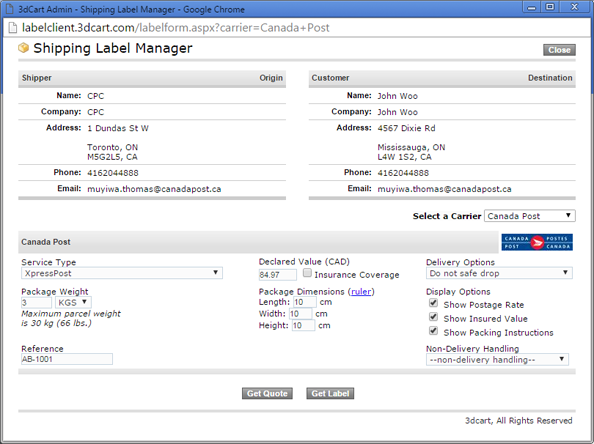 Tip
If you currently use a shipping software like ShipStation, OrderCup or Canada Post's Electronic Shipping Tool (EST) to print your labels, you can always continue as before.
Stay in the loop. Get the latest e-commerce tips, resources and news delivered right to your inbox.
Sign up now
Display real-time shipping details at checkout
Provide shipping estimates to your customers, highlighting shipping defaults and delivery instructions at the same time. By adding your fulfilment time into the calculation, soon-to-be-satisfied customers see more accurate dates for receiving their purchases.
Here's what your customers will see: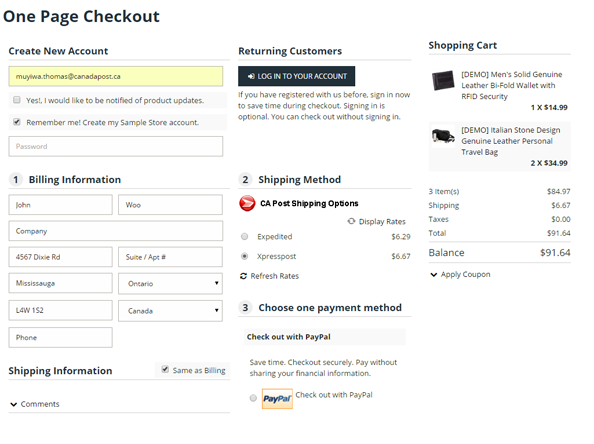 Tip
Display shipping estimates early in the purchase flow to let shoppers know precisely where they stand. According to recent Canada Post research*, 13% of online shoppers abandon their cart when shipping costs aren't provided upfront.
Provide end-to-end tracking
3dCart and Canada Post make tracking easy by automatically emailing your customers a tracking number when the shipping label is created. Customer confidence in your e-commerce store is heightened because they are able to track their last purchase without any problem.
Tip
Tracking encourages your customers to return to your site, or stay longer, increasing the chances of additional purchases or cross-opportunities.
Putting these features to work
How to get started
To setup your 3dCart store with Canada Post and access these features, you need to:
Log into your online store manager
Go to settings and shipping and click on the 'enter settings' button located under Carrier Settings
Click on 'Canada Post' as your desired shipping carrier and provide your account credentials
Click "save settings" and you're good to go
Tip
The above steps assume that you already have a Canada Post account. If you don't, 3dCart allows you to quickly register and create a Canada Post account.
Looking to print a Canada Post shipping label from within your 3dCart store? Here's a tutorial.
Tip
Remember to prepare your manifest at the end of each day to ensure everything is documented and ready for shipment with Canada Post.
Setting up real-time shipping is quite straightforward. Here's what you need to know.
Streamline your e-commerce shipping
Canada Post has a team of e-commerce solution integration experts to help online merchants like you.
Contact an expert