What's it like to be on the receiving end of a YVR Cookie? Well, it's quite the "crispy" experience, and the Vancouver-based gourmet cookie e-retailer would not want it any other way.
YVR Cookie's perfect customer experience
Let's take a quick look at a customer experience packed with surprises from start to finish: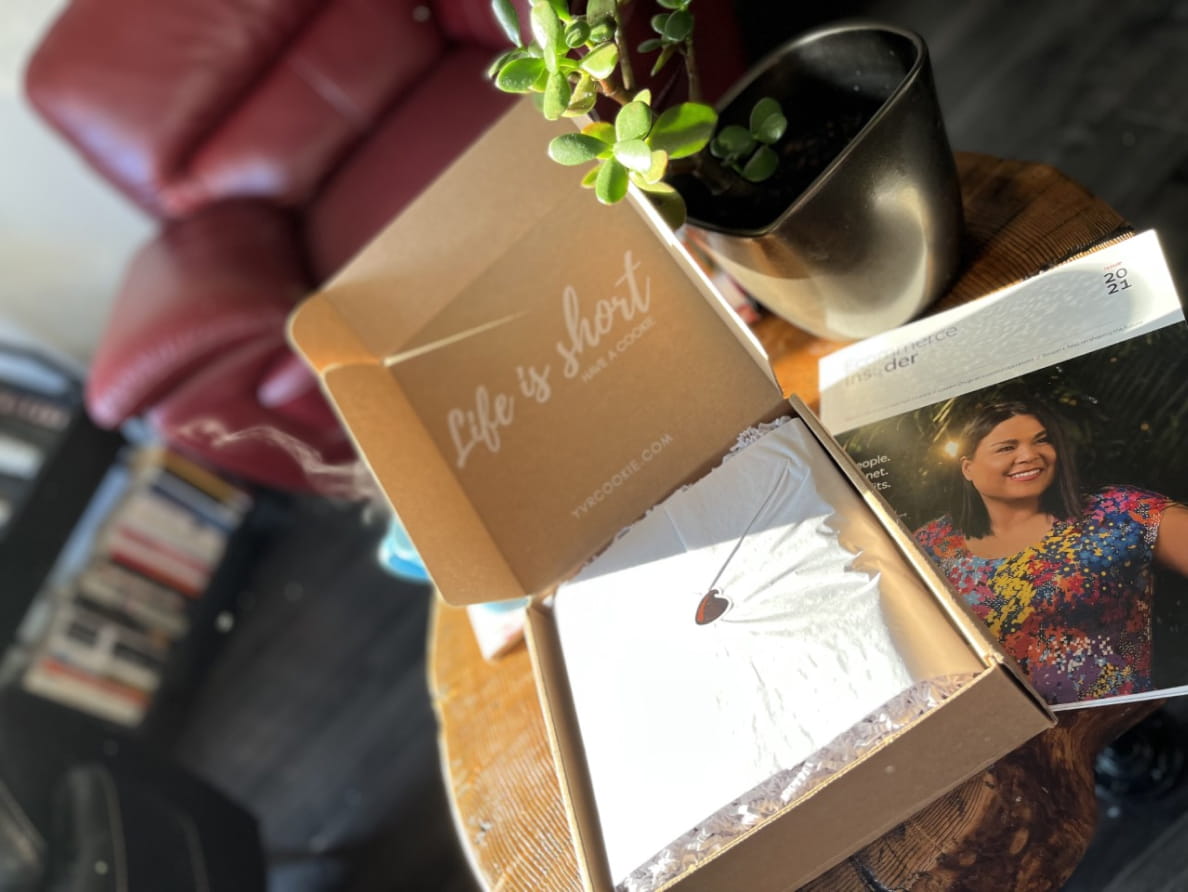 Package arrives in a sturdy cardboard box, which is then opened to reveal tightly folded tissue paper sealed with a sticker, along with a brief message on the lid reading: "Life is short. Have a cookie."
If you ask the founders Monique Lisek and Konstantyn Kopystynski, they'll tell you the packing, shipping and, most importantly, unboxing process is almost as important as the treats themselves.
YVR's recipe for a stellar unboxing experience
They love to use the word "crispy" to describe the packaging – and that is a perfect word for it.
"I was probably really annoying when we first started because I was so focused on making sure that the tissue paper was really crispy and clean and had a cute little sticker on it," Lisek laughed. "But I wanted the experience to be really different – not high-end, exactly, but more of a fun experience, like it should be when you're receiving something like a box of cookies.
Personally, I love unboxing stuff with any sort of shipment, I cannot wait to open it up and see what the experience is like. I am designing an experience for people like me. It's so much fun, so it was important to me.
For more inspiring stories like this one, explore our digital magazine – Ecommerce Insider.
Explore magazine
Putting the perfect experience in their customers' hands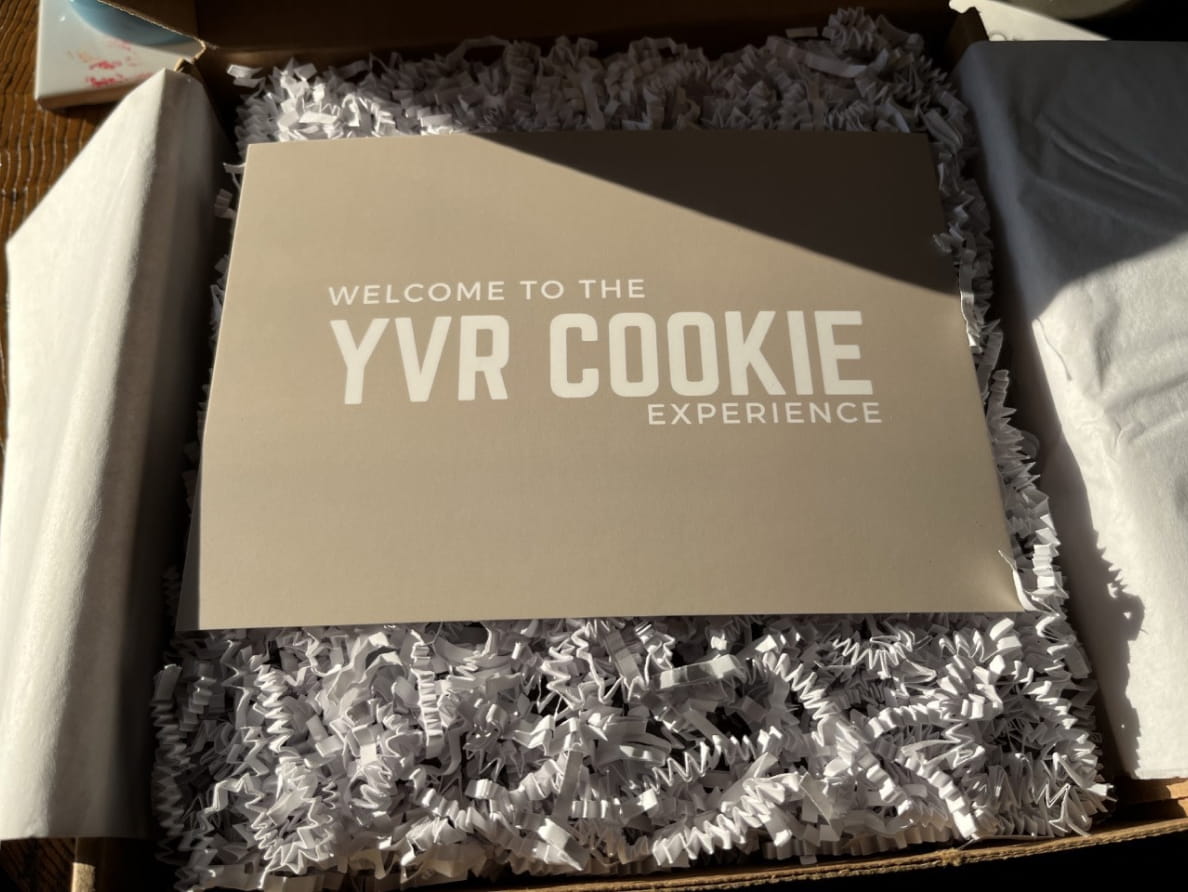 Below this tissue paper, the customer finds a welcome note atop crinkly packing material. Flip the welcome note and you'll discover: Encouragement to share your experience on social media; a QR code leading to nutritional information on the company website; and reheating instructions for the cookies still to be found below.
Don't discount these instructions; they are a huge part of the experience, as it lets the at-home consumer enjoy the cookie as if they were picking them up directly from the bakery.
"One of the challenges we had early on was how do we get people to microwave their cookies – and it's a challenge we still face today," Lisek explained.
---
You might also like:
---
While clearly spelled out on the card, customers still miss the instructions, so the company continues to look at ways to refine their microwaving messages, be it through their own marketing or when they work with influencers.
While Lisek hesitates to say it's the "best" way to eat their cookies – "we know some customers like them cold" – reheating is certainly what she had in mind for the end consumer while she was coming up with the recipes.
"Ideally, I want every customer to have a really, really amazing experience, from start to finish. That's the goal. So, like having a gooey, warm, super melty cookie is part of creating a super epic experience they see on Instagram or in the videos we take. It is super important that they can achieve that at home."
Keeping customers coming back for more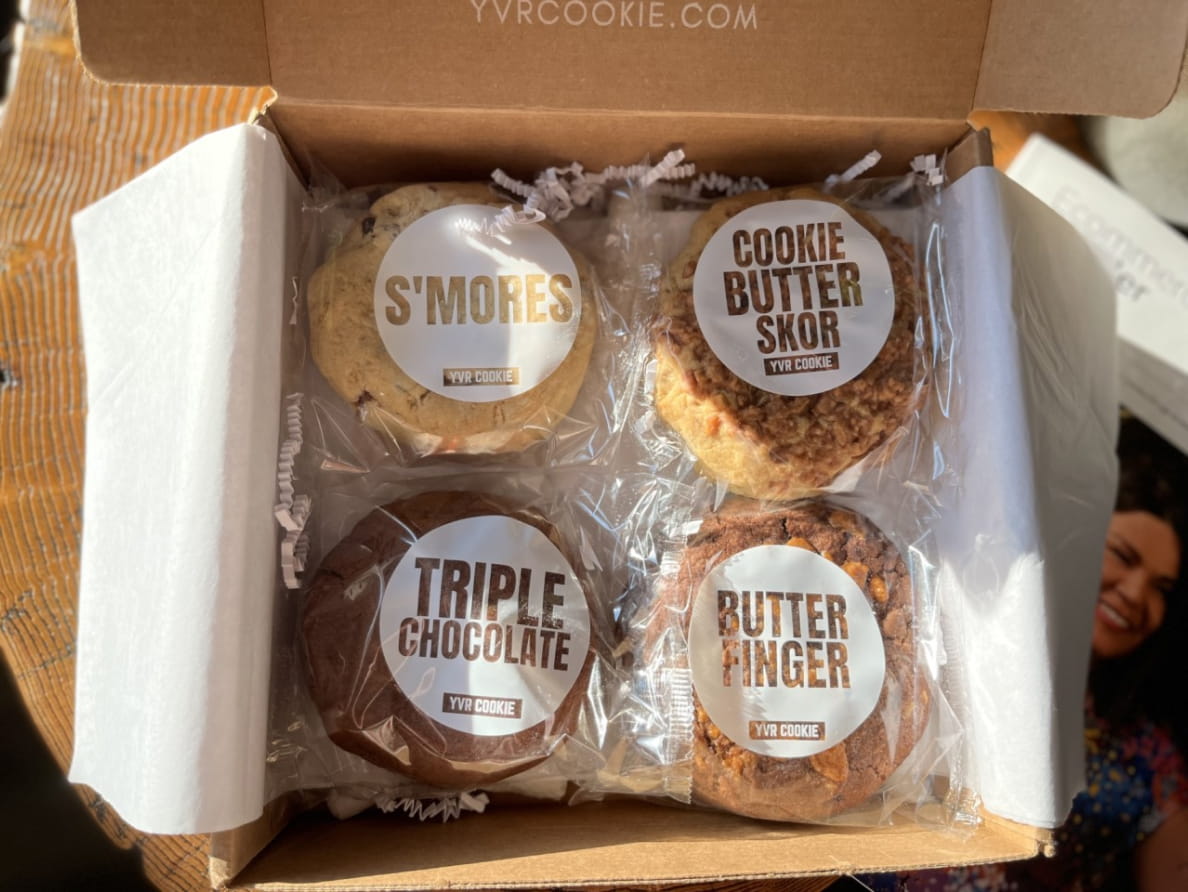 Another layer down – at last – you find the cookies. Individually cello-wrapped and labeled, the cookies sit on top of biodegradable packing peanuts and come with a coupon for your next order.
"The unboxing experience had to be great from the start," Lisek explained. "We wanted it to look nice, for customers to want to take photos and videos with it. Normally, you buy a box of cookies, peel back the aluminum and have some cookies there. I wanted to be different, immaculate every single time, fun and Instagrammable. I wanted people to take videos of unboxing. I wanted them to want to share."
Achieving this experience did not happen overnight. Through a series of trial-and-error experiments – on everything from tissue paper to packing materials to stickers – the YVR Cookie team landed on the current experience. The whole team makes it their job to ensure quality and consistency.
"We have an incredible group of people who care so much about the experience," Kopystynski said.
The power of a great unboxing experience
As YVR Cookie shows, creating a memorable unboxing experience takes strategic investment, but it is a powerful marketing tool that can help differentiate your brand, generate return customers, and attract new ones. It can be as simple as a handwritten letter of thanks, to the inclusion of product samples or special offers, all the way to branded boxes. This may seem like a somewhat inconsequential interaction, but it's actually a great (and often untapped) opportunity to really connect with your customer.
Want to take your ecommerce business to new heights?
Talk to an ecommerce expert from Canada Post.
Contact us
Jason Winders is a Sr. Content Strategist and Writer with The&Partnership. Jason Winders is an experienced writer and editor working within advertising/marketing, sports, postsecondary education, and community newspapers in both Canada and the United States. Currently, he is a Sr. Strategist and Writer for The&Partnership.Read more by Jason Winders