Companies looking to attract the business of the millennial generation – often found  immersed in their smartphones – are finding success through a surprising marketing channel. A recent survey by Harris-Decima reveals that young adults are the Canadian consumers most likely to notice and read advertising mail. Nearly 3 out of 4 of them open and read1 direct mail – with even more tearing open the envelope if it's from a business they have a pre-existing relationship with.
Alexa Nick, a consulting partner at Bottom Line Group, saw this discovery in action recently when, at the end of a long work day, she asked her teenage daughter to collect the mail. She describes what happened next, "My daughter came back literally jumping up and down in excitement, exclaiming 'Look, Mom! I got my Starbucks' reward card!' She was waving the envelope and card around." Ironically, Nick had spent the day preparing for a presentation on the power of physicality in marketing, and the impact of a well-done piece of direct mail.
She asked her daughter why she was so happy, wouldn't receiving the loyalty program through her Starbucks' app be just as good? "No! It wouldn't be as exciting… it wouldn't be so special if it was through online. I wouldn't be getting the actual, legit thing!" Katie's final statement articulated a constant finding in marketing studies – customers are more likely to feel valued2 when brands contact them through mail.
Millennials are most likely to save direct mail
The 18 to 29-year-old consumers in the Harris-Decima survey were the most likely to hang onto the advertising mail they received – 40% of them saved it –up to 50% if they already did business with the sender1.
Nick saw the proof of this in her own daughter, "I was surprised Katie was so thrilled with her card. Maybe it made so much impact on her because millennials don't get mail anymore. So it was special. And it was beautiful – a nice card and an elegant envelope. She's kept the "Congratulations" card – it's on her bedside table – because she thinks it's important. The loyalty card went into her wallet."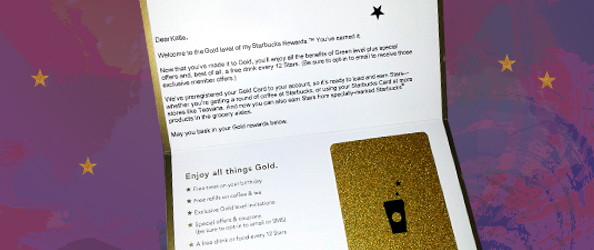 The Starbucks' loyalty campaign brilliantly leveraged the three pillars identified in the Canada Post Smartmail Marketing™ studies as the key to generating high response rates – physicality, data and connectivity.
Physicality.  The high-impact design and luxurious feel of the card immediately conveyed a sense of being valued to Starbucks' customers.
Data.  Loyalty cards encourage customers to come back, provide valuable insights into what will keep those customers coming back, and also provide acquisition leads into neighbourhoods that might be more responsive to an unaddressed acquisition mailing.
Connectivity.  The campaign connected the digital convenience of the Starbucks' loyalty app with a tactile reminder celebrating the message, "Welcome. You've earned it." It reinforces the Starbucks brand every time Katie opens her wallet.
They really are social: Millennials are the most likely to share direct mail
Millennials, exposed to a constant stream of digital marketing, seem to enjoy the novelty of physical mail more than other generations. Not only do they pay more attention to it than any other consumer age group, they are also the most likely to share it – 77 per cent of them1 bring it to the attention of another member of the household.
Putting your brand in a customer's hand is a smart move – it's memorable, persistent and it drives action.
1 Source: Canada Post / Harris Decima, Direct Mail Engagement Omnibus, July 2015
2 Source: Royal Mail MarketReach, The Private Life of Mail, January 2015