Shipping is full of challenging paradoxes to navigate: Be speedy but still sustainable, be efficient but provide a memorable experience, be secure but have it waiting on the doorstep.
One of the most challenging balances you will need to strike, however, is between demands for free shipping and the need to maintain profitability. Our in-house experts have shared their insights to guide you as you plan your shipping strategy, sharing their best tips for crafting effective e-commerce shipping strategies.
TABLE OF CONTENTS
Make free shipping work for you
Offset your shipping costs to facilitate free shipping
Manage returns with the right solution
Consider alternatives to free shipping
Plan your shipping strategy
In today's e-commerce landscape, companies are using their shipping strategies to increase conversion. There are a variety of strategies worth consideration. Free shipping, for example, has become a must-have to remain competitive. While the vast majority of customers expect free shipping, they also reward it, as 84 per cent will shop more often with a retailer that provides free shipping.1
If you decide to offer free shipping, it's critical to gauge the impact of this decision on your bottom line. Even if you make more sales, losing money on each one will eat away at your profits. To determine if offering free shipping is right for your business, there are a number of factors for consideration as you develop your strategy. Our in-house experts have shared their insights to help you make the most of your shipping strategy.
Your customers are pretty clear about their needs. Research shows that 66 per cent say shipping is the most important factor when making an online purchase and 76 per cent are willing to wait longer for a package if shipping is free.2 So if you have to choose between free or fast – and you can make it work financially – go with free.
That said, arriving at a sound shipping pricing strategy that makes sense for your business, while also balancing customer needs, is not intuitive. You'll need a solid plan and plenty of data.
Rely on data, not your intuition
This is not a guessing game. Do your research. Do not hesitate to look at what similar retailers are offering and how their solutions might fit your challenges.
Base your decisions on data. Use analytics tools, such as Google Analytics, or even customer polling via social media, to monitor and understand the traffic and drop-off on your site. Most e-commerce platforms provide reports that identify how many users exited and at exactly which step. By reviewing abandoned cart sessions, you can identify elements of friction and see exactly where your shoppers are having problems. Shipping fees may be the pain point.
Know your margins
Take time to research optimal shipping options for your business. Figure out what the average cost to ship each of your products is and whether this is offset by your existing margins. With this understanding of acceptable margins, you can establish a shipping policy that works for your business.
Consider the drawbacks of not offering free shipping
When weighing your options, circle back to the data you have mined on your customers. Utilizing your shipping strategies and practices to increase conversion can benefit both your business and your customers. Conversion rates drop by as much as 50 per cent if free shipping is not offered. Shoppers are cross-shopping, and evaluating shipping policies in the process, and are likely to go elsewhere if 'free' isn't offered somewhere in your policy.3
Stay in the loop on all things e-commerce by subscribing to our newsletter.
Sign up now
Make free shipping work for you
The number of merchants who offer free shipping is climbing rapidly in response to shoppers' expectations and the intense competition in e-commerce. Of course, while the old adage says the good things in life are free, shipping is not: someone always pays. But you can make it work by deploying the right free shipping strategy for your business.
Offer free shipping with no restrictions
There is no rule that you have to create any rules around free shipping – you can simply make it free. Before doing so, make sure you fully understand the impact on your bottom line. But it is possible. Take Canadian family fashion retailer Smash + Tess, for example. The company offers free standard shipping on all orders, regardless of size, with a shipping address in Canada and the United States.
Don't be afraid to be selective in where you offer free shipping in order to maintain your margins. You can keep it in place for accessible delivery areas, like city centres and suburbs, and limit it for more rural or remote locales.
Establish a minimum purchase threshold for free shipping
A common strategy is to offer free shipping for orders over a certain dollar amount. You're aiming for that sweet spot where customers are willing to spend a bit more to reach the free shipping threshold – without pushing them to abandon their purchase altogether.
Why not set a bar and see if customers reach for it? We have seen how providing a minimum purchase threshold can be a powerful motivator for shoppers, as 70 per cent say they'd shop more often with a merchant if they were offered free shipping with a minimum purchase.
But what should that threshold be? Many merchants set their minimum purchase threshold at or around their average basket size.
Shoppers are most willing to top up their cart or pay for shipping for baskets worth between $50 and $100, especially in the following retail categories: consumer electronics and home décor/housewares/small appliances.4
When setting a minimum purchase threshold, it's important to ensure your margins will offset the cost of shipping. Also keep in mind that the number doesn't need to be set in stone.
You can experiment a bit by incrementally increasing the threshold and seeing if your average basket size grows. But be mindful, increasing your threshold will likely decrease your overall conversion. For example, if you are a merchant with an exclusive product mix, moving your minimum purchase threshold from $75 to $100 will drop your conversion from 91 per cent to 49 per cent, but that breaks down to 25 per cent of shoppers who will extend their basket an extra $25 to get free shipping. Ask yourself, "is the increase in average basket size enough to offset the decrease in conversion?"
Jennifer Harper, founder of Cheekbone Beauty Cosmetics, arrived at a free shipping threshold of $59 for Canadian and $99 for U.S. orders. But that didn't happen overnight. Early on, the company's margins did not allow for free shipping. But with that as their goal, the company kept testing and re-testing different price thresholds to get the number close to free. They continue to refine operations and supplier costs to the point that Cheekbone Beauty's future plans include offering free shipping across all orders.
For us, it was the idea of 'let's throw some spaghetti at the wall and see if it sticks'.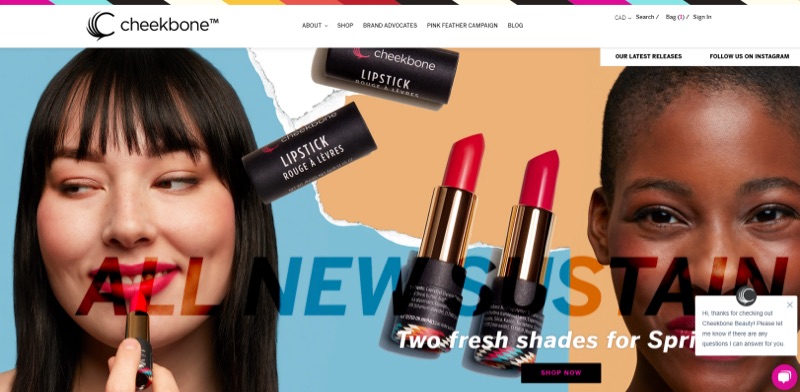 Cheekbone Beauty's website showcases their new product release.
Offer free shipping at key times
For many merchants, it's not realistic to offer free shipping with no restrictions year-round, yet many implement this strategy during key selling periods. Implementing free shipping with no restrictions is a perfect opportunity to expose your brand to a new segment of shoppers during peak selling periods, such as the holiday season or back to school, when they are engaged and ready to buy. Don't forget to promote this strategy to draw new eyes to your site and create additional selling opportunities.
Want to generate some customer activity to move old stock or promote a new product? Try offering free shipping on specific items for a limited time.
Let customers decide if free shipping outweighs fast
Free may not always outweigh fast. While most shoppers will choose the least expensive delivery option more often than not, many still expect to be presented with faster alternatives.
To refine your shipping pricing strategy, consider offering your shoppers several choices of delivery speeds, such as priority or express delivery. Even those who qualify for free standard shipping may still choose to pay for faster options instead, reducing the impact on your bottom line from subsidizing free shipping. Old Navy, for example, empowers customers through their shipping cost options.

Old Navy's website features a chart that outlines shipping and handling cost and delivery ETA options for their customers.
Test if your strategy works
Test and evaluate your shipping practices to ensure they're working. Use A/B testing to validate effective e-commerce shipping strategies for your business. This method of testing allows you to compare two pricing approaches and determine which one is performing better by looking at your conversion rate.
To test your strategies, collect conversion statistics from your checkout that can be used as a baseline for performance. Then, consider making one adjustment to your shipping page and tracking how that change affects visitor flow versus your current strategy.
Let's say, for example, that your average basket size is currently $50. In this case, you might test a free shipping offer with a $75 minimum purchase to see how shoppers respond. Then, modify each variation, taking time to measure the results against your baseline. If a pricing adjustment performs better, then you're onto something.
When conducting A/B tests like this, make sure you're monitoring incremental changes and only test one variation of an element at a time. Otherwise, you can't be sure where to attribute the results.
Offset your shipping costs to facilitate free shipping
For most retailers, the barrier to offering free shipping is covering the costs of shipping. These costs can eat into your profits if not anticipated and offset. There are many ways to reduce your shipping costs, making offering free shipping more feasible for your business. Here are two ways to offset your costs.
Choose your packaging carefully
In addition to protecting products in transit, the right packaging choices can help you keep your shipping fees in check. However, the opposite is also true. Failing to pay attention to packaging can yield consequences no merchant wants to face, including unnecessary expense.
Savvy merchants who understand the power of packaging know that optimizing it will help their bottom line.
Along with packaging measurements and weight, the distance and speed of the delivery factor into the cost of shipping an order. The starting price for shipping an item is based on either the item's actual weight or its volumetric equivalent, which is a calculation based on the size of the parcel. Whichever is greater will dictate the price.
What does this mean for you? Here is an example: If you are shipping a pillow in a box big enough to accommodate a TV, then your shipping cost will be based on the dimensions of the box – or its volumetric equivalent. This means it is to a retailer's advantage to ship items in the smallest boxes possible – without compromising the safety of the order's contents.
Try sustainable solutions
E-merchants can save on shipping costs by instituting sustainable efficiencies. Reducing packaging waste is a great place to start. Try minimizing your packaging material or creating a reusable packaging program for your company.
Incorporating sustainable practices is also a great way to keep your customers content. The new reality is that consumers want their packaging to be easily recyclable and for retailers to do everything they can to reduce their carbon footprint. For instance, 51 per cent of Canadians indicated that their packages contain too much packing material that seems unnecessary and wasteful.5 It's important to communicate the efforts you are making to be more sustainable – especially to prospective customers. Tru Earth, for example, outlines their commitment to sustainability and protecting the environment on their website. Bottom line: Your packaging can be a way to offset your costs and function as an influential pre-purchase factor.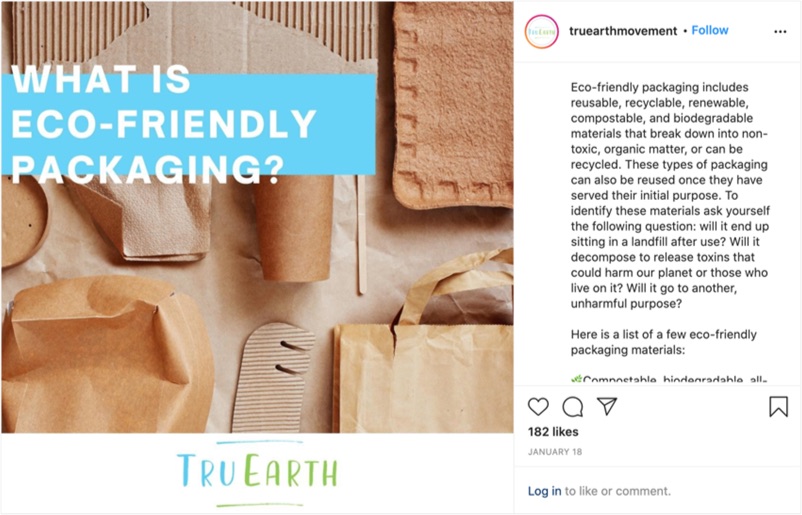 An Instagram post from TruEarth defines eco-friendly packaging and shares a list of eco-friendly packaging materials.
Manage returns with the right solution
As online shopping has ballooned, so have returns. While only 8 per cent of items purchased in-store are returned, that number jumps to 25 per cent for online purchases.6 Instead of looking at returns as a hassle, view them as an opportunity to distinguish your business from the pack. By offering customer-friendly returns, and potentially covering the cost of return shipping, your business can stand out.7
Keep costs in mind when offering free returns
You'll want to consider the potential costs related to implementing a free returns solution. It's only free for your customers after all! For example, free returns can become costly on items with high shipping costs. Therefore, think about which products are worth offering with free return shipping. Light and small products with healthy gross margins are good candidates as the reverse logistics costs won't eat up all your profits.
Ultimately, the solution you choose is subject to how much you are ready to invest.
Share the costs of returns
If it isn't realistic to cover the cost of return shipping, you can share the cost with your customers. Here are a few ways to offset the cost of returns:
Charge a small restocking fee when refunding your customer (e.g. Outdoors retailer Skiis and Biikes deducts $14 from a customer's refund to cover return shipping.).
Offer customers credit toward a future purchase instead of a full refund.
Use a flat or discounted rate to ship returns to reduce a shopper's reluctance to buy from you.
Charge a flat fee based on the reason for the return (ordered multiple sizes, multiple colours, etc.).
The pitfalls of sharing the costs
Retailers must be mindful that a customer's "reaction to free shipping goes beyond the normal way of looking at cost and benefit," explained Ravi Dhar, the Director of Yale's Center for Customer Insights. By placing the burden on consumers, you may compromise your competitive edge in the marketplace and miss out on an opportunity to attract consumers and motivate customers to click that buy button.
Keep returns to a minimum
The cheapest return is the item not returned in the first place. Keep returns to a minimum by helping customers choose the right item. Provide detailed product information, multiple size charts, FAQs and useful images. Such additions improve shopper confidence and will reduce returns.
Consider alternatives to free shipping
If free shipping will not work for your business, there are other effective e-commerce shipping strategies to consider.
Try flat rate shipping
One-in-four retailers charge a flat fee for shipping across all product lines and destinations.8 This policy is commonly adopted by fashion merchants.
Adopting a flat-rate approach requires a bit of preparation as you need to figure out your average cost of shipping a variety of package sizes and the areas of the country that you service (local versus national). This may sound like a lot of work, but it's a must if you want to remain profitable. Candle retailer Coal and Canary, for example, offers $5 flat rate shipping anywhere in North America.
Flat-rate shipping can actually extend your reach into new markets. A customer in PEI might be more willing to shop a store in BC if they knew they wouldn't be charged more for shipping simply for being farther away.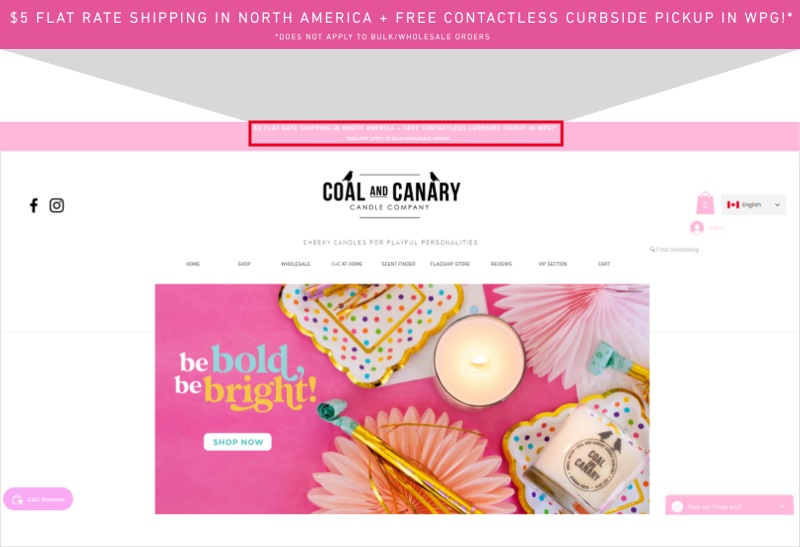 Coal and Canary's website promotes $5 flat rate shipping in North America and free contactless curbside pickup in Winnipeg.
Pass shipping fees on to customers
If free or flat rate shipping isn't feasible for you, real-time shipping estimates may be the way to go.
By connecting your checkout to your shipping provider, your customers will be presented with a real-time shipping quote based on the total order cost, number of products, size and weight of all items in their cart and destination. To facilitate real-time shipping estimates, you'll need to know where the order will ship from (this is especially important to consider if you have more than one location), the destination of the order and the weight, in order to provide customers with an accurate shipping cost for their order.
Your customer will be charged the same price that you'll incur when you ship their order. This enables customers to weigh the value of the items they want against what it will cost to get them to their door.
Within real-time shipping tools, merchants can set a percentage or dollar amount off the shipping cost being absorbed by the customer to help subsidize the costs. This is a good starting point for merchants looking to explore improvements or changes to their shipping strategy and policies.
Offer free pickup
Consider leveraging your brick-and-mortar locations to offer customers free pickup as an alternative to paid shipping – especially during key selling seasons. Up to 25 per cent of shoppers would select in-store pickup if the option is free and the pickup location is convenient. Offering free in-store pickup can help save the sale and drive traffic to the store, allowing you to mitigate increased online traffic brought on by customers at a distance by leveraging your physical location(s).9
In addition to offering free shipping on any purchase of $100 or more, Quebec-based Clément, a children's clothing retailer, offers reserve, pay, and pick up in-store programs at any of its 30 locations across Canada.
Clément's website promotes free shipping with a threshold of $100+ and free in-store pickup on all orders.
Get expert guidance
When it comes to shipping strategies, there is no one-size-fits-all approach. There is a lot to consider, and you need to invest time to define the right strategy for you. To do so, you need a deep understanding of your business and its customers' needs, combined with the right information and a touch of creativity.
You are not alone in this effort. Countless businesses have been in the same spot and can offer lessons and best practices to guide you forward. Armed with industry insights and knowledge of the e-commerce market, our expert sales team can help you plan your shipping pricing strategy.
In a competitive landscape, a sound free shipping strategy is vital to meeting customers' expectations while setting your business up for financial success moving into the future.
Sources:
1 2 Canada Post. 2020 Fall Survey, 20-2014, October 2020.
3 4 Canada Post. Is the price right? Designing an effective shipping pricing strategy.
5 Canada Post. Mastering your e-commerce operations: Your guide to packaging.
6 Total Retail / Women in Retail. How to make free shipping possible,  2020.
7 Canada Post. Mastering Your E-Commerce Operations: Creating A Win-Win E-Commerce Returns Strategy.
8 9 Canada Post. Is the price right? Designing an effective shipping pricing strategy.
Let us guide you
Whether you're developing a new free shipping strategy or tweaking an existing one, we can help.
Contact our team