Canada Post's harbinger of spring is ready to bloom
Annual stamp issue is beloved by gardeners and brides-to-be.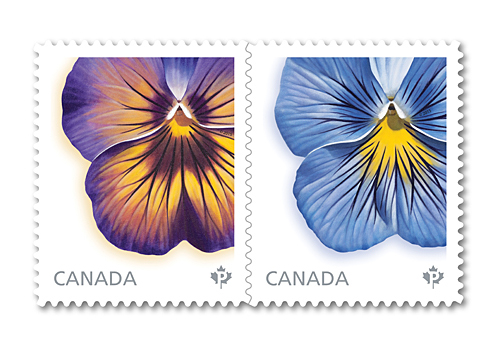 Annual stamp issue is beloved by gardeners and brides-to-be.
OTTAWA (Ont.) – Canada Post's much-anticipated annual floral series is this year featuring fresh-faced pansies. These vibrant blooms can be found growing in flower beds across Canada, thanks to their hardiness – and because their seemingly smiling faces are irresistible.
Traditionally, the images on the annual floral stamps have been photographic. However, this year's design takes a romantic illustrated approach, making them even more appealing to brides.
Seeking to adorn their wedding invitations, brides each year anticipate the release of the annual floral stamp series. Also popular is Canada Post's Picture Postage®, which allows couples to personalize their stamp images by using an engagement photo, flowers from their planned bouquet or something uniquely meaningful to the special day.
"While our stamps help tell the important stories of Canada, they can also help Canadians tell stories that are important to them – whether that's a celebration of spring, news of a wedding or the anticipation of a garden blooming with pansies," says Jim Phillips, Director of Stamp Services, Canada Post.
The two Permanent™ rate stamps each feature a colourful pansy variety. On one, there's the yellow-accented true blue 'Delta Premium Pure Light Blue'. On the other, a 'Midnight Glow' Icicle Pansy is resplendent in shades of purple, pink, orange and yellow.
First-time stamp illustrator Laurie Koss created the images, producing a more intense and intimate study of natural form, light and movement of the flower.
Pansies – which comes from the French word "pensée," meaning thought or remembrance – have special meaning to Canadians. Former Newfoundland governor and English naval officer Lord James Gambier, along with gardener William Thompson, produced the familiar flower in 1839, after crossing various species of viola.
About the stamps
The Pansy stamps measure 26 mm x 32 mm and use lithography in four colour process, plus tagging on 4 sides. Lowe-Martin will print the stamps, which are available in booklets of 10, on souvenir sheets of two stamps and in a coil of 50 stamps measuring 24 mm x 20 mm. The stamps were illustrated by Laurie Koss and designed by Marcio Morgado and Paul Haslip (HM&E Design Communications).
The Official First Day Cover will be cancelled in Pansy, Manitoba.
To purchase philatelic products, please visit canadapost.ca/shop. To create personalized stamps, please visit www.PicturePostage.ca.