Know what's coming your way
There's no need to check an empty mailbox again.
Inbox or app? It's your choice
Get timely updates through the app, in your inbox or both.
Mail that fits your routine
Plan your trip to the mailbox, knowing what you'll find.
What types of mail are included in MyMail?
Through MyMail, we'll update you about incoming LettermailTM, Personalized MailTM and Neighbourhood MailTM.
Certain mail types are not included yet, but are planned to be, including magazines, catalogues, and oversized mail (with dimensions exceeding 245 mm x 156 mm x 5 mm). We also won't be able to notify you of personal mail, like a postcard from a friend.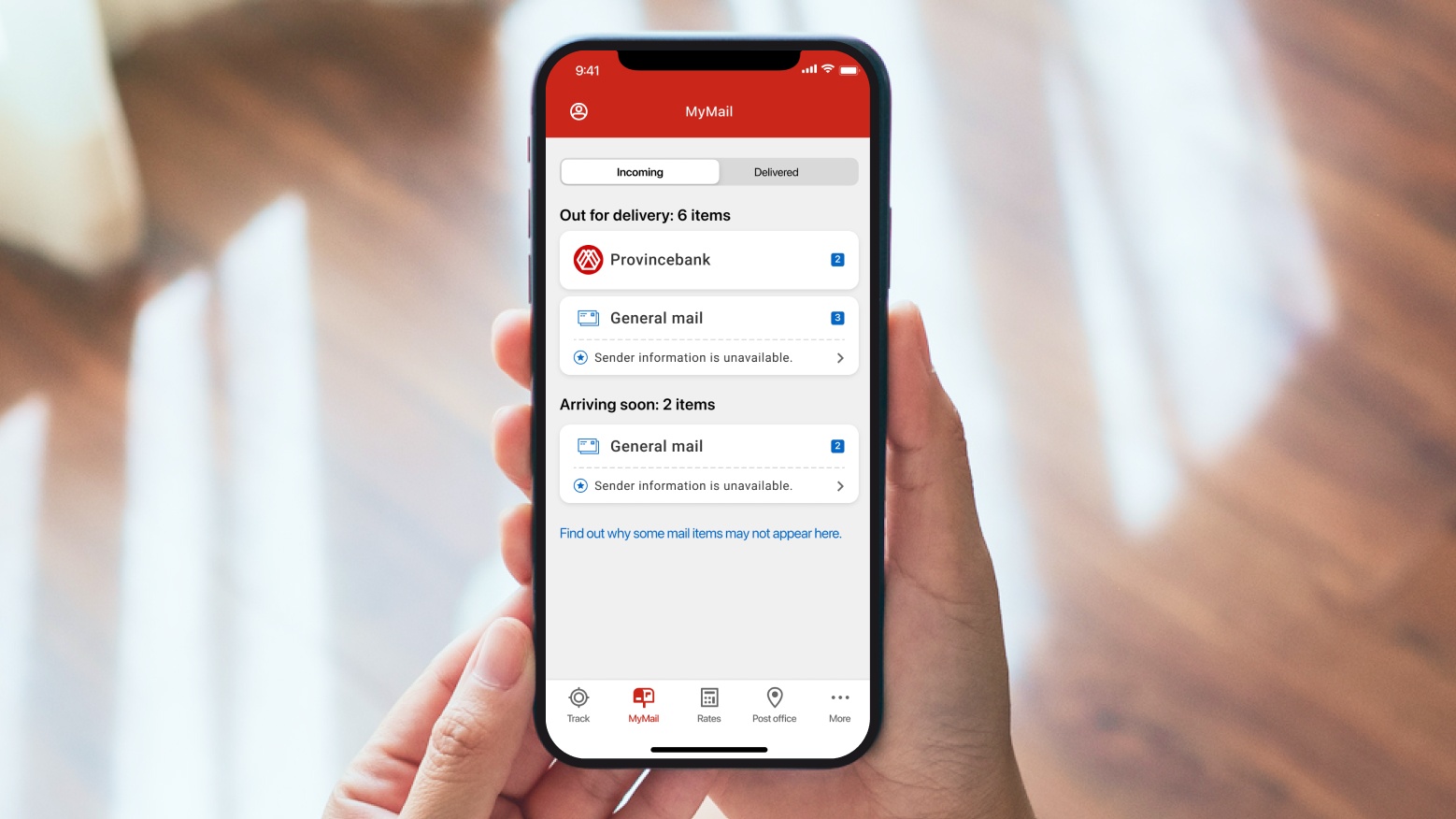 Get started using MyMail
Follow the steps below.
Step 1: Download the Canada Post app Download the Canada Post app or open the app on your mobile device.

Step 2: Sign in or create your Canada Post account

The app will ask you to sign into your Canada Post account. If you don't already have one, you'll be asked to create one in a few easy steps.

Step 3: Find out if your mailing address is eligible

MyMail is expanding to new areas across the country but is currently only available to certain mailing addresses. Subscribe to MyMail to find out whether your address is eligible.

Step 4: Get notified about incoming mail MyMail sends you notifications about mail arriving at your address – whether you're the recipient or someone else in your household is. After registration, Canada Post will send a notice letting members of the household know that someone has subscribed to the service. Learn more in our terms and conditions.

Step 5: Start checking your incoming mail in the Canada Post app

Within 1 to 2 business days, you'll receive updates on mail coming to your address.

Step 6: Choose how to see your mail – through the app, your email inbox or both

MyMail updates are available through the Canada Post app as well as through email notifications. Set your own preferences for how you will be notified about your incoming mail.