It's not the kind of model behaviour customers have come to expect from most fashion brands. Then again, Buttercream Clothing never wanted to be most fashion brands.
Using diversity to enhance customer experience
Buttercream Clothing is a direct-to-customer ethical clothing e-retailer known as much for inclusivity as for the quality and comfort of its collections. Part of embracing inclusivity is making sure shoppers can see themselves in the clothes – even before they purchase.
"Our models are relatable. They have a 'Buttercream look' – they represent the brand, meaning they represent the community," explained Candice Munro, Founder and Owner. "We want you to feel a connection, see yourself in them."
The company truly embraces diversity in its models – a transparent and authentic approach that not only makes model selection a statement of company values, but also something shoppers can use to enhance their experience on the site.
For example, the company has a goal of expanding its size range, as it currently offers sizes up to 4X with plans to go to 6X soon. "For us, it is very important to be more inclusive as we grow," Munro said.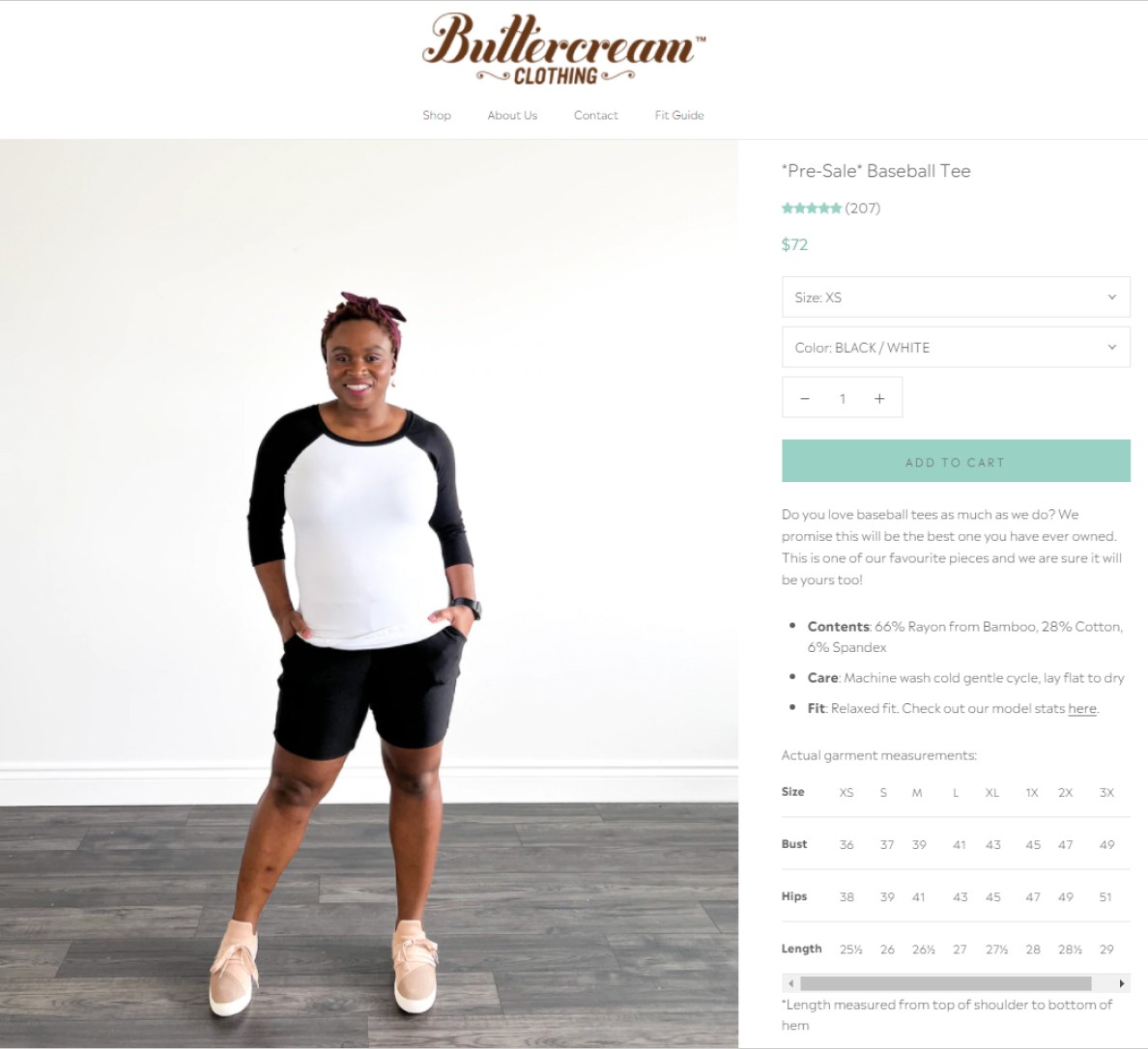 But beyond offering a broader range of sizing, they also want to show the full range of sizes on models so customers can better picture what the garments would look like on their bodies.
I love to show the same garment on as many bodies across the size range as possible," Munro continued. "If I can show the same garment on many different people, then how great it is that you go to our site and you can see your body in that garment.




For more inspiring stories like this one, explore our digital magazine – Ecommerce Insider.
Explore magazine
---
You might also like:
---
The site even provides a model stats page with real-world details on the people's pictures, including height, bust, waist, hip and other body measurements.
"If you cannot try on the clothes, you can see yourself in them through the models. You can think to yourself, 'Wow, I'm really similar to that model Christy.' You can compare yourself and order that way. This helps us with communications so that our community can have more tools to ensure that they order the correct size right the first time."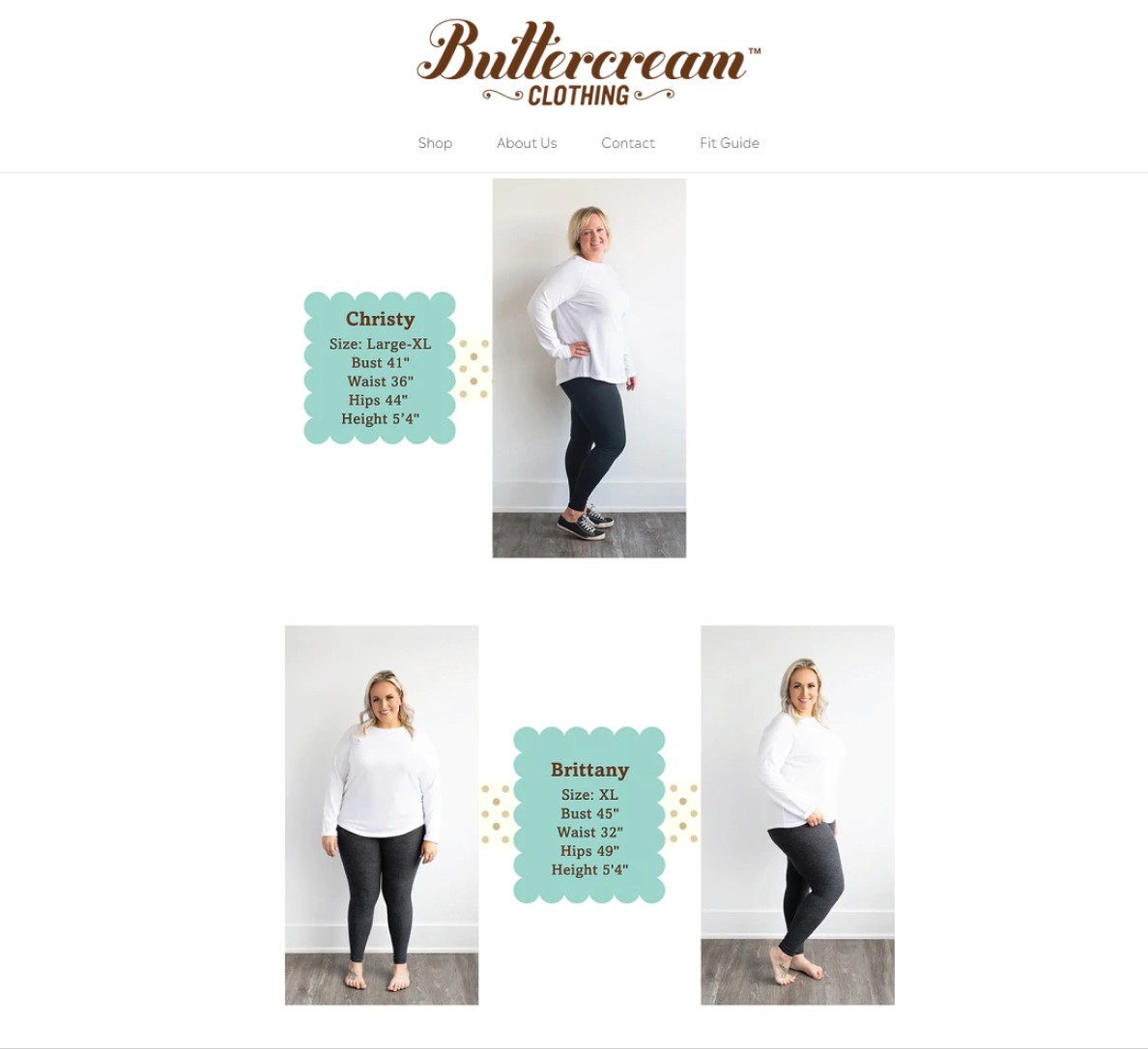 Keeping their community engaged
Across its operations, the brand leans strongly on social media (Instagram and Facebook), connecting with influencers, discovering models, even connecting with seamstresses. Being part of those communities also allows Buttercream Clothing to enter many conversations easier than more traditional brands.
Take the #StyledSeated campaign, a movement to bring inclusivity to non-adaptive clothing. For Buttercream, that meant showing models and working with influencers to present the clothes in a seated position, opening the brand up to people of different abilities.
View this post on Instagram
"Clothing changes and shifts when seated. This is important for those who want a helpful tool where they can say, 'Oh, wow, if I'm sitting, this is how it's going to look on me," Munro said.
Buttercream also worked with a model, who has undergone a double mastectomy, telling her story and efforts to find clothes through the #goingflat hashtag supporting people who have not had reconstructive breast surgery.
Finding these opportunities is all about listening, being flexible and open to possibilities, Munro said.
"We try to encompass as many individuals as possible from all walks of life," she said. "We love that people identify with it on so many levels and see themselves in Buttercream Clothing."
Using diversity to enhance customer experience
What you can learn from Buttercream Clothing
If you're a fashion retailer like Buttercream Clothing, showing your shoppers how a product will look can make all the difference and encourage a shopping cart increase, while avoiding confusion and undesirable returns. This takes meaningful dedication, time and investment, but the results can be worth it. How you approach your photography can show off your brand's character and help you stand out.
Want to take your ecommerce business to new heights?
Talk to an ecommerce expert from Canada Post.
Contact us