In 2014, paramedics Jill Foster and Shaun Taylor answered the alarm sounding about mental health issues growing among their ranks with a social media awareness campaign. It was organized around the hashtag #IveGotYourBack911. The goal for the campaign was to provide a safe, online community where first responders could share resources and offer support about their daily challenges.

From raising awareness to ecommerce business
Foster and Taylor produced a small batch of T-shirts emblazoned with the hashtag logo for their co-workers to wear. Their co-workers shared pictures of themselves wearing the shirts across social media which triggered an influx of inquiries about the shirts from agencies who wanted to know where they could buy their own. This led to a new retail operation.
#IveGotYourBack911 started shipping their shirts through the Canada Post Solutions for Small Business™ program, but the brand's rapid growth in popularity (and orders) posed unexpected challenges. Managing and shipping orders became complex and time consuming. Weekly trips to the local post office took hours to complete because hundreds of packaged orders needed to be addressed by hand and mailed at the counter.
"We were mailing so much product, but we were doing it in this old school way," explains Foster. "We're paramedics; we didn't know the first thing about any of this."
The Canada Post depot superintendent recognized the challenges facing the organization and put them in touch with a Canada Post representative to help.

To learn more about how we can help you grow your business, contact a Canada Post ecommerce expert, or call us at 1-866-282-8053.
Contact an expert
Partnering for ecommerce growth
#IveGotYourBack911 found the relief they needed thanks to their dedicated Canada Post sales representative. The Canada Post team helped them upgrade their ecommerce operations by streamlining their backend processes to make it easier to get their orders out the door. This started with setting up dedicated consultations with a Canada Post integration expert on order management and ecommerce operations. With Canada Post's range of technology partnerships, customers can easily access labels, returns and tracking through the technology partner of their choice. With the help of the integration expert, the brand was able to integrate third-party services such as Shopify and ShipStation to enhance their operations.
Packages now go out daily via Canada Post Recurring Pickup and Ship from Store services from the brand's warehouse and retail location. When needed, additional pickups can be booked by phone or online – same-day or up to 30 days in advance – allowing the #IveGotYourBack911 team to spend more time managing their growing business.
"Canada Post has been awesome," says Taylor. "Shopify and ShipStation have made our lives so much easier, and Canada Post being only a call away to help troubleshoot or answer questions has made all the difference."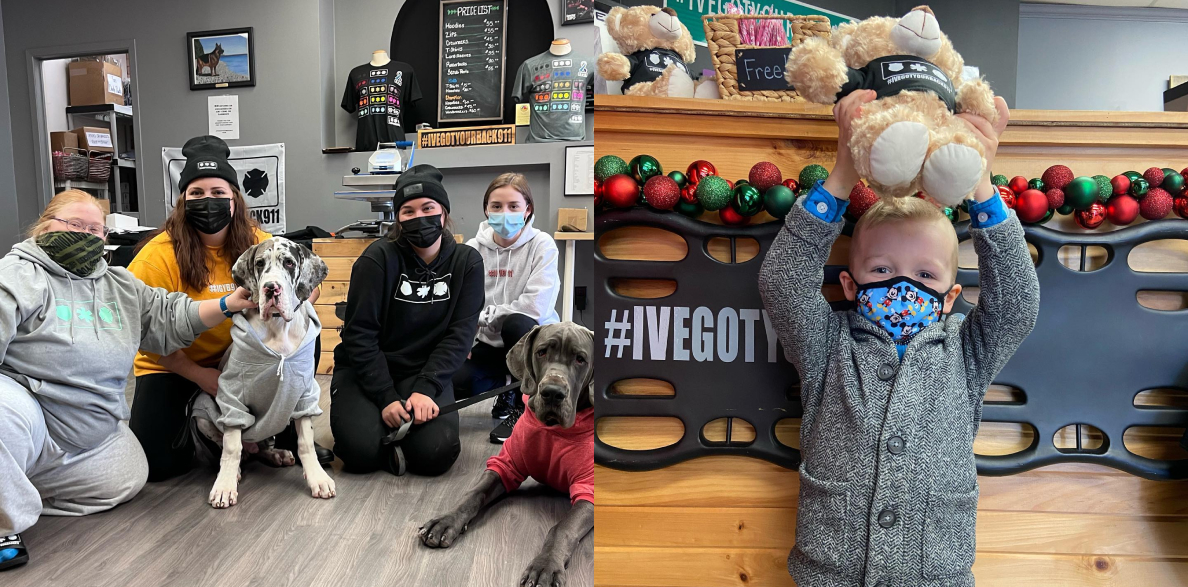 Looking to the future with the right partner
From that initial batch of 100 shirts, the #IveGotYourBack911 team has grown its brand into a vibrant ecommerce operation that sells an ever-expanding line of apparel and merchandise. With the infrastructure now in place, and the right shipping partner by their side, #IveGotYourBack911 has drastically increased its shipping volume over the last three years and can capably handle the rising demand for its products from first responders around the world.
As #IveGotYourBack911 continues to grow and help first responders, the team relies on its partnership with Canada Post.
Canada Post has saved us time, money, and energy from day one. They are the right partner for us as they consistently have our needs, as well as the needs of our customers, front of mind. #IveGotYourBack911
Take your business to new heights
Canada Post's full range of solutions is here to help your ecommerce business grow.
Get started