New rate Definitives - Queen Elizabeth
December 19, 2003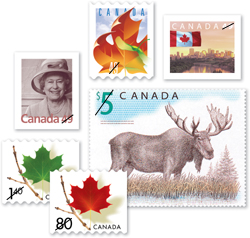 They're the workhorses of the stamp world, pulling their postal weight every day. Definitives may be the stamps that Canadians send and receive the most, but just because they work hard doesn't mean they're not collectible. With a postal rate change in January 2004, Canada Post will issue six new definitive stamps, each portraying a familiar national symbol in fresh new light and colour. Except for the moose stamp the stamps are all in a self-adhesive format.
HER MAJESTY QUEEN ELIZABETH II
As Canada's Head of State, Elizabeth II has appeared on many Canadian stamps during the more than fifty years of her reign. She is a symbol of our nation like no other, respected in her constitutional capacity but also widely admired for her personal qualities. Since her coronation in 1953, she has visited this country frequently, given her patronage to many Canadian organizations, and has retained a special relationship with the Canadian Forces. Her long reign has encompassed the terms of nine Canadian governors-general and nine prime ministers.
Canada Post's domestic rate (49¢) definitive stamp portraying the Queen is based on a photograph taken during her Golden Jubilee year by the Canadian rock musician Bryan Adams. Like other photographers granted the privilege for this occasion, Adams was given just five minutes to obtain a photograph that was both memorable and distinctive. In a quick session at the Garden Entrance to Buckingham Palace, he took this unusually informal, close-up image of the Queen, a portrait of a familiar, mature woman. "She's a mother and a grandmother," says Adams, "and I think my photo gives us a glimpse of the real person."
The stamp was designed by Saskia van Kampen, who remarks: "My biggest concern was not to allow her to appear ordinary." Van Kampen cropped Adams' photo to highlight the Queen's smile, and placed the image off-centre to give it an active, unexpected quality.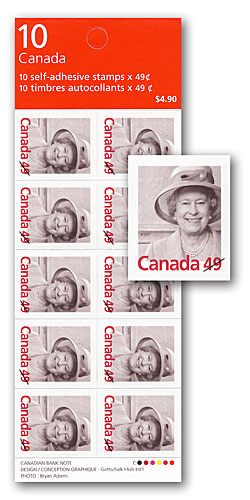 Booklet of 10 stamps
$4.90
Product #: 111160
Denomination: 1 x 49¢
Design: Saskia van Kampen
Dimensions: 20 mm x 24 mm (vertical)
Printer: Canadian Bank Note
Printing Process: Lithography in 7 colours
Quantity: Continuous printing
Gum Type: Self-adhesive
Perforations: Kiss cut straight edge on all 4 sides
Tagging: General, 4 sides
Photography: Bryan Adams
Paper Type: Tullis Russell Coatings
OFDC Cancellation Location: Ottawa ON
Shop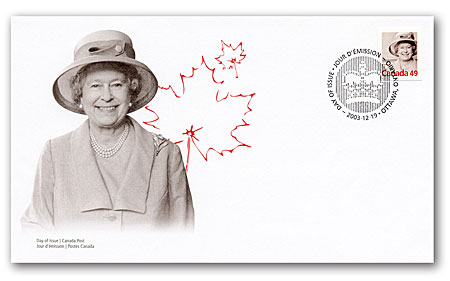 Official First Day Cover
$1.49
Product #: 411160130
OFDC Cancellation Location: Ottawa ON
Shop