Henry Birks & Sons - Commemorative Envelope
April 01, 2004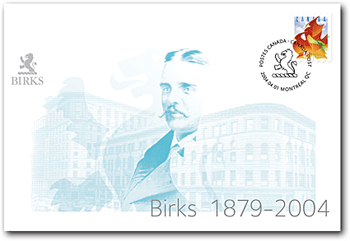 To celebrate the 125 th anniversary of Henry Birks & Sons retail stores, Canada Post will issue this commemorative envelope featuring a stylized collage of an early portrait of Birks, the store's familiar logo and an image of the first store, accented with the characteristic Birks' aqua blue tint.
In 1879, jeweller Henry Birks opened his first store in Montreal. Now, 125 years later, there are Henry Birks & Sons stores in major retail centres across Canada. Clientele around the world recognize the quality of the elegant treasures that come in the signature "Birks Blue Box". Birks also holds the longest-standing flatware trademark, registered in Sheffield, England, which dates back to the 16th century.
Canada Post's colourful domestic rate (49¢) maple leaf definitive, designed by Joe Gault, is affixed to the front of this commemorative envelope.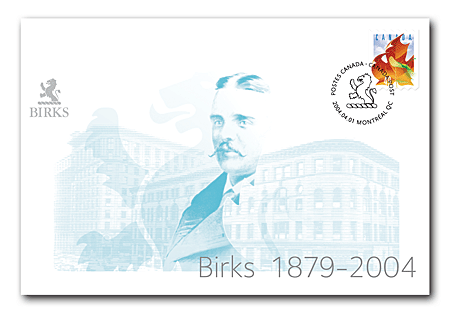 Commemorative Envelope
$2.00
Product #: 341660
Denomination: 1 x 49¢
Design: Gottschalk & Ash International - Montreal
Quantity: 12,000
Shop