The Société Philatélique de Québec
Commemorative Envelope
April 24, 2004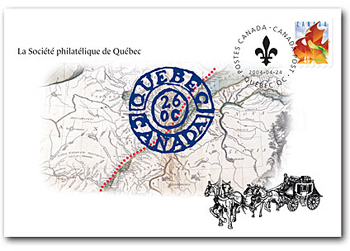 On April 24, 2004, Canada Post will issue a commemorative envelope to honour the 75 th anniversary of the Société Philatélique de Québec. The design features a reproduction of the group's distinctive logo - the first postmark used in Quebec City in 1775.
The first French language philatelic society in North America, the Société Philatélique de Québec was founded in 1929. The group now boasts more than 100 active members in Quebec City, and serves members outside of the city through its website at www.s-p-q.org.
This limited edition commemorative envelope comes affixed with Canada Post's domestic rate (49¢) maple leaf definitive stamp, featuring a vivid multi-coloured design created by Joe Gault.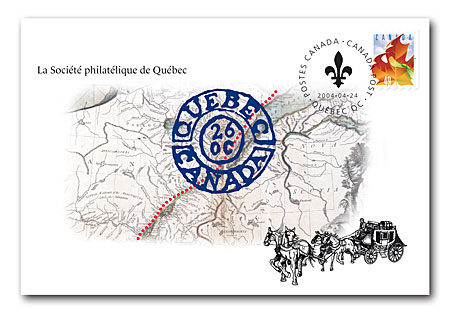 Commemorative Envelope
$2.00
Product #: 341661
Denomination: 1 x 49¢
Design: Gottschalk & Ash International - Montreal
Quantity: 12,000
Shop