Mahone Bay 1754-2004 - Commemorative Envelope
June 19, 2004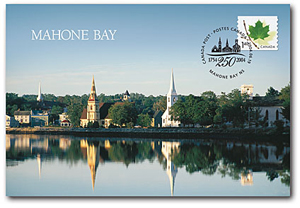 The serene waterfront image depicted on this commemorative envelope, issued to celebrate the 250 th anniversary of Mahone Bay in Lunenburg County, Nova Scotia, belies the fact that this modern day tourist town was once a haven for pirates and privateers. Local legend says that even the famed pirate Captain Kidd buried his treasure on Mahone Bay's Oak Island, and the town's name is derived from the French word "mahonne", the term for the vessels that transported pirate booty for hiding on any of the 365 islands in the area.
Designed by Oliver Hill and Dennis Page, the front image is a highly representative photograph of the town contributed by Nova Scotia Tourism and Culture. On the back, a duotone photo, Schooners on the ways at Mahone Bay (circa 1900), is courtesy of Massachusetts' resident Gary Wilson, and depicts a schooner from the town's great era of shipbuilding.
Issued as a limited edition collectible, the commemorative envelope also features an international rate maple leaf definitive stamp, which was designed by the team of Monique Dufour and Sophie Lafortune. (See Details, Volume XIII, Number 1)
The site of one of the first German settlements in North America, Mahone Bay was founded in 1754 by industrious German, Swiss and French Protestants who established farms, and fishing and shipbuilding industries. Today, visitors are warmly greeted by a sign that says, "We love the beauty around us and welcome you to share it." Every year, thousands of tourists heed that invitation and bask in the town's hospitality, rich history and magnificent natural beauty.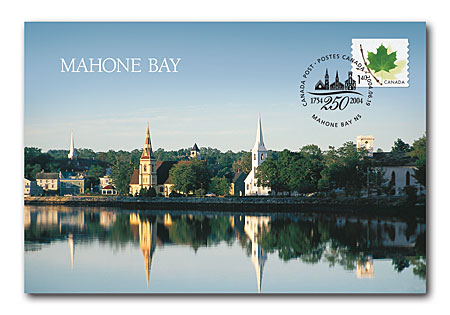 Commemorative Envelope
$2.00
Product #: 341663
Denomination: 1 x 1.40
Design: Oliver Hill, Dennis Page
Quantity: 12,000
Photography: Front: Nova Scotia Tourism and Culture Back: Courtesy of Gary Wilson
Shop