Canadian Forces Medical Services
Commemorative Envelope
June 24, 2004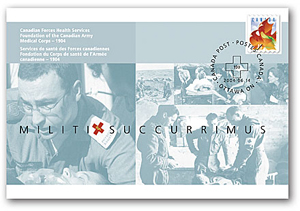 Militi Succurrimus, the motto of the Canadian Forces Medical Services, means "hasten to aid the soldier" in Latin. Since the formation of the Permanent Active Militia Army Medical Corps in the summer of 1904, these military health-care providers have faithfully tended to the wounded and distressed, both on the battlefield and in times of peace.
To distinguish their medical specialization, members proudly wear the Rod of Aesculapius (a serpent entwined about a rod, internationally recognized as a symbol of medical aid). This icon is featured prominently in a commemorative envelope issued to mark a century of heroic humanitarianism and compassionate care.
Montreal designer Ian Drolet's selection of dynamic images conveys a sense of immediate action and energy, intervention and relief. A minimalist design, characterized by understated tones of grey and simple composition, traces the Services' evolution through the ages.
Today, Canadian Forces Medical Services members carry out their duties with field ambulance units, as well as in Canadian field hospitals, aeromedical staging units and area medical support units near the front lines of war-torn zones around the world. Members are also found in various international peacekeeping and humanitarian missions, and others manage the delivery of health care at Canadian Forces bases across the country and abroad.
With this commemorative envelope, Canada Post salutes the courage and skill of the men and women of the Canadian Forces Medical Services for their legacy of care.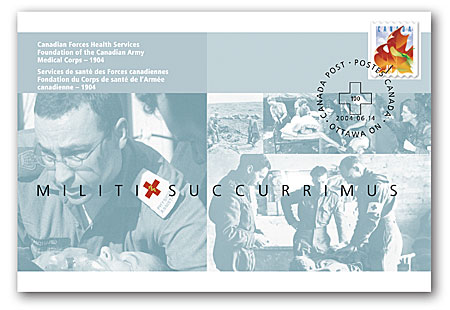 Commemorative Envelope
$2.00
Product #: 314664
Denomination: 1 x 49¢
Design: Gottschalk + Ash International - Montréal
Quantity: 12,000
Photography: Courtesy of Canadian Forces Medical Services
Shop