2004 Olympic Summer Games
July 28, 2004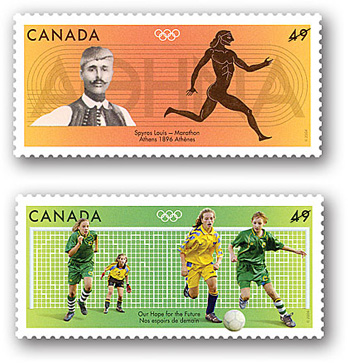 History is repeating itself. In 2004, the Summer Games of the XXVIII Olympiad will be held in Athens, Greece, home of the first Olympiad revival of the modern games held in 1896, as well as the original ancient games, which are believed to have begun in the year 776 B.C.
This merging of the games' origins with the future-focused spirit of Canadian Olympic hopefuls has resulted in two inspiring stamps. The 16-stamp pane se-tenant domestic (49¢) issue features both a tribute to women's soccer and, with the marathon, a creative invocation of the games' history. The stamps were designed by veteran stamp designer Pierre-Yves Pelletier, who has designed more than 100 stamps for Canada Post.
The soccer stamp is inspired by the tremendous growth in popularity of women's soccer, which led to its inclusion in the games in 1996. The photos of the soccer players (young girls from 10 to 13) were shot at school and community soccer fields in the National Capital Region by Photolux Studio/Imagination Photo Services.
Says designer Pierre-Yves Pelletier, "The background, composed of a range of greens, recalls the grounds on which the game is played. The word 'Canada' appears as if embroidered on the net. In front, the girls are playing a match in the full vigour of a promising youth." Pelletier adds that the stamp symbolizes our youth as a source of hope and inspiration for the future.
The second stamp pays homage to the marathon and the history of the games. The marathon was first introduced in the Modern Olympic Games of 1896 in Athens, and was originally a 40-kilometre race from Marathon, northeast of Athens, to the Olympic Stadium. According to Pelletier, "set against a palette of earthy hues, inspired by the ceramic art of Ancient Greece, the silhouette of a runner and the picture of Spyros Louis, Greek winner of the 1896 Olympic marathon, stand out, illustrating the link between the Ancient and Modern Olympic Games." The background contains the image of an athletic track that was used as a guide to construct and group together the letters that make up the word "Athens" in the Greek language. The historical photo is courtesy of The Olympic Archives.
For more information on the history of the Olympics and upcoming games, visit www.olympic.org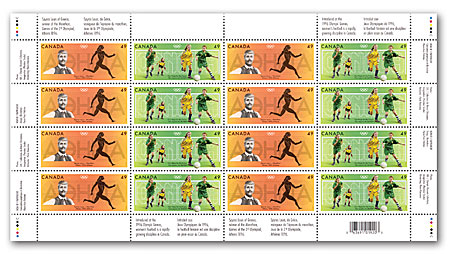 Product #: 403579107
Denomination: 2 x 49¢
Design: Pierre-Yves Pelletier
Dimensions: 56 mm x 26 mm (horizontal)
Printer: Canadian Bank Note
Printing Process: Lithography in 5 colours
Quantity: 4,000,000
Gum Type: P.V.A.
Illustration: Pierre-Yves Pelletier
Perforations: 13+
Tagging: General, 4 sides
Photography: Imagination (Photolux Studio)
Paper Type: Tullis Russell Coatings
OFDC Cancellation Location: Montréal, Quebec
Shop
Official First Day Cover
$1.98
Product #: 403579126
OFDC Cancellation Location: Montréal, Quebec
Shop