Biosphere Reserves
April 22, 2005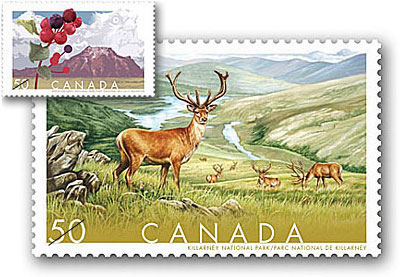 There are few images more Canadian than this, one would think - a deer amid mountain slopes, serene above a green valley. But closer inspection may reveal a surprise. This scene actually portrays Killarney National Park, in Ireland. The landscapes of our two very different countries are sometimes more similar than we think.
In collaboration with Ireland's An Post, Canada Post is releasing a joint stamp issue honouring two special places in each respective country. Both landscapes pay homage to the natural beauty so valued by both nations.
Since 1970, the United Nations Educational, Scientific and Cultural Organization (UNESCO) has recognized certain important ecosystems around the world as models of how humans should live with nature. These are known as biosphere reserves. Killarney National Park is one of two such areas in Ireland, and Waterton Lakes National Park, in southwest Alberta, is one of 13 biosphere reserves in Canada.
Killarney and Waterton now appear on two stamps, jointly issued at the domestic rate (50¢) in Canada and for domestic use in Ireland. The Canadian stamp was designed by Xerxes Irani and his design team at Calgary's nonfiction studios inc., while the Irish stamp was designed by Finbarr O'Connor. The Killarney stamp is based on a painted illustration provided by An Post, while the Waterton illustration was digitally drawn by Jeff Spokes.
Irani is a Calgary native who had visited Waterton as a child, and one of his business partners is a frequent visitor who became engaged to be married there last year. "Part of the excitement of this project was our familiarity with this beautiful place," Irani says. In the stamp design, they chose to portray some of the most characteristic features of the park - the ospreys that travel widely through it, the Saskatoon berries found there, and the dramatic change in topography as prairie suddenly meets mountain.
"We wanted to show the severity of the sudden increase in terrain, and the strong wind that results," says Irani. "There's motion in the sky through the blue clouds that turn grey as they shape themselves into an osprey. The oversized berries in brilliant red then emerge to break the horizon and balance the image."
The vibrant colours of the Waterton stamp contrast sharply with the more subdued Killarney image, with its native red deer. Despite its apparent familiarity, "this is actually a very Irish scene," says Irani, "rocky and barren, in muted green and blue tones."
Typography designed by Irani links the pair of stamps in both Canadian and Irish versions, which are being printed separately by each postal administration. It's a miniature collaboration that speaks well for the possibility of greater global co-operation.
For more information on Irish stamps visit, www.irishstamps.ie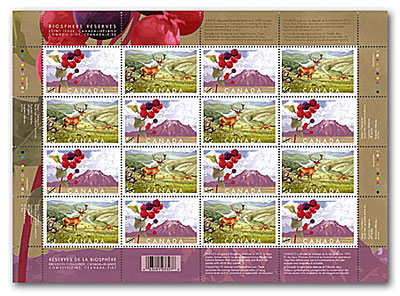 Pane of 16 stamps - 2 stamps se tenant
$8.00
Product #: 403610107
Denomination: 2 x 50¢
Design: Xerxes Irani
Dimensions: 48 mm x 30 mm (horizontal)
Printer: Lowe-Martin
Printing Process: Lithography in 9 colours
Quantity: 5,000,000
Gum Type: P.V.A.
Illustration: Jeff Spokes and An Post
Perforations: 13+
Tagging: General, 4 sides
Paper Type: Tullis Russell Coatings
OFDC Cancellation Location: Waterton Park, Alberta
Shop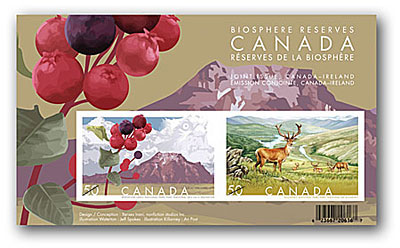 Souvenir sheet of 2 stamps
$1.00
Product #: 403610145
Dimensions: 120 mm x 70 mm (horizontal)
Quantity: 400,000
Shop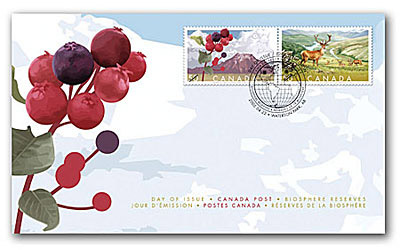 Official First Day Cover
$2.00
Product #: 403610126
OFDC Cancellation Location: Waterton Park, Alberta
Shop