Canadian War Museum
May 06, 2005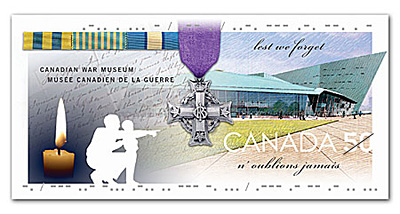 Remembrance is the reason Canada's War Museum exists. It is a living memorial to those who have served in the nation's armed forces, preserving their history and educating the public about their sacrifices.* This spring, as construction of the museum's new building in Ottawa is completed, it's easy to see this emphasis on the living. The structure expresses architecturally the idea of regeneration, showing how the terrible wounds of war slowly heal over time, in nature, societies and individuals.
We experience war as a society, but we remember it in profoundly -individual ways. This is what inspired Tiit Telmet and Marko Barac, who designed the domestic rate (50¢) stamp honouring the Canadian War Museum's new home. "The human aspect was key," Telmet says. "We felt it was important to find symbols that would let viewers put themselves into the image, because visitors to the museum respond to its call for remembrance in very personal ways."
The central image of the stamp is the Memorial Cross GRV, best known as the Silver Cross, awarded to wives and mothers of fallen servicemen. "This puts the focus on survivors," says Telmet. "It's a reminder that war affects everyone, certainly the soldiers, who were mostly men, but also their families and the women they left behind." The stamp is being issued in time for the War Museum's official re-opening on May 8, a date that marks the 60th anniversary of the Second World War victory in Europe.
The handwritten letter in the stamp's background represents the private experience of war, and the candle signifies remembrance. The silhouetted figures show that individuals keep memories alive by educating young people about our history. The ribbon from the Korean War medal and from duty in Cyprus remind us of the role of Canadian troops in United Nations operations. Other -elements portrayed on the stamp were carefully chosen to represent a range of historical time periods.
The lines of Morse code, which run along the top and bottom edges of the stamp, repeat a significant architectural feature of the new building. The museum is portrayed on the stamp in an architect's drawing, which is how Telmet first saw the structure when he began his design work almost two years ago. This view of its east end profiles the bold fin that points toward the Peace Tower on nearby Parliament Hill. Visible from this angle, microscopically on the stamp, are the windows shaped and positioned to display in Morse code the phrase "Lest we forget / N'oublions jamais."
See "About the Museum" on the Canadian War Museum's website at www.warmuseum.ca/about-us/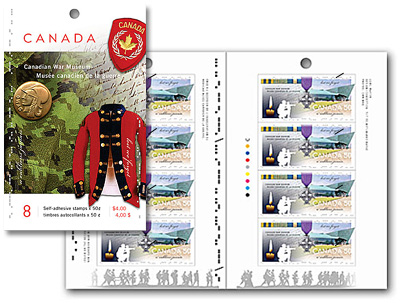 Booklet of 8 stamps
$4.00
Product #: 413612111
Denomination: 1 x 50¢
Design: Tiit Telmet and Marko Barac
Dimensions: 52 mm x 28 mm (horizontal)
Printer: Lowe-Martin
Printing Process: Lithography in 9 colours plus varnish
Quantity: 3,000,000
Gum Type: Pressure sensitive
Perforations: Kiss cut
Tagging: General, 4 sides
Photography: Canadian War Museum
Paper Type: Tullis Russell Coatings
OFDC Cancellation Location: Ottawa, Ontario
Shop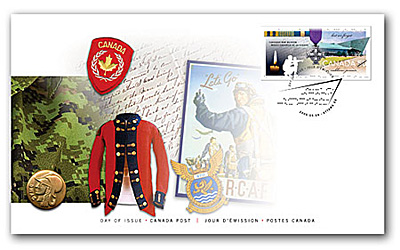 Official First Day Cover
$1.50
Product #: 413612121
OFDC Cancellation Location: Ottawa, Ontario
Shop