Ellen Fairclough
June 21, 2005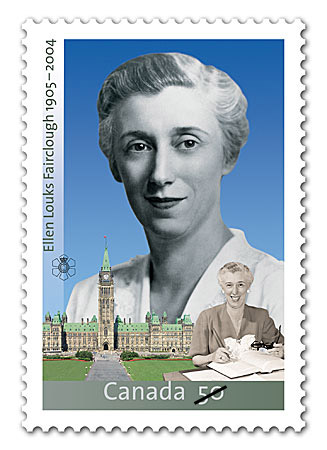 In 1950, King George VI was still on the throne, the Korean War had just begun, Canadians said goodbye to the late former Prime Minister William Lyon Mackenzie King, and Ellen Fairclough was the sole woman in the Canadian Parliament. A tireless politician who averaged 150 speeches a year in the Commons, Mrs. Fairclough demonstrated particular concern for issues dealing with housing, income tax, unemployment insurance, the Post Office, and the status of women. She would gain nationwide attention with her private member's bills on equal pay for work of equal value and on banning workplace and hiring discrimination on the basis of gender, race or religion.
HUMBLE BEGINNINGS
The Right Honourable Ellen Fairclough was born Ellen Louks Cook in Hamilton, Ontario, on 28 January, 1905. Her father worked as a building contractor and cut ice in the winter, while her mother ran a boarding house.
She attended a commercial college, then worked as a cashier and married David Henry Gordon Fairclough in 1931. Four years later, she opened her own office as a certified public accountant, and was elected to the Hamilton City Council in 1946. She entered Parliament as the Progressive Conservative Member from Hamilton West in a 1950 byelection.
THE FIRST WOMAN FEDERAL CABINET MINISTER
When Prime Minister John Diefenbaker formed his government in 1957, he appointed Ellen Fairclough as Secretary of State, making her Canada's first woman federal cabinet minister. In 1958, she became Minister of Citizenship and Immigration, and from 1962 until she lost her seat in 1963, Fairclough served as Postmaster General. She was also responsible for the National Film Board, the National Gallery and the Royal Canadian Mint.
Journalists named Fairclough "Woman of the Year" in 1957 and 1958. In 1992, Queen Elizabeth II bestowed upon Fairclough the title "Right Honourable," in recognition of her service and of the two-day period when Fairclough was Acting Prime Minister of Canada (February 19-20, 1958) -- the first female to serve in this position. In 1995, she was made Companion of the Order of Canada.
Ellen Fairclough died on November 14, 2004, just shy of her 100th birthday. On June 21, Canada Post will issue a single domestic rate (50¢) stamp to commemorate her life and achievements as Canada's first woman federal cabinet minister.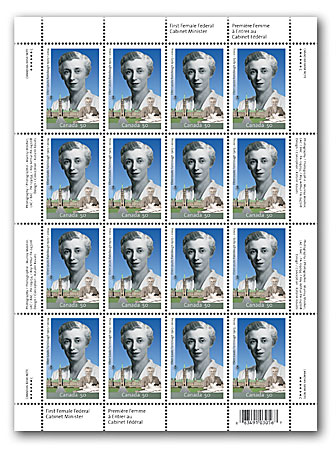 Product #: 403617107
Denomination: 1 x 50¢
Design: Katalin Kovats
Dimensions: 40 mm x 27.5 mm (vertical)
Printer: Canadian Bank Note
Printing Process: Lithography in 6 colours
Quantity: 2,500,000
Gum Type: P.V.A.
Perforations: 13+
Tagging: General, 4 sides
Photography: Murray Mosher; LAC: PA-129254; Roy Arthur PA-047218
Paper Type: Tullis Russell Coatings
OFDC Cancellation Location: Hamilton, Ontario
Shop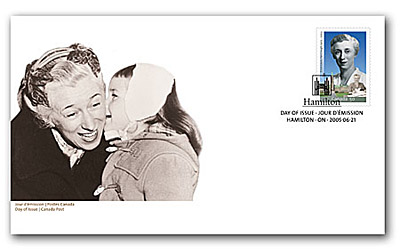 Official First Day Cover
$1.50
Product #: 403617121
OFDC Cancellation Location: Hamilton, Ontario
Shop