Alberta 1905-2005
July 21, 2005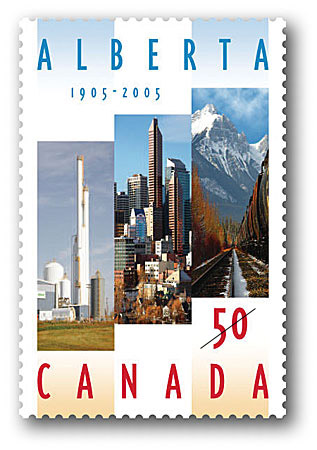 "These photographs are the exact opposite of how the western landscape is usually presented," says Matthias Reinicke of Lime Design Inc. "Instead of a strong horizontal format, here we have long, vertical images that are quite contemporary."
They're an unexpected but entirely appropriate way of portraying the province of Alberta, a very modern part of Canada where the history and traditions of the great western frontier remain very much alive. This year, as the province celebrates its centennial, Canada Post has issued a domestic rate (50¢) stamp featuring three views of Alberta in long, narrow photographs taken by the artist Harry Palmer.
Palmer calls these images "tallpecs," striking landscape photographs that are digitally stretched and elongated until they appear almost painted.* For the stamp, three of Palmer's tallpecs were selected, depicting (from left to right) a Nova Chemicals plant, Calgary's skyline, and Mount Grassi overlooking a rail line.
Reinicke's goal was to create a design for the stamp that would complement these dramatic images. "I wanted to mirror the elongated format of these photographs in the shape of the stamp, its typography, and its visual elements," he says.
To achieve this, Reinicke arranged the three tallpecs in vertical panels to form a rising triptych that emphasizes their long lines. "The photographs actually step up," he says. "It's an uplifting movement that suggests a positive, optimistic time for the province." In keeping with this verticality, the elongated typeface is the contemporary Triplex Condensed, which is printed in colours representing Alberta and Canada, blue and red.
These self-adhesive stamps are available in a unique pane of 8, with printing on the reverse side, similar to the Canadian Bridges stamp pane issued earlier this year. Four historical images from Library and Archives Canada and Calgary's Glenbow Archives are printed on the reverse side in evocative shades of blue and sepia. Each reverse image aligns with two stamps, and perforations divide each scene. Note that the half-scenes still work well on their own, thanks to careful cropping of these historical photos.
Alberta had been one of several districts in the North-West Territories before the name was applied to the province on September 1, 1905. The name was originally chosen by the Marquis of Lorne, Canada's governor general, to honour his wife Princess Louise Caroline Alberta. The Princess was one of Queen Victoria's daughters, and she also gave her name to Alberta's beautiful Lake Louise. These royal ties are central to the province's celebrations in its 100th anniversary year, as Queen Elizabeth II and the Duke of Edinburgh visit Alberta in May to join the festivities.
See more of Palmer's tallpecs on his website at http://www.arthp.com.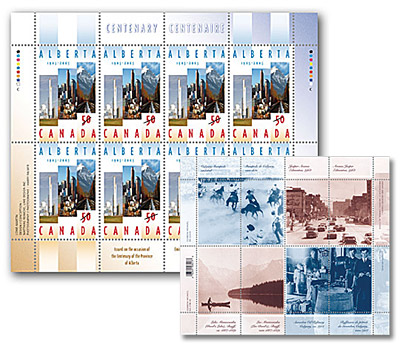 Product #: 403614107
Denomination: 1 x 50¢
Design: LIME DESIGN INC., Matthias Reineke
Dimensions: 32 mm x 48 mm (vertical)
Printer: Lowe-Martin
Printing Process: Lithography in 9 colours
Quantity: 3,000,000
Gum Type: Pressure sensitive
Perforations: 13+
Tagging: General, 4 sides
Photography: Harry Palmer
Paper Type: Tullis Russell Coatings
OFDC Cancellation Location: Edmonton, Alberta
Shop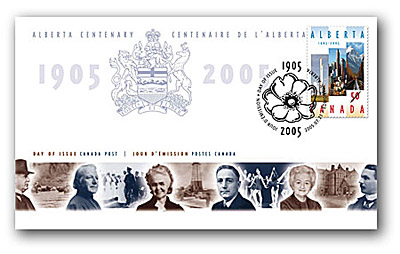 Official First Day Cover
$1.50
Product #: 403614121
OFDC Cancellation Location: Edmonton, Alberta
Shop