Saskatchewan 1905-2005
August 02, 2005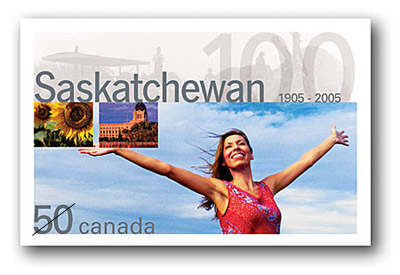 Just say Saskatchewan. Those rolling vowels call to mind acres of waving wheat fields, long sightlines reaching to a distant horizon, and a big blue prairie sky. But for all the splendour of its geography, says Catharine Bradbury of Regina's Bradbury Branding and Design, "this province is about people. There's a warmth and friendliness here, and a real community spirit. These are the qualities that have made Saskatchewan the great province it is today."
As a result, a very human image dominates the new domestic rate (50¢) stamp Canada Post has issued to celebrate Saskatchewan's centennial. A young woman with arms outstretched reaches toward the vast prairie, but it's her smile that captivates, and makes her open gesture especially welcoming. The image is appropriate, since Saskatchewan has welcomed newcomers throughout its history.
Above the stamp's very contemporary central image, a photo from the Saskatchewan Archives alludes to the province's history of agricultural settlement. Printed in subtle grey tones, the photo portrays early farm workers operating a steam-powered grain thresher. "Our ancestors were dreamers and builders," says Bradbury. "They were tough, determined and resourceful. This image symbolizes the hard work and strength of community that built this province."
To complete the stamp portrait, Bradbury and design assistant Rhea Leibel selected two additional photos that would emphasize the diversity of Saskatchewan. Cropped to appear as small boxes to the left of the central image, they show an image of sunflowers, and the legislature building. "We chose simple, graphic images appropriate for this contemporary design," says Bradbury.
The stamps have a simulated perforation and are available in a pane of eight. The background of the pane displays a photo of a brilliant yellow canola field, a reference to Saskatchewan's agricultural heritage, but also, in its intense colour, to the vibrant, lively community of people who live there.
Saskatchewan became a province on September 1, 1905. Agriculture was essential to its economy, and in the early years of the century, settlers continued to flock to its wide-open spaces. But the farming communities that developed here grew more than grain. The co-operative movement took root in Saskatchewan, and by 1944 the province had elected the first socialist government in North America. "Wheat fields are only a part of who we are," says Bradbury. "With this stamp we wanted to create a clean, modern design that would celebrate the past, present and future accomplishments of the people of Saskatchewan."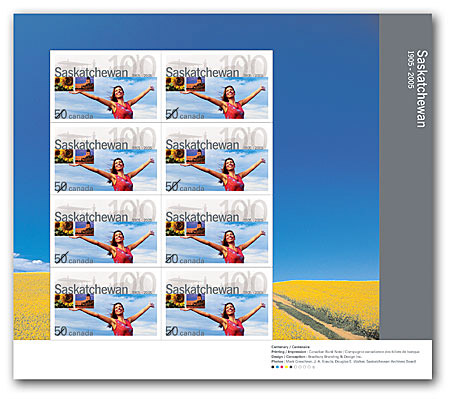 Product #: 403613107
Denomination: 1 x 50¢
Design: Bradbury
Dimensions: 48 mm x 32 mm (horizontal)
Printer: Canadian Bank Note
Printing Process: Lithography in 9 colours
Quantity: 3,000,000
Gum Type: P.V.A.
Perforations: 13+
Tagging: General, 4 sides
Paper Type: Tullis Russell Coatings
OFDC Cancellation Location: Regina, Saskatchewan
Shop
Official First Day Cover
$1.50
Product #: 403613121
OFDC Cancellation Location: Regina, Saskatchewan
Shop