Polio Vaccination 1955-2005
September 02, 2005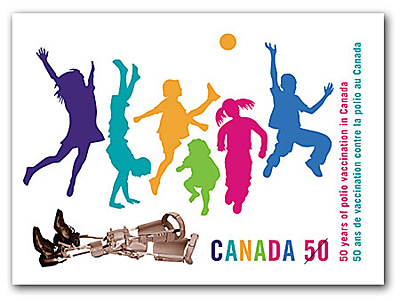 Joyful. Exuberant. Fun. The eradication of one of the most feared diseases of the first half of the 20 th century is celebrated with joie de vivre in a colourful domestic rate (50¢) stamp marking the 50 th anniversary of Canada's program of universal polio vaccination.
"We didn't want a sombre message," says Liz Wong, Manager, Stamp Design and Production, Canada Post. "We wanted to focus on the benefits that exist now. It's something to celebrate."
When first briefed about the project, Toronto graphic designer Debbie Adams figured she had a difficult challenge ahead. To create a positive image that would celebrate the achievement of the polio vaccine, Adams realized she needed to talk about success, "and that success," she says, "is really all about children."
During the 1930s, '40s and '50s, polio epidemics ravaged North America. For mothers and fathers, polio was a dreaded disease that could steal a child's life or leave a child permanently paralyzed.
"This stamp features colourful silhouettes of six children, three girls and three boys of various ages, jumping and playing," explains Adams. "It illustrates in a positive way that, as a result of the polio vaccine, children are free from the fear of contracting this debilitating disease."
A pair of discarded leg braces serves as a reminder of what life was like before the vaccine. "The reality of 3-D crutches cast off in a corner of the stamp, as though tossed aside, juxtaposed with the silhouette of children playing raucously, with one image and colour leading into the next, makes an interesting contrast," Adams notes.
At the height of the epidemic, Canadian scientists played an integral part in the development of a polio vaccine. It was in the University of Toronto's Connaught Medical Research laboratories that methods for mass-producing the polio virus for use in a vaccine created by Dr. Jonas Salk were devised. Both Canada and the U.S. began conducting field trials in April 1954. A year later, however, the entire U.S. vaccination program was halted after 79 children who had received vaccine produced by an American laboratory contracted polio. The Canadian government was faced with a tough decision. Paul Martin Sr., Canada's Minister of Health and Welfare, had strong personal reasons for wanting the vaccination program to continue. He himself had contracted polio in 1907, and his son, Paul Martin Jr., the current Prime Minister, had overcome the disease in 1946. Thus, Martin decided to continue the mass vaccinations, and Canada's confidence in the Salk vaccine renewed confidence around the world.
Five short decades after the introduction of the Salk vaccine, polio has been defeated in most countries. This special commemorative stamp acknowledges Canada's leadership role and pays tribute to Dr. Salk's vision that "hope lies in dreams, in imagination, in the courage of those who dare to make dreams into reality."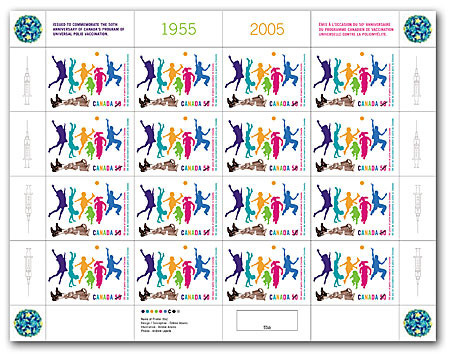 Product #: 403622107
Denomination: 1 x 50¢
Design: Adams & Associates, Debbie Adams
Dimensions: 35 mm x 48 mm (horizontal)
Printer: Canadian Bank Note
Printing Process: Lithography in 8 colours
Quantity: 2,500,000
Gum Type: P.V.A.
Perforations: 13+
Tagging: General, 4 sides
Paper Type: Tullis Russell Coatings
OFDC Cancellation Location: Ottawa, Ontario
Shop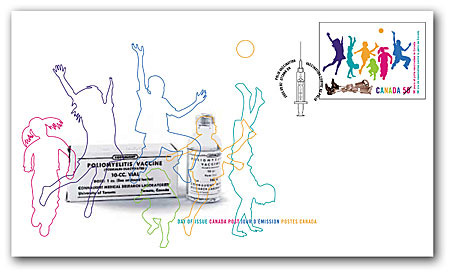 Official First Day Cover
$1.50
Product #: 403622121
OFDC Cancellation Location: Ottawa, Ontario
Shop