Youth Sports
October 01, 2005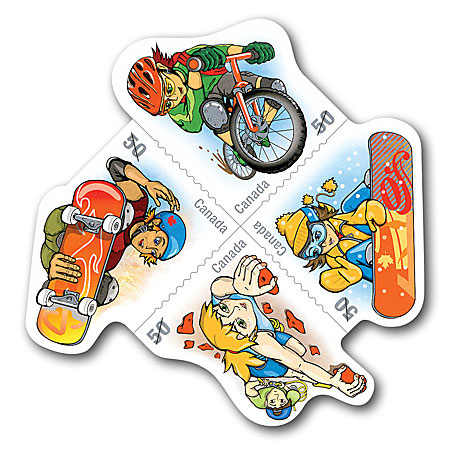 A youthful snowboarder sweeps across a mountainside in a spray of glittering powder. A helmeted boy flies up a ramp, spins in mid-air and lands with a rumble of skateboard wheels. On a winding trail in a pine forest, a boy on a mountain bike hurtles around a curve. And in a cavernous indoor wall climbing gymnasium, a young competitor inches her way up a towering wall of artificial holds.
On October 1, 2005, Canada Post is issuing four domestic rate (50¢) stamps to commemorate these youth-oriented, high-energy sports. It's an issue whose time has come, because the popularity of these activities - especially among the young - has been increasing by leaps and bounds for the past 20 years.
"These stamps represent the excitement, the attitudes and the risks involved in these sports," says Alain Leduc, Manager of Stamp Design and Production at Canada Post. "This new issue has been specially created to be attractive to young people, and we think the style will draw their interest."
The stamps may be aimed at youth, but they'll also intrigue collectors with an eye for the colourful and distinctive. The design itself breaks new ground for Canada Post, because of the unusual orientation of the self-adhesive stamps on the four-stamp pane. The images work together to create a dynamic effect that reflects the vigour of the four sports; at the same time, each stamp retains its visual energy when it stands alone on an envelope.
This design approach was shaped partly by research into youth's attitudes to the sports, says Robert L. Peters of Circle Design Inc., the stamps' designers. "We met with some Grade 6 students to ask them what made these sports appealing, and we found that the common denominator was the perceived element of risk. Also, the sports are fairly new, so there are still opportunities for younger people to make a contribution. Finally, there aren't a lot of rules. They can push the boundaries a little, and that's exciting."
In line with this, the visual vocabulary of the stamps reflects the liking of this age group for comic-book heroes and a modern vernacular style heavily influenced by Japanese anime. Metallic silver detailing on the equipment sharpens the visual impact even more, setting off the bright, vivid colours.
Designing around self-adhesive stamps allowed Peters and his design team to make further innovations. "The self-adhesive approach removes the restriction of the traditional horizontal and vertical perforations," he observes. "It allowed us to configure the four stamps so that their outer contours flow with the action. That makes the design more dynamic, which is in keeping with the active and high-angle attitudes of the sports. Skateboarding and mountain biking, for example, have a lot to do with flips and turns, and this dynamism is what we want to convey."
With its brilliant colours, fresh design and lively images, this issue is sure to appeal to both collectors and young people. "We wanted to create stamps that will capture the excitement these sports can offer," says Peters. "If they can convey that excitement on a couple of square centimetres of paper, I think they've succeeded."
For more information about Stamp Month, visit www.postalplanet.ca, the exciting site for kids, teens and educators which relaunches on October 1, 2005.
Booklet of 8 stamps
$4.00
Product #: 413623111
Denomination: 4 x 50¢
Design: Circle Design Inc.
Dimensions: 33 mm x 40 mm; 30 mm x 45 mm; 30 mm x 42 mm; 38 mm x 38 mm
Printer: Lowe-Martin
Printing Process: Lithography in 7 colours
Quantity: 4,000,000
Gum Type: Pressure sensitive
Illustration: Circle Design Inc.
Perforations: Kiss cut
Tagging: General, 4 sides
Paper Type: Tullis Russell Coatings
OFDC Cancellation Location: Whistler, British Columbia
Shop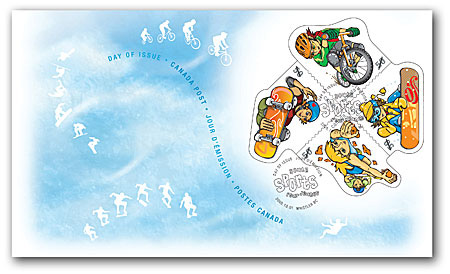 Official First Day Cover
$3.00
Product #: 413623126
OFDC Cancellation Location: Whistler, British Columbia
Shop