$1 High Value Definitives -
White-Tailed deer and Atlantic walrus
October 20, 2005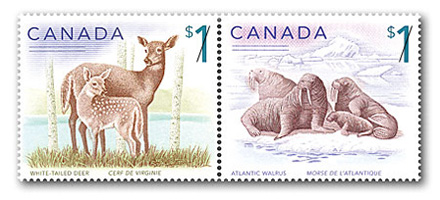 "It's amazing the quality that was achieved 100 years ago with intaglio presses," says David Craib of Ottawa's Parable Communications. "I've enjoyed working within this tradition, with such a classic, craft-based printing technique and such high production values."
In another nod to the past, this fall Canada Post issues four new high value definitives in its ongoing wildlife series. David Craib designed all four stamps, which feature beautiful wildlife portraits steel-engraved by Jorge Peral of Canadian Bank Note Company, Limited. This traditional approach honours our philatelic history, as the wildlife engravings present a modern tribute to Canada's first stamp, the 1851 three-penny beaver.
This heritage was on Craib's mind as he worked on the new stamps. "These designs are about continuity and change, about respecting tradition but also bringing in something new."
The $1 definitives feature engravings of two animals indigenous to Canada, the white-tailed deer and the Atlantic walrus. The two stamps are printed on both intaglio and offset presses, with background colours in lithography, so colour is a big part of what's new. "Traditionally, engraved stamps were very simple in colour terms, and very easy to look at," says Craib. "Even though our approach to colouration is different, we tried to suggest this simplicity with subtle colour changes. For the white-tailed deer, for example, we used multiple greens and blues to avoid colour shifts that were too obvious."
Subtle colours solved some practical problems as well. "Registration challenges always exist when you're combining two printing techniques," says Craib. "To avoid misregistration, the printers at Canadian Bank Note worked with our design team to find soft colours, and we were cautious about colour density. The printers also paid extra attention to where the intaglio colours broke."
The two $1 stamps are available in panes of 16 and souvenir sheets of four. On the souvenir sheet an entirely different, more contemporary approach was taken. Colourful photographs of the featured animals appear in the selvage area, making it clear that despite traditional production techniques, these stamps belong in the 21st century.
A similar souvenir sheet is available for the new $2 definitives. In fact, the four stamps work well as a set, though each engraved portrait is distinctive within the group. "There is a family resemblance between the $1 and $2 definitives, a continuity of style," says Craib. "But we made an effort to ensure that each one has its own unique look and feel."
The new $1 definitives are being released in conjunction with coins issued by the Royal Canadian Mint bearing similar images. They replace the $1 loon definitive issued in 1998, which remains available until existing stocks are depleted.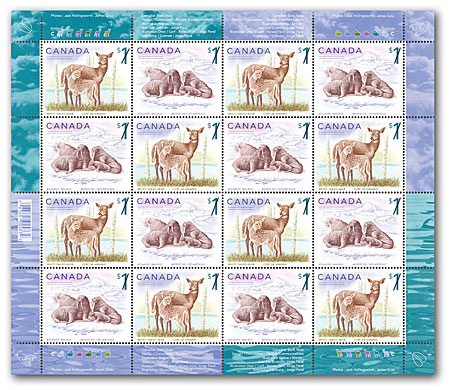 Pane of 16 stamps - 2 stamps se tenant
$16.00
Product #: 410104107
Denomination: 2 x 1.00
Design: Parable Communications
Dimensions: 48 mm x 39.65 mm (horizontal)
Printer: Canadian Bank Note
Printing Process: Lithography in 6 special colours plus steel engraving in 3 colours
Quantity: 4,000,000
Gum Type: P.V.A.
Illustration: White-tailed deer: Xerxes Irani; Jorge Peral Alantic walrus: Pierre Leduc; Jorge Peral
Perforations: 13+
Tagging: General, 4 sides
Photography: Jack Hollingsworth; James Gritz
Paper Type: Tullis Russell Coatings
OFDC Cancellation Location: Hall Beach, Nunavut
Shop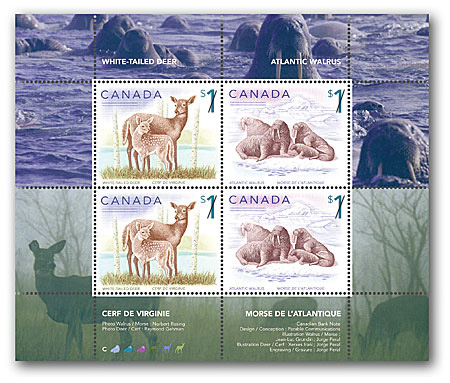 Souvenir sheet of 4 stamps se tenant
$4.00
Product #: 410104145
Dimensions: 130 mm x 160 mm (vertical)
Quantity: 500,000
Shop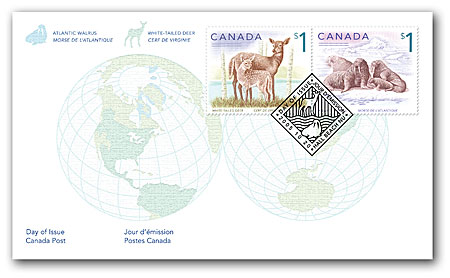 Official First Day Cover
$3.00
Product #: 410104126
OFDC Cancellation Location: Hall Beach, Nunavut
Shop