Christmas - Crèches
November 02, 2005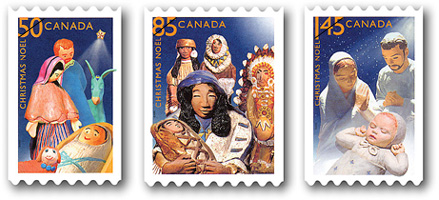 "And she brought forth her firstborn son, and wrapped him in swaddling clothes, and laid him in a manger; because there was no room for them in the inn."
Luke 2:7
This single event has been the subject of countless great works of art throughout much of the past two millennia and serves as both the physical and spiritual inspiration for the ancient and world-renowned art of creating crèches.
First attributed to Saint Francis of Assisi due to his creative recreation of the Nativity scene - complete with live animals - in an Italian churchyard in 1223, the art form continued to spread through Christendom. Gaining popularity in the Middle Ages, crèche building and appreciation became part of popular culture in the 16th and 17th centuries, particularly in Naples, and parts of France, Southern Germany and Austria. Missionary efforts helped spread this art form to almost every corner of the globe.
In celebration of this enduring art form, three crèches adorn Canada's 2005 Christmas stamps. Selecting the three - one for the domestic rate (50¢) stamp, one for the U.S. rate (85¢) stamp and one for the international rate ($1.45) stamp - was in itself a monumental task. Finally selected from a collection of more than 600 crèches housed at the museum at St. Joseph's Oratory in Montréal, were works by Canadian crèche master Michel Forest, aboriginal artist Keena and the late Sylvia Daoust, the first woman in Quebec to earn a living as a sculptor. Daoust passed away during the stamp creation process at the age of 102.
The stamps were created by I. Charney Design Inc., a Montréal design firm that specializes in cultural projects. Company principal Israël Charney explains his approach to the design of the stamps: "In a miniature world, one needs to lighten the mounds of information and present the essence." The design project also demanded common motifs to unify the series, a challenge that was dramatically met with images of the night sky and varying degrees of starlight.
Each crèche selected provides a unique viewpoint of the familiar Nativity tale. Informed by popular culture, animated films, children's art and mythical beings, Forest's crèche, which graces the domestic rate (50¢) stamp, is visually whimsical, with overtones of joy and celebration.
Keena's crèche, shown on the U.S. rate (85¢) stamp, is "an enormous set, created from baked red clay and colour glazed, all encased in glass and filled with all sorts of animals...," says Charney. It depicts an aboriginal mother and child, surrounded by nearly three dozen wise men and women, some with children, and all bearing gifts.
The third crèche was created by Sylvia Daoust. It includes a life-size Mary, Joseph and baby Jesus. The work, depicted on the international rate ($1.45) stamp, was formed in white plaster and painted in pastel colours. Natural deterioration had brought a unique patina to the life-like work.
To translate the essence of each crèche into the configuration of a stamp, a few figures were selected from each crèche and photographed individually by Paul McCarthy. Then began the work of producing a set of digital files, using photo-montage and digital collage techniques.
After more than a year of work translating the detail, enormity and physical presence of the crèches onto stamps, Canada Post is proud to celebrate the Christmas season with a series of moving stamps that pay homage to a unique art form that offers up three distinct visions of the same event by three uniquely talented Canadian artists.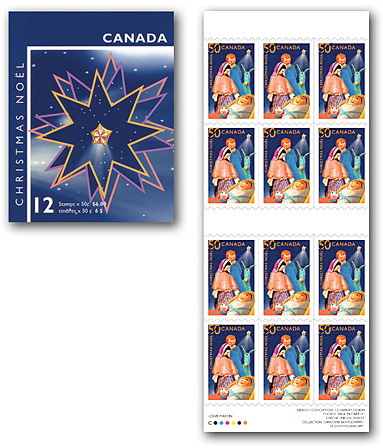 Booklet of 12 stamps
$6.00
Product #: 113626
Denomination: 1 x 50¢
Design: Israël Charney
Dimensions: 24 mm x 37 mm (vertical)
Printer: Lowe-Martin
Printing Process: Lithography in 7 colours
Quantity: 20,000,000
Gum Type: Pressure sensitive
Perforations: Kiss cut
Tagging: General, 4 sides
Paper Type: Tullis Russell Coatings
OFDC Cancellation Location: Montréal, Quebec
Shop