Christmas - Snowman
November 02, 2005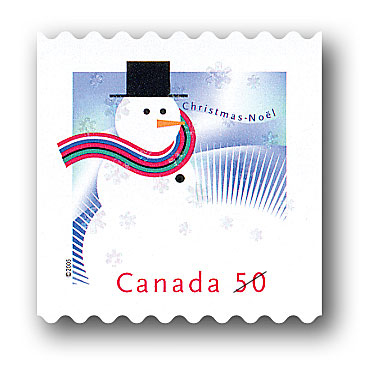 The 2005 holiday season marks the first time that Canada Post will issue both secular- and religious-themed stamps.
The secular stamp, injected with a child's magical sense of the season, features a jolly character we all know and love. The snowman, an icon of the winter season in North America, is portrayed among shimmering snowflakes and northern lights by designer and illustrator Hélène L'Heureux.
Like a finely wrapped gift, the booklet of 12 domestic rate (50¢) stamps opens to reveal a dozen festive Snowman stamps set against a wintery blue and green background that's embedded with cheery bonus envelope seals. "A symbol of the holiday season integrated into the magical landscape of northern lights reflects our Canadian way of imagining the spirit of the festivities," says L'Heureux.
Always honoured to be selected to design a stamp, L'Heureux adds this issue to her other credits, which include the Year of the Rooster (2005), two issues in the Art Canada series - Homer Watson (2005) and Jean Paul Lemieux (2004) - , YMCA (2001), and Hockey Night in Canada (1999). She approaches the design of a stamp as a "mini-poster" in that "it needs to appeal in the flick of an eye - to be immediately compelling, and yet possess enough complexity to satisfy the sophisticated eye of the collector."
And this Snowman stamp does just that. Immediately captivating, with its simple geometric lines and cheerful colours, the stamp begs a longer look with its glistening snowflakes, created through the use of clear holographic hot stamping. "I am not keen on using special effects unless they are a perfect fit with the subject. In this case, I really wanted to capture not just the whiteness of the snow, but also the refractory colours that one experiences as a sparkling effect when the sun shines against the snow on a bright day," explains L'Heureux.
And like the actual snowmen that mark a playful presence in the front yards of homes across Canada, this Snowman stamp will be a joy to behold as it graces greeting cards and collectors' albums across the nation.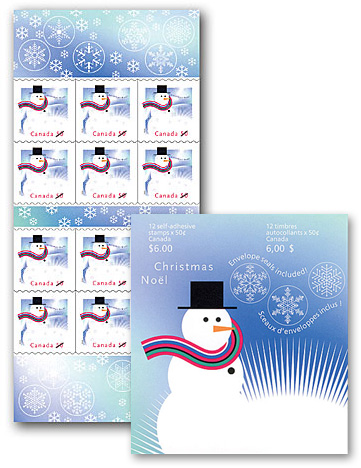 Booklet of 12 stamps
$6.00
Product #: 113625
Denomination: 1 x 50¢
Design: Hélène L'Heureux
Dimensions: 24 mm x 24 mm (square)
Printer: Lowe-Martin
Printing Process: Lithography in 6 colours plus 1 clear holographic stamping
Quantity: 40,000,000
Gum Type: Pressure sentitive
Perforations: Kiss cut
Tagging: General, 4 sides
Paper Type: Tullis Russell Coatings
OFDC Cancellation Location: Christmas Island, Nova Scotia
Shop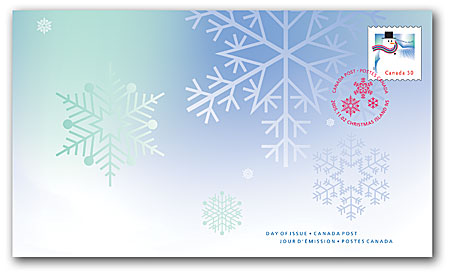 Official First Day Cover
$1.50
Product #: 413625121
OFDC Cancellation Location: Christmas Island, Nova Scotia
Shop