Who can resist balloons in bright colours? Whenever family and friends gather, these bobbing, bouncing symbols of celebration help make the event a real occasion. Now, Canadians who can't be there in person will be able to send balloons through the mail, thanks to a new domestic rate (51¢) special commemorative stamp in bright primary colours that's available in self-adhesive booklets of six.
"There's a real feeling of celebration in these big bold shapes, with their vibrant colours," says Liz Wong, Manager of Stamp Design and Production at Canada Post. "To achieve a sense of depth and volume, we used eight colours to print these stamps, including pearl white for extra luminosity. The pearl white provides an effervescent sheen that makes the balloons appear to shimmer in the light, giving the effect of movement."
Though traditions linked to birthday celebrations vary around the world, some date back to pagan times when people believed that happiness would shield them from the evil spirits they feared. As a result, birthdays were merry occasions celebrated with family and friends, who surrounded the birthday boy or girl with laughter and joy.
The tradition of lighting birthday candles began as a means of sending good wishes to the heavens upon their smoke. Balloons mimic this tradition, floating lightly on the air with implied good wishes. Today, a typical Canadian birthday celebration includes -balloons and other decorations, cake and candles.
The balloon stamp is designed to add this -celebratory touch to cards and letters mailed for all kinds of happy occasions, including birthdays, -anniversaries and baby showers. "The closely cropped stamp image is intended to make the viewer feel part of the bunch, and the small space gives the impression that the balloons are confined, ready to surprise the recipient," says designer Andrew Perro of Designwerke Inc. With this image, the stamps neatly convey the anticipation and excitement of people gathering in celebration.
The Official First Day Cover is a celebration in itself. Repeating the stamp's balloon motif in its bold colours, it resembles a congratulatory card. It bears an Ottawa cancellation, with typography arranged in the shape of a balloon on a string.
"There's nothing as cheerful as a balloon, no matter how old you are," says Wong. These stamps are a surprising touch of fun colour to send in the mail, and are sure to provoke a smile from kids of all ages.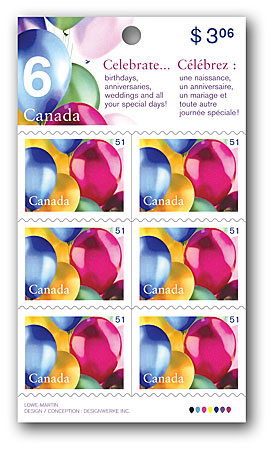 Booklet of 6 stamps
$3.06
Product #: 413634111
Denomination: 1 x 51¢
Design: Designwerke Inc.
Dimensions: 36 mm x 28 mm (horizontal)
Printer: Lowe-Martin
Printing Process: Lithography in 8 colours
Quantity: 10,000,000
Gum Type: Pressure sensitive
Perforations: Simulated perforation top and bottom
Tagging: General, 4 sides
Paper Type: Tullis Russell Coatings
OFDC Cancellation Location: Ottawa, Ontario
Shop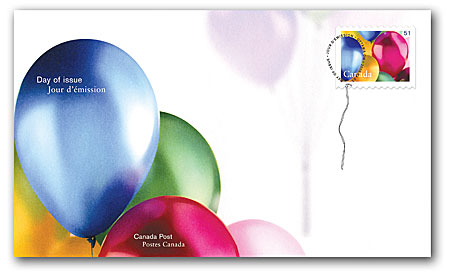 Official First day Cover
$1.51
Product #: 413634131
OFDC Cancellation Location: Ottawa, Ontario
Shop