Art Canada: Dorothy Knowles
April 07, 2006
There are many things about Dorothy Knowles' paintings that deliver a sense of awe and wonder, but perhaps none more so than their very scale - some as big as six by eight feet. Look at one of Knowles' landscapes and you can almost believe that she took a complete prairie landscape and dropped it, in its entirety, onto her canvas. Now, those distinctive prairie landscapes appear on a pair of stamps celebrating her artistry. As part of its ongoing Art Canada series, Canada Post has issued a domestic rate (51¢) stamp featuring Knowles' 1971 watercolour "The Field of Rapeseed," and a U.S. rate (89¢) stamp showing her 1989 oil painting "North Saskatchewan River."*
"This series recognizes that postage stamps are ambassadors for Canada," says Alain Leduc, Manager of Stamp Design and Production at Canada Post. "Art is a wonderful way of representing our country internationally, but it also helps Canadians across the country gain a better understanding of each other."
Knowles' work is a case in point - her paintings have long been recognized as a unique response to the immensity and richness of life on the prairie. Born in Unity, Saskatchewan, in 1927, Knowles was a farm girl who grew up to study biology and lab technology. After graduation, she attended summer art classes at Emma Lake, Saskatchewan, studied art in night classes at the University of Saskatchewan, and in 1952 enrolled in an art class at Banff. She was encouraged to further her training in England, and attended Goldsmith's College School of Art in London. Soon, painting became her life's work. In the late 1950s and early 1960s, Knowles experimented with abstraction, but in a 1962 workshop, Clement Greenburg encouraged her to return to painting from nature and her love of painting the vast landscapes for which she is renowned was born.
Since those early days, Dorothy Knowles has exhibited frequently, and her work is now collected by museums across Canada. When she was made a member of the Order of Canada in 2004, the Governor General's citation noted that "her evocative paintings have come to symbolize the prairie landscape."
Designer Hélène L'Heureux was inspired by the distinctive colour tones of Knowles' "The Field of Rapeseed".
"The design for the Art Canada series is unobtrusive, in order to make a case for the paintings. The asymmetrical borders of the stamp offer a contemporary look, while still focusing attention on the art," L'Heureux says. "When designing the souvenir sheet, however, I wanted to highlight the very bright colour palette this artist uses. We chose her unique shades of saturated yellow and muted blue, and extended them across the souvenir sheet to suggest a vast landscape. The mosaic pattern was inspired by the mosaic made by adjacent farm fields - it's an abstract prairie landscape."
* Both paintings are in the collections of the Mackenzie Art Gallery, Regina, Saskatchewan, and can be viewed online at http://www.mackenzieartgallery.sk.ca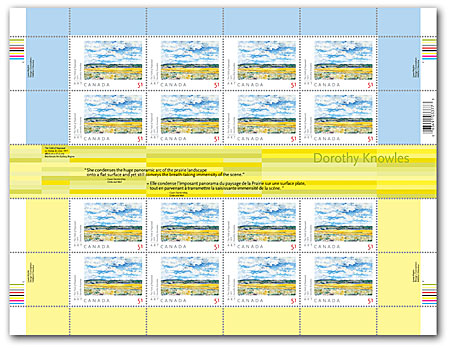 Product #: 403635107
Denomination: 1 x 51¢
Design: Hélène L'Heureux
Dimensions: 45.5 mm x 32 mm (horizontal)
Printer: Lowe-Martin
Printing Process: Lithography in 9 colours
Quantity: 3,000,000
Gum Type: P.V.A.
Perforations: 13+
Tagging: General, 4 sides
Paper Type: Tullis Russell Coatings
OFDC Cancellation Location: Unity, Saskatchewan
Shop