Queen Elizabeth: 1926-2006
April 21, 2006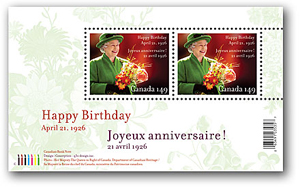 In the last issue of Details, Canada Post introduced a special commemorative Queen Elizabeth domestic rate (51¢) issue to celebrate Her Majesty's 80 th year.
In recognition of Queen Elizabeth's actual birthdate on April 21, Canada Post will issue a souvenir sheet of two international rate ($1.49) stamps featuring the same beautiful image that graces the domestic rate issue. The image, which combines photography from the Department of Canadian Heritage and the design work of q30 design inc., depicts the Queen in a colourful and luminous informal portrait taken at the RCMP Rockcliffe Stables in Ottawa in 2002.
Complete with the words "Happy Birthday / April 21, 1926" in both official languages, this is a wonderful keepsake that will reign supreme for years to come.
For more information about the Royal Family, visit www.royal.gov.uk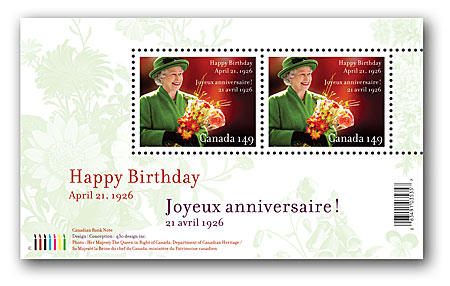 Souvenir sheet of 2 stamps
$2.98
Product #: 403637145
Denomination: 2 x 1.49
Design: q30 design inc.
Dimensions: 125 mm x 75 mm (horizontal)
Printer: Canadian Bank Note
Printing Process: Lithography in 7 colours
Quantity: Continuous printing
Gum Type: P.V.A.
Perforations: 13+
Tagging: General, 4 sides
Photography: Department of Canadian Heritage
Paper Type: Fasson
OFDC Cancellation Location: Ottawa, Ontario
Shop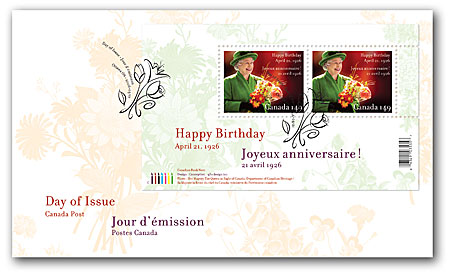 Official First Day Cover
$3.98
Product #: 403637144
OFDC Cancellation Location: Ottawa, Ontario
Shop