McClelland & Stewart: 1906-2006
April 26, 2006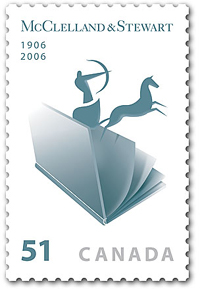 Edward George Earle Bulwer-Lytton's famous phrase "the pen is mightier than the sword" is certainly true of McClelland & Stewart, a Canadian publishing house that has arguably played a pivotal role in shaping Canadian identity and culture. In a 1918 article in Canadian Magazine, John McClelland, founding partner of McClelland & Stewart and Jack McClelland's father, was quoted as saying, "For ourselves, we might say that we are specializing as far as possible on the works of Canadian authors." True to McClelland's words, for the past century, McClelland & Stewart has specialized in publishing the works of extra-ordinary Canadian authors, including Mordecai Richler, Stephen Leacock and Lucy Maud Montgomery.
"How we see Canada and ourselves as Canadians has been fashioned by seminal McClelland & Stewart writers and poets such as Pierre Berton, Farley Mowat and Margaret Atwood," says Danielle Trottier, Manager of Stamp Design and Production at Canada Post. "We thought it only fitting that we -celebrate the 100-year anniversary of this great Canadian institution with a single domestic rate (51¢) commemorative stamp."
When he was chosen to design a stamp commemorating the anniversary of this archetypal publishing house, designer James Roberts of Overdrive (Design Limited) in Toronto, knew he had a lot to live up to and no margin for error.
"There's a lot of Canadian literary history in McClelland & Stewart," explains Roberts. "And I wanted to create a stamp design that somehow reflected that sense of literary greatness. However, a postage stamp is also seen everywhere, which means there's no room whatsoever for mistakes."
The simple yet elegant stamp design that Roberts created pays homage to an earlier age, and features a horse and charioteer - McClelland & Stewart's -colophon - emerging from a book. In this way, the McClelland & Stewart colophon represents the book's content. The image of the book on the stamp was created deliberately with the look and feel of a notebook computer to represent the realities of today's modern world - a marriage of the traditional and the modern, the love of the past and the anticipation of an optimistic future.
McClelland & Stewart has every reason to be optimistic about the future. The company publishes approximately 100 new titles every year, and its non-fiction arm is associated with distinguished authors who represent various elements of Canadian culture: art, sport, politics, humour, history and social -commentary to name but a few. McClelland & Stewart's award-winning fiction authors have been gaining international reputations in recent years, and the company continues to publish and promote promising works by new Canadian authors.
"The written word truly is magic," says Roberts. "And I hope that this stamp captures something of that magic."
For more information about McClelland &Stewart, please visit www.mcclelland.com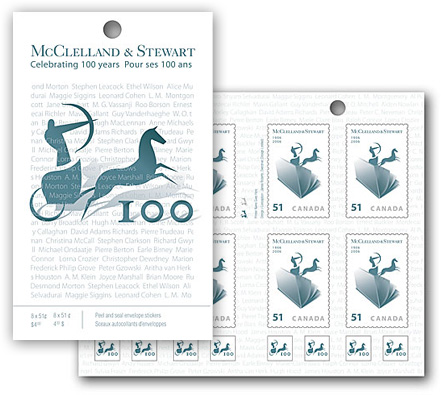 Booklet of 8 stamps
$4.08
Product #: 413638111
Denomination: 1 x 51¢
Design: James Roberts, Overdrive (Design Limited)
Dimensions: 25 mm x 38 mm (vertical)
Printer: Lowe-Martin
Printing Process: Lithography in 2 colours
Quantity: 3,000,000
Gum Type: Pressure sensitive
Perforations: Kiss cut
Tagging: General, 4 sides
Paper Type: Tullis Russell Coatings
OFDC Cancellation Location: Toronto, Ontario
Shop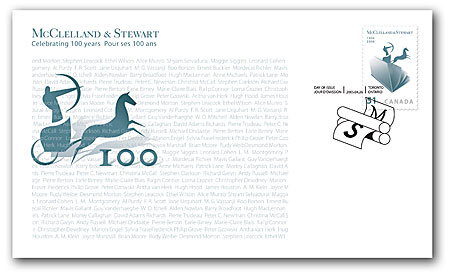 Official First Day Cover
$1.51
Product #: 413638131
OFDC Cancellation Location: Toronto, Ontario
Shop