Benjamin Franklin Commemorative Envelope
May 28, 2006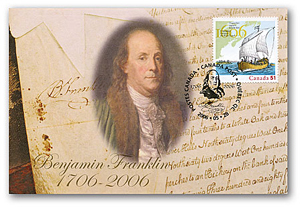 "If you would not be forgotten as soon as you are dead and rotten, either write things worth reading or do things worth the writing." Author of these words of wisdom, Benjamin Franklin, did both, writing much and doing even more.
One of America's founding fathers and greatest citizens, Benjamin Franklin was arguably the greatest statesman of his age. He played a pivotal role in the formation of the American republic and is one of the most remarkable figures in American history. He was also a pioneering scientist and inventor, bestselling author, philosopher, printer, public servant, abolitionist, diplomat, musician and economist.
Benjamin Franklin left a direct legacy upon Canada when, in 1763, his position as one of North America's first joint Deputy Postmasters General was extended to include Quebec, due to the Treaty of Paris. Franklin oversaw the birth and evolution of an efficient postal system, establishing services from Montréal and New York, which allowed for European mail service 12 months of the year.
In celebration of Benjamin Franklin's 300th birthday and in recognition of his extraordinary accomplishments, Canada Post will issue a commemorative envelope on May 28, 2006.
The beautifully designed commemorative envelope features an image of a younger Benjamin Franklin set against a document that was written by him. The envelope, which is completed by the Champlain Surveys the East Coast stamp, was designed by Céline Morisset of Canada Post's Graphic Design Group.
"Benjamin Franklin was an amazingly talented, altruistic man who contributed much to America and Canada. I wanted the envelope to reflect the richness and diversity of his life," explains Morisset. "The image of Franklin is a reproduction of a painting by Jean-Baptiste Greuze. The document is a land patent that was signed by Benjamin Franklin on April 16, 1787."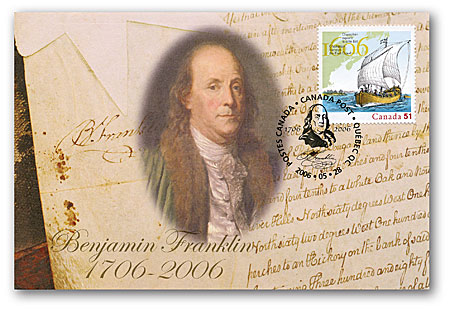 Commemorative Envelope
$2.50
Product #: 341737
Denomination: 1 x 51¢
Design: Canada Post Graphic Design Group
Quantity: 10,000
Shop