Macdonald College: 1906-2006
September 26, 2006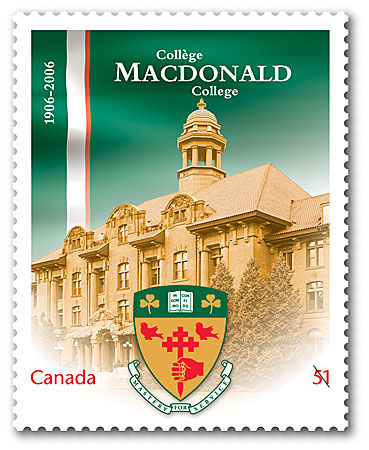 During an impressive century-long history, Macdonald College has been nationally and internationally recognized for its leadership in many areas, including: plant science, animal science, nutrition and dietetics, food science, engineering, water management, soils, microbiology, and environmental management.
To commemorate the 100-year anniversary of the official opening of Macdonald College, Canada Post is issuing a single domestic rate (51¢) stamp on September 26, 2006.
In 1904, College founder Sir William Macdonald, a Scots-Quebecer tobacco manufacturer and major education philanthropist, purchased three farm properties on the western end of Île de Montréal in an area known as Sainte-Anne-de-Bellevue. Macdonald's vision for these 300 acres of land was to establish an agriculture training institute.
Construction of Macdonald College began in 1905, and in 1906 the deeds were turned over to the Board of Governors of McGill University, along with a $2-million endowment from Macdonald. Over the past century, the relationship between the two institutions has positioned Macdonald College as a leader in agricultural studies.
From the beginning, the college's programs have been designed with the goal of improving the knowledge of students in their respective field and propel research, both in terms of academics and of primary research on the college's extensive farmland. In the last fifty years, technological processes have changed the nature of agricultural production. To meet changing needs in agricultural production and the economics associated with them, the college has continued to expand and specialize its programs.
Denis L'Allier, the designer behind the Canadian educational institutions stamp series for the past three years, worked with photography by Guy Lavigueur to design the Macdonald College stamp.
The design combines the college's Main Building, school crest and colours---to create a truly unique stamp. "The school colours figure prominently in the image," says L'Allier. "A vibrant green background brings forth the primary colour, while the gold-tinted building brings in the secondary colour."
"Deciding on a structure that would represent the entire campus was simple," says Danielle Trottier, Manager of Stamp Design and Production at Canada Post. "We chose the marvellous edifice of the Main Building because it denotes the college's historical centenary. The display of the school's official colours also speaks to the college's long tradition."
With one hundred years of achievements providing a source of pride for the faculty, staff and alumni of Macdonald College, what will the future hold for this progressive institution of higher learning? According to Dean Dr. Chandra A. Madramootoo, "Macdonald College will continue to fulfil the dream and vision of our founder, Sir William Macdonald, as a world-class teaching and research institution in agriculture, food and nutrition, and the environment. We are preparing the leaders of tomorrow in these important and basic areas of human survival in an equitable and balanced manner."
For more information about Macdonald College, visit www.mcgill.ca/macdonald.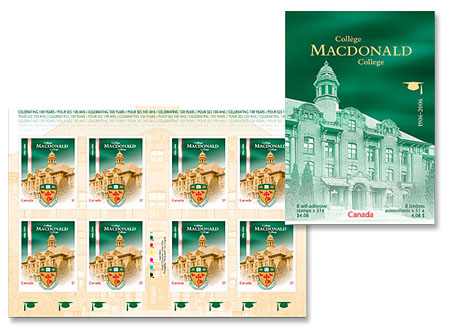 Booklet of 8 stamps
$4.08
Product #: 413651111
Denomination: 1 x 51¢
Design: Denis L'Allier
Dimensions: 36 mm x 45 mm (vertical)
Printer: Lowe-Martin
Printing Process: Lithography in 6 colours
Quantity: 2,500,000
Gum Type: Pressure sensitive
Perforations: Kiss cut
Tagging: General, 4 sides
Photography: Guy Lavigueur
Paper Type: Tullis Russell Coatings
OFDC Cancellation Location: Sainte-Anne-de-Bellevue, Quebec
Shop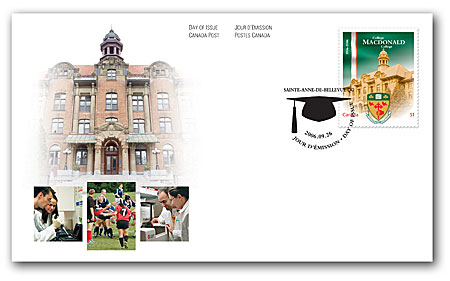 Official First Day Cover
$1.51
Product #: 413651131
OFDC Cancellation Location: Sainte-Anne-de-Bellevue, Quebec
Shop