Christmas Cards
November 01, 2006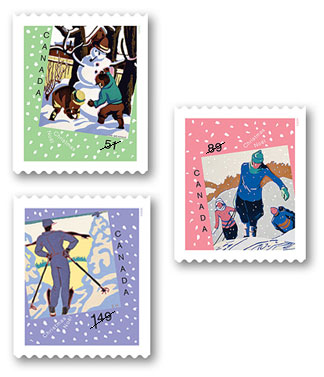 From commissioned works of art to mass produced stationery---and more recently electronic media---Christmas card greetings have taken many forms throughout the years. Today's commercially crafted Christmas cards are rooted in a long tradition of sending seasonal messages at times such as Thanksgiving, the winter solstice, Christmas and the New Year.
Sending goodwill messages probably began in pagan times, but the first modern Christmas card wasn't produced until 1843. Early Christmas cards were expensive and not readily available---only 1,000 copies of the 1843 card were produced and they sold for one shilling each. The practice of sending Christmas cards was thought to be a trend that would soon pass. However, the advent of the Uniform Penny Post in the United Kingdom and technological advances in printing and engraving in the 1850s helped make the practice of sending Christmas cards more affordable, convenient and accessible for a broader cross-section of society---not simply the wealthy and elite. The tradition of Christmas cards grew ever more popular, eventually extending to North America and Canada. In 1875, German-born lithographer Louis Prang introduced commercial printing of Christmas cards in the United States, laying the foundation for a thriving industry that is today worth billions of dollars.
On November 1, 2006, Canada Post will issue three stamps---one at the domestic rate (51¢), one at the U.S. rate (89¢) and one at the international rate ($1.49)---as a tribute to the art and tradition of Christmas cards. Designed by Peter Steiner, these colourful stamps feature winter scenes composed by Canadian artists Edwin Holgate, J.E. Sampson and Yvonne McKague Housser, and featured in William E. Coutts Company Ltd.'s 1931 Painters of Canada Christmas card series.
Steiner selected these three cards---Holgate's Contemplation, Sampson's Winter Joys and Housser's Snowman---because of their superb artistic depiction of typical Canadian winter scenes. When conceiving the stamp design, Steiner focused on elements that would both complement and highlight the original artwork.
"I cropped the original images on an angle to draw attention to them, while using background colours that are reflective of joyous and festive times," says Steiner. "The addition of snowflakes creates a visual winter landscape, and represents what every child wishes for at this time of year---a white Christmas."
We're delighted to have an opportunity to pay tribute to the artwork of Holgate, Sampson and McKague Housser within a refreshing and uniquely Canadian stamp design," says Alain Leduc, Manager of Stamp Design and Production at Canada Post. "These stamps, like the cards they showcase, are certain to become classics."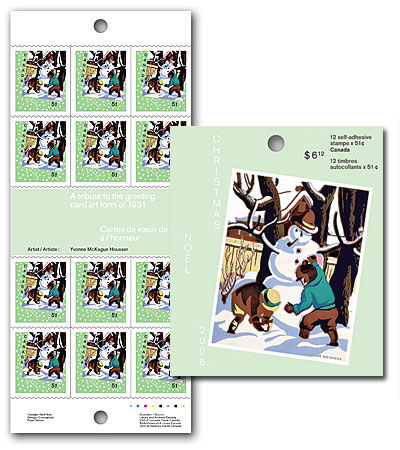 Booklet of 12 stamps
$6.12
Product #: 113654
Denomination: 1 x 51¢
Design: Peter Steiner
Dimensions: 30 mm x 35 mm (vertical)
Printer: Canadian Bank Note
Printing Process: Lithography in 7 colours
Quantity: 30,000,000
Gum Type: Pressure-sensitive
Illustration: Yvonne McKague Housser; J.E. Sampson; Edwin Holgate
Perforations: Kiss cut
Tagging: General, 4 sides
Paper Type: Tullis Russell Coatings
OFDC Cancellation Location: Noel, Nova Scotia
Shop