Purdy's Chocolates Commemorative Envelope
February 08, 2007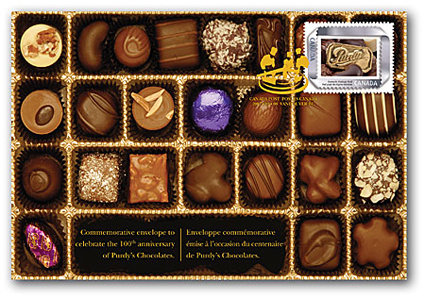 One can only imagine the impressions left on the first sweet-toothed locals to enter Richard Purdy's chocolate shoppe on Vancouver's Robson Street in 1907, hoping to satisfy their chocolate cravings. Did his now-signature blends of sumptuous creams, nuts roasted to perfection, and bursts of rich caramel flavour conjure images of the Canadian success story that would unfold? With a formula consisting of the finest ingredients from around the world-Belgian chocolate, Australian ginger, Indian cashews and the freshest dairy products from farms across Western Canada-it's hard to conceive otherwise. It was clear from the offset that this chocolatier meant business.
Today, Purdy's Chocolates boasts 51 stores in British Columbia, Alberta and Ontario, along with 20 more openings set to take place in Ontario before the end of the decade-a reflection of the value that has remained constant.
Despite its remarkable expansion, Purdy's hasn't departed from its noble beginnings. Richard Purdy's original recipe is still the cornerstone of the thriving business and, while it now employs more than 600 people, Purdy's has remained a family company.
The commemorative envelope features a box of Purdy's famous chocolate assortments-an ode to this retailer's claim to fame. Three chefs stirring a fresh batch of chocolate are portrayed on the envelope's cancel, and the preprinted stamp image features a chocolate wrapped in foil with Purdy's logo embedded on it. Featured in this alluring mixture is Purdy's signature Hedgehog, a hazelnut truffle centre surrounded by a milk-chocolate shell. All elements combine to almost conjure the alluring aromas and irresistible cravings for which Purdy's is renowned. Working with batches of these inviting scents and rich chocolate assortments for hours on end, designer Katie Deering of Canada Post's Graphic Design Group had her work cut out for her. "The hardest thing about doing this," she claims, "was not eating the chocolates."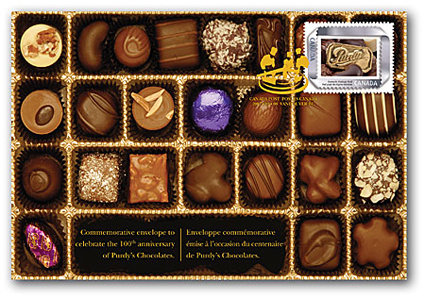 Commemorative Envelope
$2.50
Product #: 341744
Denomination: Domestic postage paid
Design: Canada Post Graphic Design Group
Quantity: 10,000
Shop