University of Saskatchewan
April 03, 2007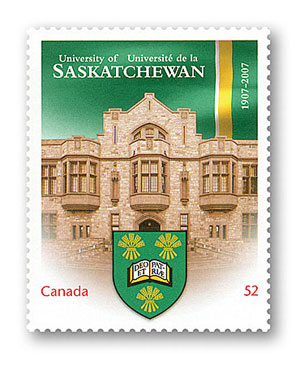 The University of Saskatchewan, in Saskatoon, was built on big dreams and a big expanse of land-300 acres for the main campus and 1,000 acres for agriculture. Today, this land is literally a city within a city, with a university that boasts close to 19,000 undergraduate and graduate students, and some 7,000 faculty and staff.
The act establishing the University of Saskatchewan was given royal assent on April 3, 1907, ushering in a new era in post-secondary education in the Canadian Prairies. A century later, this notable institute of higher learning not only offers 58 degrees, diplomas and certificates in more than 100 areas of study, but is also considered one of our country's leading medical/doctoral institutions.
The university's list of alumni includes former governor general Ramon Hnatyshyn, noted former journalist Pamela Wallin, and former premier of Saskatchewan Roy Romanow. Canada's 13th prime minister, the Right Hon. John G. Diefenbaker, received three degrees from the university and is buried on campus beside the building named in his honour.
The campus' architectural style-Collegiate Gothic-was chosen after the university's first president, Walter Murray, and two members of the Board of Governors completed a tour of North American universities in 1908. Brown and Vallance, of Montréal, were the university's architects from the school's beginnings through the 1920s, designing 14 major buildings.
The school's distinct architecture and signature green and gold colours are central elements on a new domestic rate (52¢) stamp commemorating the university's 100th anniversary. Issued on April 3, 2007, the stamp features a sepia-toned photograph of the university's College Building, the school logo and a green shield displaying three wheat sheaves, and a book of knowledge bearing the Latin phrase Deo et Patrie (For God and Country).
For stamp designer Denis L'Allier and photographer Guy Lavigueur, capturing the essence of the College Building posed challenges. "We wanted to photograph the building in a soft light," says L'Allier. "To achieve this, we had to wait until the sun was positioned behind the building."
Photographer and designer also had to wait patiently for the October frost to melt from the roof, leaving only two hours to take the desired photo. L'Allier enhanced the soft details of the image digitally to bring out the finer points of the edifice-particularly the windows, which figure prominently in the building's design.
The result of L'Allier and Lavigueur's efforts is an elegant stamp that provides a fitting tribute to a world-class institution with much to celebrate, including 100 years of teaching, learning and discovery.
To learn more about the University of Saskatchewan, please visit www.usask.ca.
Booklet of 8 stamps
$4.16
Product #: 413677111
Denomination: 1 x 52¢
Design: Denis L'Allier
Dimensions: 36 mm x 45 mm (vertical)
Printer: Lowe-Martin
Printing Process: Lithography in 6 colours
Quantity: 2,500,000
Gum Type: Pressure sensitive
Perforations: Kiss cut
Tagging: General, 4 sides
Photography: Guy Lavigueur
Paper Type: Tullis Russell Coatings
OFDC Cancellation Location: Saskatoon, Saskatchewan
Shop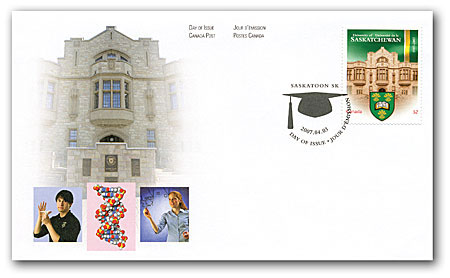 Official First Day Cover
$1.52
Product #: 413677121
OFDC Cancellation Location: Saskatoon, Saskatchewan
Shop