Royal Architectural Institute of Canada
May 09, 2007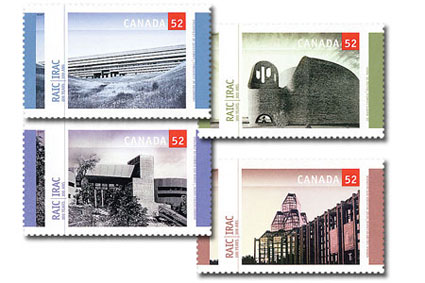 If you build it, they will come. And they have come-thousands of visitors, worshippers, students and educators through the doors of some of our country's most celebrated structures. Four of these architectural gems are spotlighted in a new set of domestic rate (52¢) stamps that will be issued on May 9, 2007, to commemorate the centenary of the Royal Architectural Institute of Canada (RAIC).
The RAIC was formed in 1907 with a mission to establish closer professional ties between provincial groups of architects in Canada. Today, the institute represents the interests of more than 3,500 architects, and faculty and graduates of accredited Canadian university schools of architecture from every region of the country. The RAIC's mandate is to recognize and promote excellence in Canadian architecture and support the profession nationwide.
Excellence in architecture is represented brilliantly in the quartet of stamps designed by Ivan Novotny of Taylor|Sprules Corporation. The stamps feature the works of world-renowned architects Arthur Erickson, Douglas Cardinal, Raymond Moriyama and Moshe Safdie, all of whom received RAIC's prestigious gold medal as well as the Order of Canada. The marvelous edifices and their corresponding opening dates are: the University of Lethbridge (Erickson), 1971; St. Mary's Church (Cardinal), 1969; the Ontario Science Centre (Moriyama), 1969; and the National Gallery of Canada (Safdie), 1988.
For stamp designer Novotny, the idea of placing such large buildings on an area as small as a postage stamp felt odd. "These buildings needed room to breathe," he says. "So we decided to use the pane's selvage to extend additional elements beyond the stamp's borders. The invisible markings-somewhat challenging to the task of bleeding the images onto the edge-were integrated through the use of vertical lines, creating a modular illusion that plays nicely on the building theme."
The pane includes different selvages on each side. The RAIC centennial logo and the Institute's seal appear in the top and bottom selvages, respectively. Elements of original sketches of each of the projects appear on the left, while portraits of the architects themselves are displayed on the right. "This feature, combined with the colours that bleed from the stamp to the selvages, creates a marvelous sense of interaction between the architects and their art," says Alain Leduc, manager of Stamp Design and Production at Canada Post. "The integration of selvage and stamp seems borderless, making for one unique piece of art that offers collectors the opportunity to build their own selvage and stamp combinations."
For the RAIC, the stamps are a fitting tribute to an exceptional organization that has contributed much to the profession of architecture for the past hundred years. "[The stamps are] really a great celebration of our centennial," comments Jon Hobbs, executive director of the RAIC. "It helps the public recognize the importance of architecture to our Canadian culture, economy and quality of life."
Learn more about the RAIC at www.raic.org/index_e.htm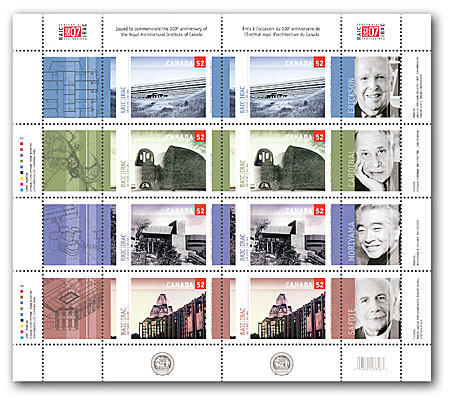 Product #: 403679107
Denomination: 4 x 52¢
Design: Ivan Novotny, Taylor|Sprules Corporation
Dimensions: 52 mm x 32 mm (horizontal)
Printer: Lowe-Martin
Printing Process: Lithography in 8 colours
Quantity: 3,000,000
Gum Type: P.V.A.
Illustration: Arthur Erickson Architectural Corporation, Simon Scott, Nicole Milkovich; Douglas Cardinal Architect Inc., Liao Yusheng; Moriyama & Teshima Architects; Moshe Safdie and Associates, Robert Agnel, Stephen Kelly
Perforations: 13+
Tagging: General, 4 sides
Paper Type: Tullis Russell Coatings
OFDC Cancellation Location: Ottawa, Ontario
Shop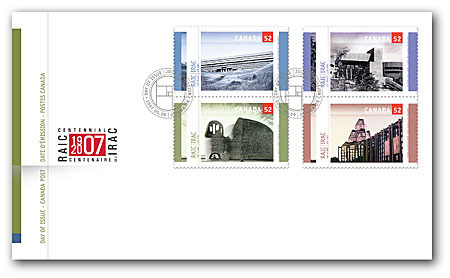 Official First Day Cover
$3.08
Product #: 403679126
OFDC Cancellation Location: Ottawa, Ontario
Shop