Canadian Recording Artists
June 29, 2007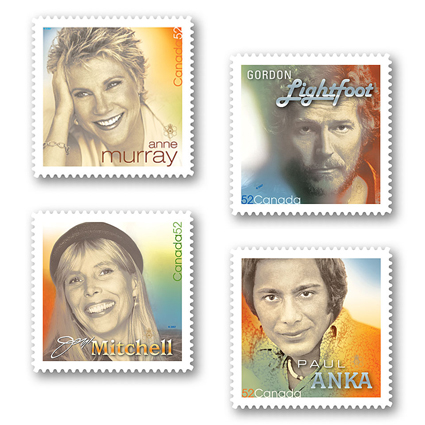 It wasn't that long ago that some Canadian musicians had a hard time getting recognition in their own country. Before 1960, almost all records sold in Canada were by foreign performers. Not so today. Not only have Canadians focused their attention on the stars in their own backyard, but Canadian performers are also capturing the spotlight on the international stage.
On June 29, Canada Post will issue a set of four domestic rate (52¢) stamps to celebrate Canadian music icons: Joni Mitchell, Paul Anka, Anne Murray and Gordon Lightfoot. This issue follows last summer's popular Canadians in Hollywood issue.
"Creating these stamps is Canada Post's way of giving something back to these very talented artists, who have given so much to Canadians," says Liz Wong, manager of Stamp Design and Production at Canada Post. Wong adds that the four stamps are only the second Canada Post issue to honour living Canadians, the first being Oscar Peterson in 2005. "Trivia buffs may notice that living Canadians honoured on a postage stamp have something in common-they've all received the Order of Canada," says Wong.
The CD-shaped Canadian Recording Artists booklets, available with eight stamps, will also put a new spin on this type of collectible. There are four different booklets, with each cover featuring the image of one of the recording artists. Inside, the stamps are arranged in one of four different orders, with the singer featured on the cover appearing in the top-left position. The booklets also include envelope seals and information about the featured artist. In addition, a souvenir sheet, OFDC and postcards are available.
Robert L. Peters of Winnipeg's Circle Design Inc. says his design team was very enthusiastic about working with "living legends" while they developed the Canadian Recording Artists issue. "We tried to portray the distinctive personality of each performer," Peters explains. "And, we wanted to depict them at a significant moment in their careers."
Inspired by album covers, each stamp is square in format and features a photo of the artist along with distinctively styled fonts appropriate to the era. As some of the photos were taken over 30 years ago, obtaining suitable originals and approvals involved a significant amount of research.
To reflect the glamour and prestige of the recording artists, Peters incorporated a distinctive MetalFX® process. "The MetalFX process involves under-printing in metallic silver ink, then over-printing with other colours," says Peters. "The result gives a lustrous sheen to the artists' portraits and lends a 'platinum album' feel to the shiny, disc-shaped stamp booklets and souvenir sheet."
The stamps went through various design refinements before reaching their final form. "Like human gestation, designing a stamp is a simple but complex process," Peters explains. "It takes about nine months to do, and you can't rush it."
Joni Mitchell
Joni Mitchell was born Roberta Joan Anderson on November 7, 1943, in Fort McLeod, Alberta, and raised in North Battleford, Saskatchewan. She was a creative tot, showing an interest in poetry, painting and music, as well as studying classical piano from the age of seven. She attended the Alberta College of Art in Calgary, but left the school to give her creative flair free rein and perform in clubs and coffeehouses as a folk singer. Success came quickly. Singer David Crosby opened doors for Mitchell's first self-titled album, also known as Song to a Seagull, and her third album, Ladies of the Canyon, went gold.
With song lyrics such as those in "Big Yellow Taxi" and "Woodstock," Mitchell's story-telling ability is as admired as her musical talent, and once led a Detroit critic to say: "If she knew only three chords, her performance would be justified by her songs alone." Some of the numerous awards she has received during her 30-year career include the Grammys Lifetime Achievement Award, an induction into the Rock and Roll Hall of Fame, and an induction to the Canadian Songwriters Hall of Fame.
Mitchell has produced 27 albums, and the most recent, Songs of a Prairie Girl, illustrates her ties to her rural Canadian roots. "This (album)...is my contribution to Saskatchewan's Centennial celebrations," Mitchell said. "I recommend that you get yourself a hot beverage and stand by the heater as you listen to these musical tales of long, cold winters with a hint of short but glorious summers."
Paul Anka
"A finger of Johnnie Ray, a touch of Frankie Laine, the zest of Elvis Presley, several drops of the Platters-shake and serve..." That's the way one Parisian reviewer described Canadian singing sensation Paul Anka, an Ottawa-born prodigy who had an ambition to succeed in show business from a young age.
Born on July 30, 1941, Anka was already performing local shows and on the radio at the age of 10 and had his first professional gig by age 15. His first hit, "Diana," soared to the top of Billboard's charts in less than four weeks before becoming the number one song in the world and the second-biggest-selling song ever recorded. Other hits soon followed, including "Lonely Boy" and "Put Your Head on My Shoulder."
Anka has recorded 125 albums, selling some 15 million copies worldwide. He's also the lyricist behind hits by other musicians, like Tom Jones' "She's a Lady," Buddy Holly's "It Doesn't Matter Anymore," and Frank Sinatra's signature song, "My Way." These achievements have earned him such tributes as a star on the Hollywood Walk of Fame, an induction into the Songwriters Hall of Fame, the Order of Arts and Letters from the French government, and an induction into Canada's Walk of Fame.
Upon being inducted to Canada's Walk of Fame, Anka said: "My family came here to Canada...they were allowed to pursue their dreams and soon felt that this was their home. It's true, I left as a teenager, pursued those dreams...a man once said you can't go back, you can't go home again-well, that guy was not a Canadian."
Anne Murray
Elton John once said: "I know two things about Canada: hockey and Anne Murray." With a career spanning almost four decades, it's no wonder that Murray is as well-known as Canada's beloved sport.
Murray was born on June 20, 1945, in Springhill, Nova Scotia. Her musical talent was apparent from childhood, and she began training in piano and vocals at a young age. After her 1966 graduation from university, she was offered a spot on CBC-TV's Singalong Jubilee. Her popularity increased with the release of her first hit single, "Snowbird," and when she became a regular on The Glen Campbell Goodtime Hour. A variety of hits followed, including "Danny's Song," "You Needed Me" and "Could I Have This Dance." Interestingly, her hits often made both the pop and country charts, sometimes simultaneously.
Murray's success drew national and international respect. Her many accolades include four Grammy Awards, three American Music Awards, three Country Music Association Awards, three Canadian Country Music Association Awards, 24 Junos, and an induction into the Canadian Country Music Hall of Fame and the Juno Hall of Fame, as well as the Companion of the Order of Canada.
"I was deeply honoured to be chosen by Canada Post to grace a stamp this year," Murray recently said. "It's a once-in-a-lifetime acknowledgment and I'm pleased to be a part of this series."
Gordon Lightfoot
"[Gordon Lightfoot's] voice is such a part of the fabric of Canada, I know it almost as well as I know my own voice." So said musician, producer and composer, David Foster, about Lightfoot's impact on Canadian culture.
Lightfoot was born on November 17, 1938, in Orillia, Ontario. A talented youth, he performed at Massey Hall at the age of 13, and performed in a barbershop quartet called The Teen-Timers during high school. Soon after, he performed with a choral and dance group on CBC's Country Hoedown and later played the North American coffeehouse circuit. His American break came with "If You Could Read My Mind," followed by such hits as "Alberta Bound," "Did She Mention My Name?" and "The Way I Feel."
Lightfoot's tributes include, among others, 15 Juno Awards, an induction into the Juno Hall of Fame, the Governor General's Performing Arts Award, and the first induction to the Canadian Songwriters Hall of Fame in 2003.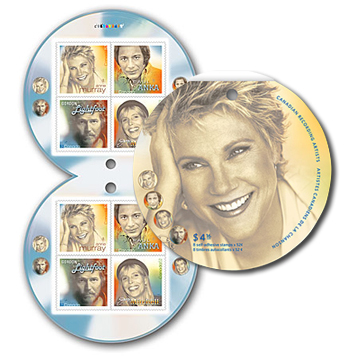 Booklet of 8 stamps
$4.16
Product #: 413676111
Denomination: 4 x 52¢
Design: Circle Design Inc.
Dimensions: 32 mm x 32 mm (vertical)
Printer: Lowe-Martin
Printing Process: Lithography in 9 colours
Quantity: 6,000,000
Gum Type: Pressure sensitive
Perforations: Simulated perforation
Tagging: General, 4 sides
Photography: Gordon Lightfoot: John Reeves; Joni Mitchell: © Gregory Heisler/CPi; Paul Anka: EMI Music Canada; Anne Murray: Monic Richard, Corbis / Veer
Paper Type: Tullis Russell
OFDC Cancellation Location: Toronto, Ontario
Shop