Terra Nova National Park
July 06, 2007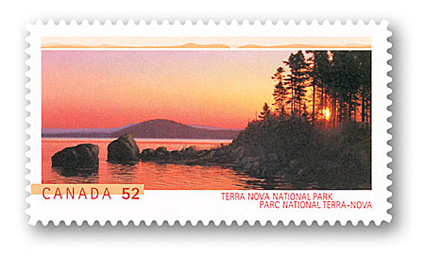 Terra Nova, which means "new land" in Portuguese, was the name chosen for the 400-km2 expanse of rugged and beautiful terrain that, on April 12, 1957, became Newfoundland's first national park. The park is part of the 2,400-kilometre-long Appalachian Mountain System, which extends from Newfoundland to Central Alabama. Boasting abundant wildlife, breathtaking scenery and geography that's ideal for outdoor recreation, Terra Nova National Park has become a popular destination for tourists, and canoeing, kayaking and hiking enthusiasts.
Canada Post will issue a domestic rate (52¢) stamp on July 6, 2007, to celebrate 50 years since the establishment of Terra Nova National Park.
Stamp designer Saskia van Kampen, who has travelled extensively across Canada, believes that Newfoundland is one of the most beautiful parts of the country. "It was a challenge to find a photograph that captured the raw beauty, natural splendour and vastness of the park," says van Kampen. Long hours of searching eventually paid off when van Kampen came across Garry Black's stunning photograph, Sunrise over Alexander Bay, Terra Nova National Park. Characterized by warm colours, still ocean waters and dramatic silhouettes, the photo presents a compelling image of this spectacular region.
The Terra Nova stamp issue will be a desired collectible not only for its lovely design, but also for the beautiful selvage illustration that runs down the centre of the two five-stamp panels. This colourful addition to the panel was created by the designer's mother, Vlasta van Kampen, a professional illustrator whose work can be found in numerous natural science publications and more than 35 children's books. "To represent the varied Terra Nova landscape, I used what we call an idealized landscape," says Vlasta. "This technique enabled me to show the area's differing geography, plentiful wildlife and rich plant life-all in a very small space."
The illustration succeeds in capturing the park's interesting and diverse landscape-from majestic sea arches and drumlinoid hills to boreal forests and moss carpets. Newfoundland's provincial flower, the pitcher plant (Sarracenia purpurea), appears at the bottom of the strip. One of the most prominent images in this mini-mural is the Newfoundland pine marten, which through island isolation, cannot be found anywhere else in the world. The population of marten on the island of Newfoundland was declared endangered by COSEWIC1 in 1996.
Vlasta's illustrations also appear on the issue's official first day cover (OFDC). "The difference between the selvage and OFDC illustrations is the presence of people in the latter," explains Alain Leduc, manager of Stamp Design and Production at Canada Post. "The OFDC incorporates the human element as an invitation for people to become acquainted with the wonders of Canada's national parks-a message that ties in perfectly with the Parks Canada charter."
1 The Committee on the Status of Endangered Wildlife in Canada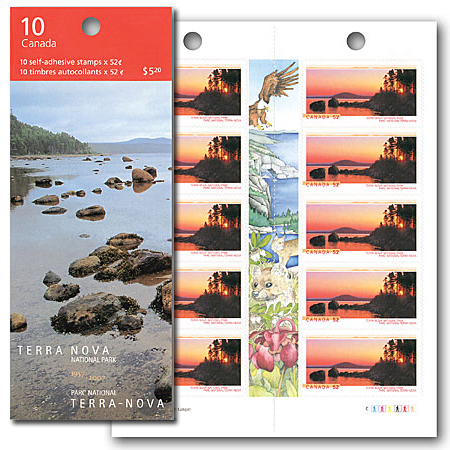 Booklet of 10 stamps
$5.20
Product #: 413682111
Denomination: 1 x 52¢
Design: Saskia van Kampen
Dimensions: 47.25 mm x 26.25 mm (horizontal)
Printer: Lowe-Martin
Printing Process: Lithography in 6 colours
Quantity: 3,000,000
Gum Type: Pressure sensitive
Illustration: Vlasta van Kampen
Perforations: Simulated perforation
Tagging: General, 4 sides
Photography: Stamp: Garry Black; Cover: John Sylvester
Paper Type: Tullis Russell
OFDC Cancellation Location: Glovertown, Newfoundland
Shop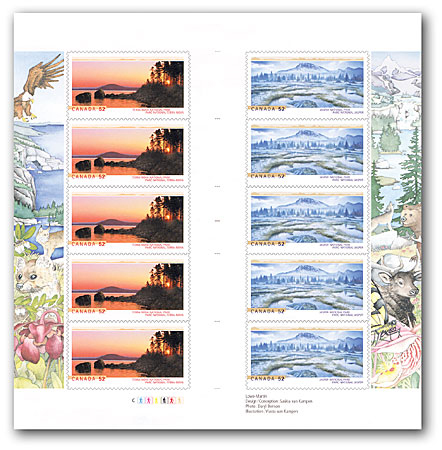 Unique gutter strip
$5.20
Product #: 403682108
Quantity: 3,000,000
Shop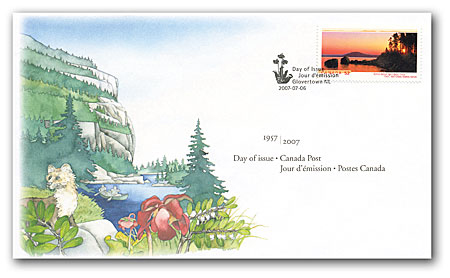 Official First Day Cover
$1.52
Product #: 413682131
Quantity: 26,000
OFDC Cancellation Location: Glovertown, Newfoundland
Shop