Montreal Association for the Blind Commemorative Envelope
April 21, 2008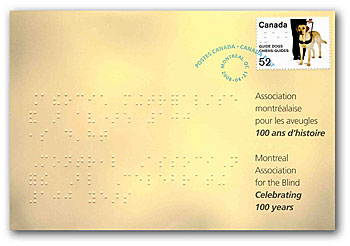 "Services for the blind and visually impaired have changed dramatically over the past 100 years," says Christine Boyle, Executive Director of the Montreal Association for the Blind (MAB). Founded by Philip E. Layton in 1908 and beginning with a social club, a lending library and a sheltered workshop, the MAB began to expand quickly. With generous donations worth $100,000 from local supporters, the MAB soon grew to include a school for blind children.
The MAB continued to improve its services, adding a talking book service, in 1947; a residence for blind and visually impaired seniors, in 1968; an early intervention program for preschoolers, in 1969; and a comprehensive low vision clinic, in 1979. The MAB serves people of all ages with vision loss who reside in the Montréal, Laval and Montérégie regions.
"Technology has allowed people with a visual impairment to lead more integrated lives; 100 years ago, special workshops were established so that those with impaired vision could work. Now the focus has shifted, in part due to technology, to integrate blind and visually impaired people into the workforce," explains Boyle, who hopes to see the trend continue and improve. "Visual impairment should never be an impediment to leading a full and active life," she adds, reiterating one of the MAB's central tenets.
The commemorative envelope features the Braille inscription for "Montreal Association for the Blind - Celebrating 100 Years," against a warm-coloured background. "I wanted to keep the envelope's design as simple as possible graphically, focusing instead on the tactile experience of reading Braille," explains designer Céline Morisset of Canada Post's Graphic Design Group. "My choice of colour was inspired by the guide dog featured on the Guide Dogs stamp."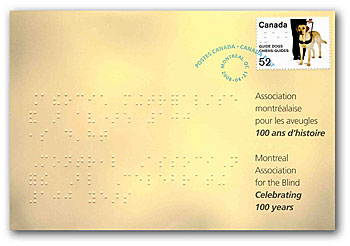 Commemorative Envelope
$2.50
Product #: 341757
Denomination: 52¢
Design: Canada Post Graphic Design Group
Quantity: 11,000
Shop