St. John Ambulance Commemorative Envelope
June 20, 2008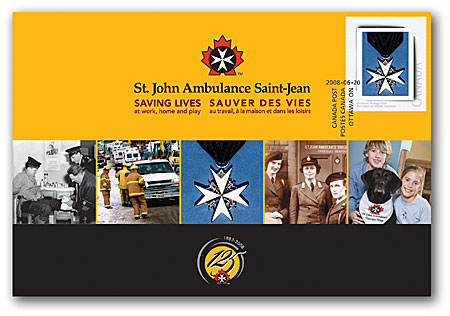 St. John Ambulance Canada is part of one of the world's oldest humanitarian organizations, the Order of St. John, which is a worldwide, non-denominational, charitable association dedicated to the service of others.
From the initial first-aid course offered in 1883 in Québec City, St. John Ambulance has evolved over the last 125 years to become a modern volunteer organization providing a wide range of health and safety programs for Canadians at work, home and play. Over the years, St. John Ambulance has alleviated suffering and contributed to the well-being of Canadians throughout times of peace, war, disasters and prosperity.
Service to the community is the strength of St. John Ambulance. Each year, approximately 25,000 volunteers provide upwards of two million hours of services to their local communities, including therapy dog visits, youth leadership training, medical first responders and emergency preparedness programs. In almost any disaster, St. John Ambulance volunteers are there to offer assistance, expertise, care and compassion. St. John Ambulance continues its history of innovation and change to meet the needs of Canadians across the country.
The commemorative envelope features a series of historic and modern photographs that pay homage to St. John Ambulance during its 125 years in Canada. "I really wanted to capture the incredible scope of their services across history," explains designer Céline Morisset of Canada Post's Graphic Design Group. Featured at the centre of the envelope and on the preprinted Picture Postage™ stamp is the insignia of the Order of St. John, an honour bestowed upon dedicated volunteers for their outstanding community service.
Additional information about St. John's Ambulance is available at www.sja.ca.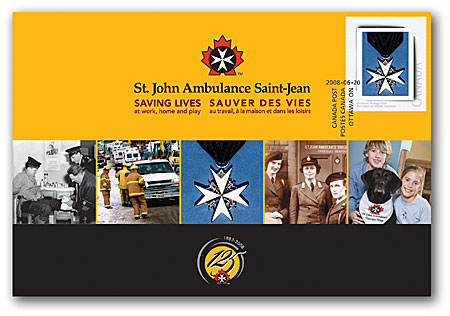 Commemorative Envelope
$2.50
Product #: 341758
Denomination: Domestic postage paid
Design: Canada Post Graphic Design Group
Quantity: 10,000
Shop