Canadians in Hollywood: The sequel
June 30, 2008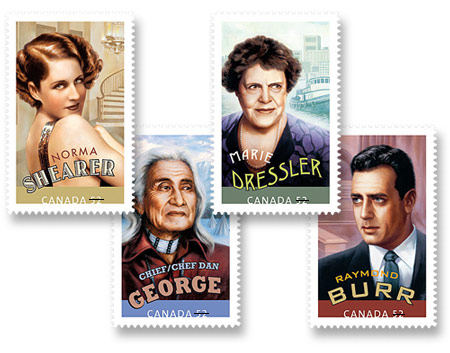 Hollywood loves sequels. So do stamp collectors, which is why Canada Post is proud to honour the accomplishments of four more performers who found fame and fortune in movie town with a second set of stamps dedicated to Canadians in Hollywood. This quartet of domestic rate (52¢) stamps stars Marie Dressler, Raymond Burr, Norma Shearer and Chief Dan George.
Designed by John Belisle and Kosta Tsetsekas of Vancouver's Signals Design, the stamps use images created by Neal Armstrong, the artist who painted the images for the first set of stamps. The background of each stamp is evocative of each star's career: Dressler's shows a scene inspired by a photograph of the tugboat Arthur Foss, featured in the film Tugboat Annie, as the garbage-barge and tugboat Narcissus. Burr's has the Perry Mason courtroom, Shearer's features an art deco scene that is reminiscent of many of her films, and George's depicts a plains scene from Little Big Man.
"Neal has done a great job of capturing the essence of each actor and creating a sense that this is a sequel," says Belisle. "We also wanted to connect the audience to these stamps, so we used illustrator Adam Rogers to craft the souvenir sheet and official first day cover. Adam created a vintage feel that gives a real impression of being in a theatre watching a movie. The crowd is at the front, and the stamps sit right on the screen."
In keeping with the desire to bring the audience into the design, the cancels depict a bag of popcorn and a soft drink with a straw.
"The cancels connect the audience to the silver screen and help to create a real movie experience," says Belisle.
Marie Dressler: The first female star of film comedy
Marie Dressler was born Leila Marie Koerber (some sources say von Koerber) in Cobourg, Ontario, on November 9, although the year of her birth is less certain. But, whatever year she was born, Dressler was destined to become the first female star of film comedy. Her show business career began with the Nevada Stock Company, which she followed by work with opera companies, stage work in the eastern United States and appearances on Broadway. She reached the pinnacle of her stage career with a performance for King Edward VII in London, after which she made her move into film comedy, starring in Tillie's Punctured Romance, the first feature-length comedy ever made.
During her career, Dressler appeared in more than 40 films, including Min and Bill (1930) for which she won an Oscar for Best Actress, Anna Christie (1930), Dinner at Eight (1933) and Tugboat Annie (1933). She earned a star on the Hollywood Walk of Fame, and was the first woman to be featured on the cover of TIME magazine (August 7, 1933).
Raymond Burr: A true philanthropist
Raymond Burr is perhaps best known for his roles as lawyer Perry Mason in the television show of the same name and wheelchair-bound chief of detectives Robert Ironside in Ironside. However, before his small-screen triumphs, Burr enjoyed considerable success on the big screen. Born in New Westminster, British Columbia, in May 1917, Burr started his stage career at the age of 10, when he starred in a church play. At 17, he began touring with Toronto's Berkeley Players, and got his big break in 1944 in a production of Duke in Darkness.
Burr went on to appear in numerous films, usually in the role of the archetypal "heavy," but proved he could be equally as compelling as a hero when he starred as reporter Steve Martin in Godzilla: King of the Monsters (1956). He also devoted much of his time and energy to charitable and humanitarian causes, including CARE, the Cerebral Palsy Association and the B'nai B'rith.
Norma Shearer: The first lady of the talkies
Born in Montréal's upper-middle class Westmount area, Norma Shearer's lifestyle took a turn for the worse during the Great Depression. Norma and her sister were taken to New York City by their mother who hoped the girls could earn money acting.
Times were hard, and Norma took whatever small parts came her way, but her luck changed when she landed a role in the 1920 movie The Stealers. The film brought her to the attention of MGM's general manager, Irving Thalberg, who tracked her down and gave her a role in The Wanters (1923).
Shearer and Thalberg were married in 1928, after which Norma worked tirelessly to improve her acting skills. She was named "First lady of the talkies" by the press for her role in MGM's 1929 movie Trial of Mary Dugan. Stunningly beautiful, Shearer avoided typecasting by selecting many different roles, including playing Elizabeth Barrett Browning in the 1934 version of The Barretts of Wimpole Street. The film earned Shearer an Academy Award nomination for best actress. Although Shearer died in 1983, she continues to be remembered as a classically poised and elegant star of the silver screen.
Chief Dan George: Finding fame at 60
Chief Dan George, born in July 1899 in North Vancouver, is perhaps the only Hollywood icon to have been discovered as a 60-year-old bus driver. As a younger man, he took whatever work he could find to support his wife and six children. His break into acting came in the early 1960s when the actor who played Ol' Antoine in the CBC series Cariboo Country fell ill and a replacement was needed. The story goes that George's oldest son, Bob, who had a small part in the show, suggested they use a real aboriginal in the role and introduced his father. George immediately brought the character to life, and became a driving force behind the series' success. When Disney studios adapted the series into the movie Smith!, George once again took the role of Ol' Antoine and was thrust into the Hollywood spotlight.
George subsequently played Old Lodge Skins in Little Big Man, a milestone American film. His performance won him an Academy Award nomination, a Golden Globe nomination, the New York Film Critics Award and the National Society of Film Critics Award. George acted in numerous other films, including The Outlaw Josey Wales, Harry and Tonto, and Americathon. He was appointed an Officer of the Order of Canada in 1971.
Booklet of 8 stamps
$4.16
Product #: 413708111
Denomination: 4 x 52¢
Design: John Belisle, Kosta Tsetsekas, Geoff Kehrig (Signals)
Dimensions: 30.75 mm x 48.75 mm (vertical)
Printer: Canadian Bank Note
Printing Process: Lithography in 5 colours plus varnish
Quantity: 4,500,000
Gum Type: Pressure sensitive
Illustration: Neal Armstrong, Adam Rogers
Perforations: Simulated perforation
Tagging: General, 4 sides
Paper Type: Spicers
OFDC Cancellation Location: Montréal, Quebec; Vancouver, British Columbia
Shop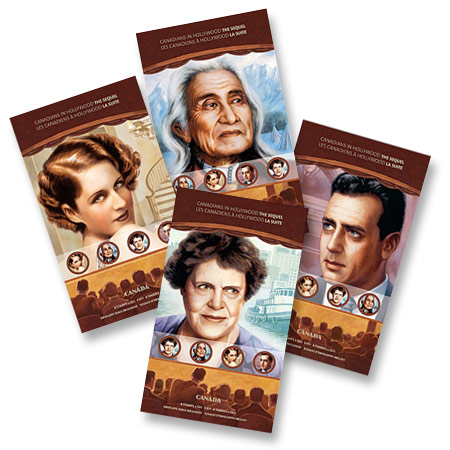 Product #: 413708701
Quantity: 5,000
Shop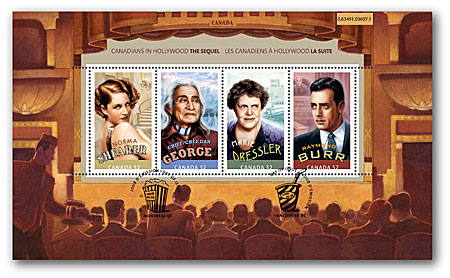 Official First Day Cover
$3.08
Product #: 403708144
Quantity: 23,000
OFDC Cancellation Location: Montréal, Quebec; Vancouver, British Columbia
Shop