Games of the XXIX Olympiad
July 18, 2008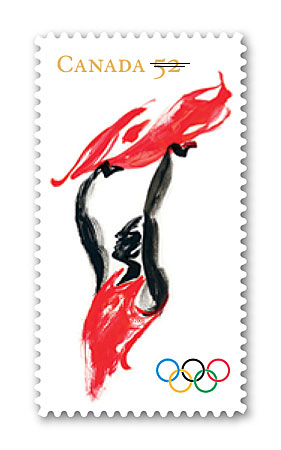 Faster, Higher, Stronger. It's a motto that's well known and particularly apt for a remarkable event that has an incredible 3,000-year history of bringing people together to give their best in athletic competition.
In celebration of Canada's participation in the Games of the XXIX Olympiad and also in recognition of the more than 340 athletes who will proudly represent our country, Canada Post is issuing a domestic rate (52¢) stamp on July 18, 2008.
Designed by Toronto's q30 design inc., the stamp features an abstract image of an athlete with hands overhead carrying a flag. On this issue, the strong colours of red, black and gold figure prominently on a clean white background.
"The stamp image is extremely dramatic," says Liz Wong, Manager of Stamp Design and Production at Canada Post. "It captures the spirit of competitive sport and the pride of the Olympic tradition."
To stamp designer Karen Henricks, the creative process was nothing short of a thrill. "Every four years, I look forward to watching the Olympic Games to see Canada compete and take pride in our athletes' accomplishments," she explains. "Combine this experience with the opportunity to design a stamp for Canada Post? Well, I'm pretty much in heaven!"
During the Beijing 2008 Olympic Games, Canadian athletes will participate in at least 30 different sporting events, spanning almost every competitive discipline. The Canadian Olympic Committee has dedicated efforts to ensuring Canada places among the top 16 countries in the medal rankings.
The Games run from August 8 to 24, 2008. Events will take place in Beijing as well as in cities from Shenyang in the northeast to Hong Kong in the southwest-ranging across a distance of more than 1,800 km.
As with every Olympic Games, the host country takes advantage of having the world come to its doorstep to share its culture and history. In keeping with that, China has adopted five fuwa (good luck dolls) as mascots for the Games-one for each of the five Olympic Rings and corresponding to the five elements of Chinese philosophy: water, metal, fire, wood and earth.
For the athletes, their loved ones and their ardent supporters around the globe, the Games of the XXIX Olympiad will fuel many emotions-the joy of winning, the heartbreak of defeat and the excitement of competing. And, when these Games draw to an end, the excitement of competition will continue to burn bright, especially here in Canada, as the city of Vancouver prepares to host the 2010 Winter Games.
For more details about the Games, please visit en.beijing2008.cn.
"The Olympic Games are about competitiveness and commitment; they are about the desire to strive for excellence and about taking pride in one's abilities," says Robert Waite, Chairman of the Stamp Advisory Committee and Senior Vice-President, Corporate Social Responsibility, at Canada Post. "These are the very qualities we encourage in our employees and seek to demonstrate to our customers every day. As such, Canada Post is very pleased to be an Official Supplier to the Vancouver 2010 Olympic and Paralympic Winter Games. We view this as an opportunity to engage our employees, unite with our customers and actively participate in one of our nation's proudest moments."

Booklet of 10 stamps
$5.20
Product #: 413709111
Denomination: 1 x 52¢
Design: q30design inc.
Dimensions: 23.25 mm x 42.75 mm (vertical)
Printer: Lowe-Martin
Printing Process: Lithography in 6 colours
Quantity: 2,500,000
Gum Type: Pressure sensitive
Illustration: Laurie Lafrance
Perforations: Simulated perforation
Tagging: General, 4 sides
Paper Type: Tullis Russell
OFDC Cancellation Location: Golden, British Columbia
Shop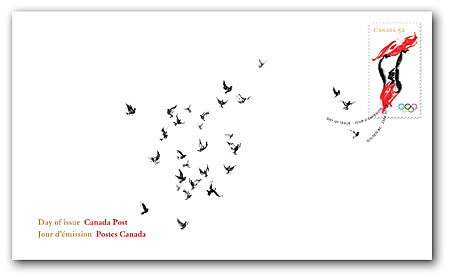 Official First Day Cover
$1.52
Product #: 413709131
Quantity: 23,000
OFDC Cancellation Location: Golden, British Columbia
Shop