Christmas Seal Commemorative Envelope
October 01, 2008
A dash of Christmas spirit and a rush of holiday mail were the inspiration behind the first Christmas Seal campaign-a fundraiser that has worked wonders in the battle against the once-widespread and fatal disease, tuberculosis.
It all began on a snowy December night in 1903. Inspired by the many gifts and greetings coming in from all corners of the world, Danish postal employee Einar Holboell was struck with an idea soon to spark waves of goodwill around the world. All these gifts and greetings are signs of kindness, he thought; surely the holiday spirit of their senders would extend to one extra stamp, the revenue directed towards someone in need. Holboell's idea soon garnered royal endorsement, and the first Christmas Seal fundraiser was a tremendous success.
Inspired by Denmark's example, some 70 countries soon followed suit. In 1908, Toronto (Muskoka) and Hamilton became the first Canadian cities to launch Christmas Seal campaigns. In the century since, the campaign has become the main source of funding for groups under the umbrella of The Lung Association.
A fir branch adorns the background of the commemorative envelope that pays tribute to this important fundraiser. "The simplicity of the design allows us to spotlight the latest Christmas Seal, issued to mark the campaign's centenary in Canada," explains Céline Morisset, Manager of Graphic Design at Canada Post. To give extra prominence to the seal, the envelope was reversed-a first for Canada Post. "By presenting the 'back' as the 'front,' we were able to show the seal as it would normally appear," says Morisset. The reverse features a reproduction of the 1908 Muskoka seal, one of the first two editions issued in Canada.
For more information on The Lung Association, visit www.lung.ca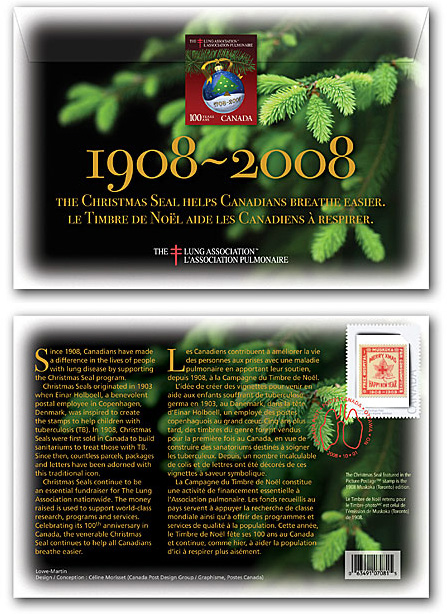 Commemorative Envelope
$2.50
Product #: 341765
Denomination: Domestic postage paid
Design: Canada Post Graphic Design Group
Quantity: 10,000
Shop