First Flight in Canada
February 23, 2009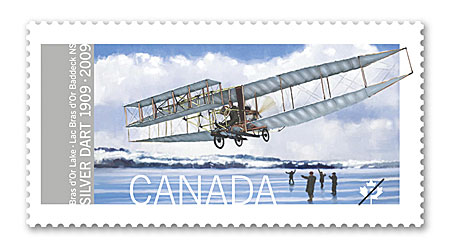 "My grandfather was very much a force in my life, and he told me, 'There is nothing noble in being superior to someone else. True nobility lies in being superior to your former self.' He stood by this approach to success, and would have been humbled by the honour Canada Post has paid him with this stamp."
– Gerald Haddon, The Honourable J.A.D. McCurdy's grandson
It revolutionized the way we travel. It redefined the way we do business. And it all began on a bitterly cold February day one hundred years ago, when Canada first took to the sky.
The Silver Dart was the brainchild of the Aerial Experiment Association (AEA), a group of flight enthusiasts recruited by Alexander Graham Bell. By the time the AEA had constructed the aircraft in 1908, it was the group's fourth "aerodrome," as Bell called them.
The Silver Dart's maiden flight in Canada took place on February 23, 1909, and the aircraft was piloted by John Alexander Douglas (J.A.D.) McCurdy, a young engineering graduate and AEA member. On that chilly winter day, runners on skates held onto the aircraft's wing tips to keep it stable as it taxied for take-off. Then, with the buzz of the engine, the Silver Dart began gliding across the ice and rose 20 to 30 feet in the air, traveling for about a kilometre. The experiment marked the first controlled powered flight in Canada and the British Empire—not to mention a new chapter in the nation's history.
Recreating this pioneering venture in stamp format was a complex and multi-faceted task. "As the visual references of the Silver Dart lacked the orientation and angle that I sought for the illustration, I decided to build a 3-D model of the plane," explains digital illustrator Michael Little. "A model builder in Cape Breton generously provided me with a set of scale drawings on which to base the model. Then, to supplement these references, I visited the Atlantic Canada Aviation Museum, where a full-size replica of the Dart is among the main attractions. I was able to photograph it from almost every angle, which not only gave me details otherwise lost or obscured in the drawings, but a closer look at the different materials used in the craft's construction."
With a shot of the model in the right orientation, Little used Photoshop to montage the background, then increased the resolution and placed it into a digital painting program. Dennis Page, Director of Design at Halifax branding firm trampoline, elaborates, "I wanted to give it a traditional, authentic feel by presenting it as a turn-of-the-century oil painting." The typography to the left of the image is printed on a metallic silver band—a play on the name of the aircraft itself.
The Silver Dart is not the only element that bears a striking semblance to the happenings at Baddeck Bay that February day. Historic weather records were consulted, accounting for the cool, crisp feel of the stamp. The runners on skates who had contributed to the plane's take-off are also present in all their jubilation. "We used their body expressions and postures to capture the thrill of the moment," explains Page. Danielle Trottier, Manager of Stamp Design and Production at Canada Post, adds, "Looking at the stamp through a magnifying glass really brings the scene to life by offering up a whole wealth of detail: a close-up view of the aircraft, McCurdy in the pilot's seat, and the expressive spectators on skates. The image perfectly captures the scene, giving us a hint of what a thrill it must have been to witness this phenomenal event."
To learn more about this pioneering venture, visit the Alexander Graham Bell National Historic Site of Canada: http://www.pc.gc.ca/lhn-nhs/ns/grahambell/index_e.asp
To learn more about Canada's illustrious aviation history, visit www.aviation.technomuses.ca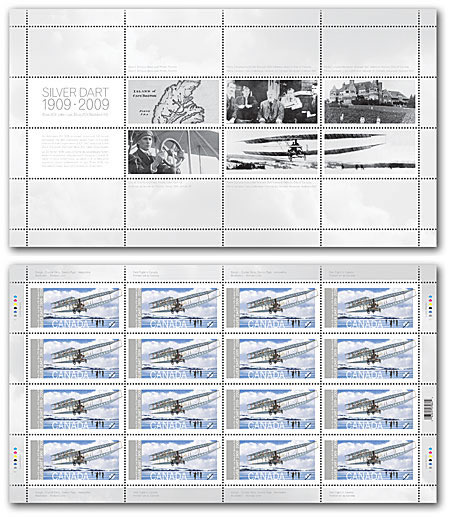 Product #: 403729107
Denomination: 1 x 54¢
Design: Crystal Oicle, Dennis Page (trampoline)
Dimensions: 56 mm x 29 mm (horizontal)
Printer: Lowe-Martin
Printing Process: Lithography in 5 colours
Quantity: 3,000,000
Gum Type: Pressure sensitive
Illustration: Michael Little
Perforations: 13+
Tagging: General, 4 sides
Paper Type: Tullis Russell
OFDC Cancellation Location: Baddeck, Nova Scotia
Shop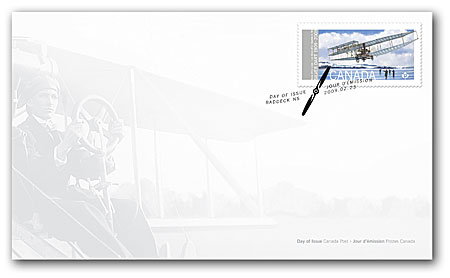 Product #: 403729121
Quantity: 21,700
OFDC Cancellation Location: Baddeck, Nova Scotia
Shop