Rhododendrons
March 13, 2009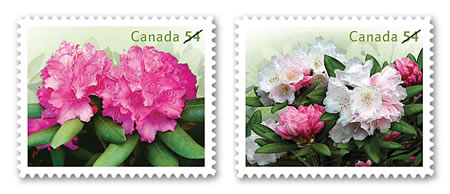 Early March is blooming season at Canada Post, and the clusters of vibrant bell-shaped flowers that blossom on this fresh stamp set are nothing short of spectacular. The blooms belong to the beautiful rhododendron and, as Danielle Trottier, Manager of Stamp Design and Production at Canada Post, puts it, "What better way to welcome spring than by spotlighting this lively flower?"
Though all rhododendrons share a reputation for fabulous flaring petals and deep evergreen leaves, much variation exists within the 700-specie genus to which they belong. In fact, though "rhododendron" is Greek for "red tree," the blooms can also be found in magenta, purple, pink and white shades, often blotted with speckles and splashes of colour.
When asked, many gardeners agree that if they could grow only one rhododendron, it would be an R. yakushimanum 'Mist Maiden.' As beautiful in as out of bloom, this stunning seedling selection boasts an abundant array of flowers in shades of rose, pink and white, all tightly bound above their foliage. Once the Mist Maiden was introduced to the gardening world (1947), plant breeders cross-bred it with other species and hybrids. Among such crossbreeds is the R. Minas Maid, a hybrid introduced and registered by Canadian breeder Dr. D.L. Craig in 1979. "Its rich, vibrant pink flowers and dark green foliage create a striking display," explains Dr. Craig. "It is also very sturdy, reliable and easy to grow."
The photographs featured on the stamps were taken at the 2008 Agriculture and Agri-Food Canada exhibition in Kentville, Nova Scotia. An extensive rhododendron selection was in full-bloom by mid-June, when stamp designer Isabelle Toussaint visited the site.
To capture the flowers in all their glory, natural light was needed. "I didn't want to resort to artificial lighting, fearing I might lose some of the more striking features," explains Toussaint. Luckily, weather conditions helped realize her hopes. "It was a partly cloudy day, but I was able to take advantage of the brief intervals of sunshine that occurred throughout."
Pastel green leaves were reproduced digitally to soften the background—an effect carried onto the booklet and souvenir sheet. "The softer backdrop highlights and frames the flowers, bringing them to the foreground," Toussaint elaborates. The end product? Fresh blooms so vivid you can almost smell the first signs of spring.
To learn more about Agriculture and Agri-Food Canada, visit: http://www.agr.gc.ca/index_e.php

Booklet of 10 stamps
$5.40
Product #: 413730111
Denomination: 2 x 54¢
Design: Isabelle Toussaint Design graphique
Dimensions: 32.25 mm x 26.25 mm (horizontal)
Printer: Lowe-Martin
Printing Process: Lithography in 6 colours
Quantity: 13,000,000
Gum Type: Pressure sensitive
Illustration: Isabelle Toussaint Design graphique
Perforations: Simulated perforation
Tagging: General, 4 sides
Paper Type: Tullis Russell
OFDC Cancellation Location: Kentville, Nova Scotia
Shop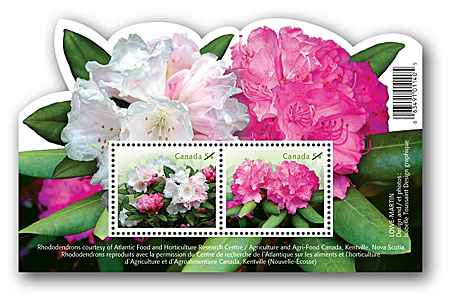 Souvenir sheet of 2 stamps
$1.08
Product #: 403730145
Dimensions: 120 mm x 75.6 mm (horizontal)
Quantity: 275,000
Gum Type: P.V.A.
Perforations: 13+
Shop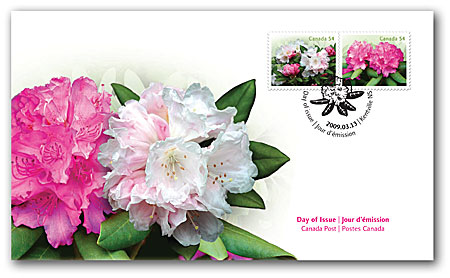 Product #: 413730131
Quantity: 21, 700
OFDC Cancellation Location: Kentville, Nova Scotia
Shop