Art Canada: Jack Bush
March 20, 2009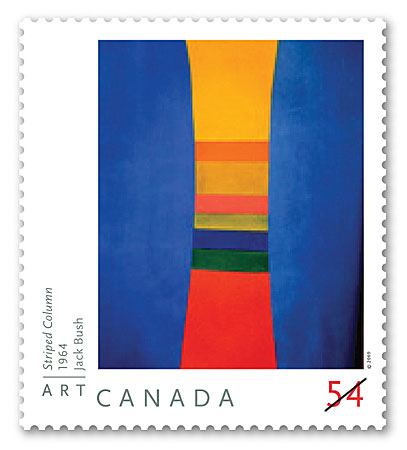 "The creative artist's job, as I see it, is to recreate his human experience in an art form. By this means he communicates his emotions and experiences to others. The creation…has its own rules, limitations, its own existence…[It] may or may not resemble the subject; what is important is how much the essence of beauty, harmony and vitality can be breathed onto the canvas by the artist as he works."
– Jack Bush, January 19461
1 Christine Boyanoski, Jack Bush: Early Work (Toronto: Art Gallery of Ontario) 1985, p. 9.
In an era that prized convention and perfection, Jack Bush opened a space for the abstract—for the seemingly under-finished and incomplete, for the simple and unrefined. It is, perhaps, this awkwardness that lends his paintings a distinctly Canadian touch, not to mention an almost disarming beauty. Bush has been deemed one of the most original draftsmen and inventive colourists of recent art history and, though he built an international audience, this home-grown artist always kept firm grounding in his Canadian roots.
John Hamilton "Jack" Bush was born in Toronto on March 20, 1909. He spent more than 40 years as a successful commercial artist, first in Montreal and later Toronto, where contact with the work of the landscape-based Group of Seven stimulated his interest in fine art.
In 1953, Bush joined Painters Eleven, a group founded to promote abstract painting in Canada. He eventually gained a reputation as one of the greatest masters of expressive colour since Matisse. As part of Canada Post's ongoing Art Canada series, two commemorative stamps showcasing the works of Jack Bush will be issued.
The domestic stamp features Striped Column (1964), while the international stamp features Chopsticks (1977)—paintings chosen for the interesting ways in which they interact with one another. "There's a striking contrast between the yellow background in Chopsticks and the blue background in Striped Column, as well as the shapes of the paintings. The softness of the former also plays upon the boldness of the latter," explains designer Hélène L'Heureux. "But they're both full of humour."
L'Heureux, who has worked with various artistic mediums in past editions of the Art Canada series, notes that each has its own challenges and specific beauty. "When it comes to the souvenir sheet," she explains, "I always treat the background in a non-intrusive way. In the case of Jack Bush, a black and white photograph is featured, as it does not compete with the bright colours in the stamps."
To Alain Leduc, Manager of Stamp Design and Production at Canada Post, the contrasts that play out on the stamps and souvenir sheet are a fitting tribute to this inventive colourist. "Bush is known for his complex and imaginative use of colour. In fact, he tended never to repeat colours in a picture. The way these stamps interact with one another and their background highlights and extends this fascinating feature of his art."
Looking back on Bush's life and legacy, his friend American art critic Clement Greenberg remarked, "He embodied the image of someone who had kept his eye steadily on his aesthetic goals all his life…and he had remained lively, engaged, optimistic, and hard-working throughout. Bush thought the future of art in Canada had been, was, and would be in good hands." This stamp issue, issued on the 100th anniversary of Jack Bush's birth, recognizes his place in the past, present and future of the Canadian art scene that he always held in high regards—truly an impressive tribute to a magnificent artist. "My father was always proud of his Canadian roots," notes Bush's son, Terry Bush. "There is no doubt that he would have been thrilled with this honour."
Product #: 403731107
Denomination: 1 x 54¢
Design: 1 design
Dimensions: 40 mm x 45 mm (vertical)
Printer: Lowe-Martin
Printing Process: Lithography in 7 colours
Quantity: 1,750,000
Gum Type: P.V.A.
Perforations: 13+
Tagging: General, 4 sides
Paper Type: Tullis Russell
OFDC Cancellation Location: Toronto, Ontario
Shop