Canadian Diplomacy
June 01, 2009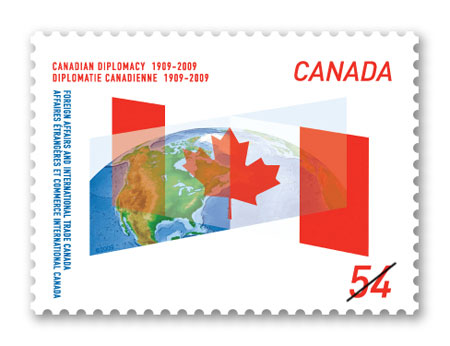 For more than a century, diplomacy has shaped Canada's relations with--and place in--the world. With representatives and interests that span the globe and an international reputation as a peacekeeper, the nation is a key player on the world's diplomatic stage. This, however, was not always the case.
For many years, Canada had little control over its own external affairs. As a British colony, its politics and economy were controlled by Britain. Even with Confederation in 1867, Canada's foreign policy remained under British direction. The country's founders were convinced that, with its unsettled border and stretches of vast, empty spaces, Canada would not have the power to assert its independence on the world stage.
But as Canada grew and prospered, Canadians were ready for more independence than the country's founding fathers had envisioned. Proud of their achievements during the First World War and more conscious of their interests as a maturing country, they wanted to take charge of their own affairs. In 1931, the Statute of Westminster gave Canada the right to have an external policy separate from Britain's. And by the end of the Second World War, the nation had achieved considerable status as an economic and military power. An active and responsible internationalist, Canada emerged as an important member of such postwar multilateral organizations as the United Nations (UN), the North Atlantic Treaty Organization (NATO), the Commonwealth, and la Francophonie. To celebrate Canada's growing presence on the world stage, Canada Post will issue a domestic rate stamp on the 100th anniversary of the Department of Foreign Affairs and International Trade (DFAIT).
The commemorative stamp features a Canadian flag and an image of the globe, which intersect midway. "For this design, we wanted to capture the philosophy of the department that has driven Canada's growing role on the world's diplomatic stage for the past century," explains David Craib, Creative Director at Ottawa's Parable Communications. "We also wanted to express the way the department sees itself, in a modern and clean style."
To depict this, the Parable design team found inspiration in the Department of Foreign Affairs and International Trade's remarkable story of transformation. Founded in 1909, and originally housed above an Ottawa barbershop, the Department has evolved into a modern, dynamic foreign and trade ministry. Craib explains, "Since the department has grown as Canada's role on the world stage has expanded and strengthened, the intersection between these two symbols represents the fusion of global activities and sensitivities, with our national identity, culture and ingenuity."
"I am delighted that Canada Post is issuing this special stamp to mark our centenary," says the Head of DFAIT's Historical Section, Greg Donaghy. "The history of the Department of Foreign Affairs and International Trade is very much the story of our country's transformation from colony to nation. Today, this department continues to promote classic Canadian interests and values: international peace and security, trade and investment, democracy and human rights."
To learn more about the Department of Foreign Affairs and International Trade's centennial celebrations, visit: www.international.gc.ca/history-histoire/100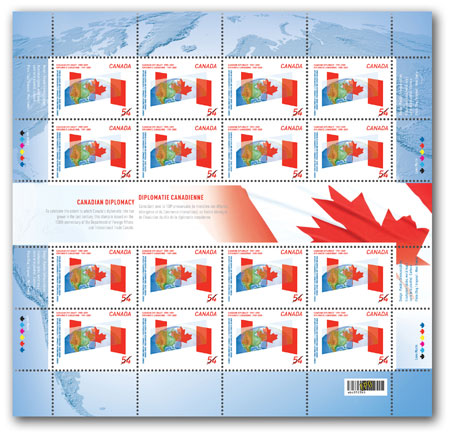 Product #: 403736107
Denomination: 1 x 54¢
Design: Parable Communications
Dimensions: 36 mm x 26.5 mm (horizontal)
Printer: Lowe-Martin
Printing Process: Lithography in 7 colours plus varnish
Quantity: 1,750,000
Gum Type: P.V.A.
Illustration: Globe, world map: Cartesia
Perforations: 13+
Tagging: General, 4 sides
Photography: Flag: Marc Fowler
Paper Type: Tullis Russell
OFDC Cancellation Location: Ottawa, Ontario
Shop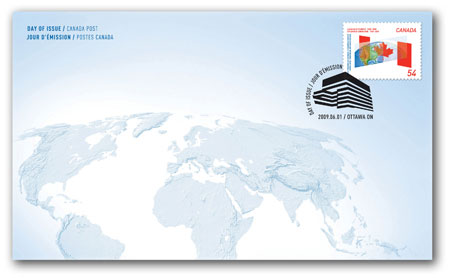 Product #: 403736121
Quantity: 21,700
OFDC Cancellation Location: Ottawa, Ontario
Shop