Canadian Recording Artists
July 02, 2009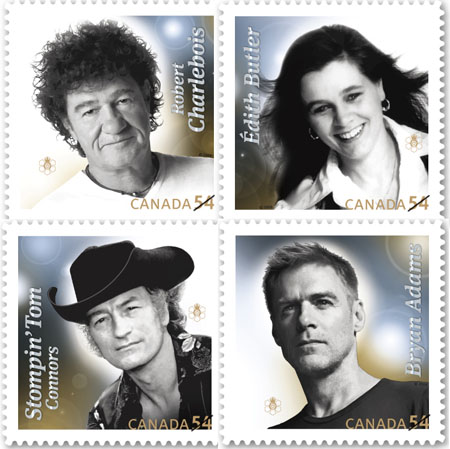 Issue Date: July 2, 2009
Not too long ago, our southern neighbours held the only key to fame and fortune in the music industry. Canadian musicians striving for stardom had no choice but to cross the border, as Canada lacked the resources to showcase its own stars. But thanks to those who fought to keep our talents at home, we now boast a thriving music industry of our own. In July, Canada Post will issue a set of four stamps celebrating Canadian music icons.
Each star featured has made remarkable contributions to the Canadian music scene. International rock superstar Bryan Adams helped develop an infrastructure to propel other Canadians to the top of the charts. Renowned folklorist Stompin' Tom Connors protested the policies he felt were hindering Canada's artistic potential. A pioneer in French-Canadian rock, Robert Charlebois gave voice to and furthered the development of the chanson. And Acadian sensation Édith Butler promoted familiarity with and appreciation for her Acadian culture across Canada and around the world.
Like the first stamp issue celebrating Canadian singers and songwriters released in 2007, this set was designed by Winnipeg's Circle Design Inc. Designer Robert L. Peters tells us, "We were thrilled with the success of the first issue and delighted at the opportunity to work on the next installment."
The stamps are square in format and feature monochromatic photos of each artist alongside their Order of Canada insignias. To reflect the glamour of these "living legends," each is captured in the limelight. Peters explains, "We brought them all into the same 'performance space' by close-cutting them into the background, making it appear as though they're standing in the spotlight." The effect brings life to each performer. "It's as though we're watching them on stage," adds Peters.
Bryan Adams
Bryan Adams is one of the world's most highly-acclaimed musicians. Since he launched his career more than three decades ago, this Canadian rocker has achieved number one status in more than 40 countries and recorded many chart-topping singles. He is also an accomplished photographer, using the proceeds of his photographic projects to finance his namesake foundation. Awards and accolades to Adams' name include Oscar and Golden Globe nominations, a Grammy Award, and many American Music Awards and Juno Awards. He has also been inducted into the Canadian Music Hall of Fame and Canada's Walk of Fame.
"It is a wonderful honour to be amongst the great men and women who have graced our Canadian stamps," Bryan Adams says of this postal tribute. "I am humbled by the recognition."
Édith Butler
This Acadian sensation brought the toe-tapping folk songs she grew up singing in her living room to coffee houses, recording studios and concert halls. Hailed as the "mother of Acadian music," she is now the best-known Acadian singer in the world.
Édith Butler has released 27 hit albums, with songs that reflect the Acadian and Micmac traditions that shaped her heritage. Though she has garnered many awards and accolades over the years, she is especially fond of this tribute. Butler, who pursued degrees in literature and traditional ethnography, has a real passion for history.
"It was quite a shock," she says of Canada Post's news. "I collected stamps as a child, and I learned a lot about history and culture through this hobby. Considering the lasting power of a stamp, this recognition really stands on its own."
Stompin' Tom Connors
Beyond Canadian borders, when you hear a Stompin' Tom record, you can't wait to get back home. A staunch supporter of Canada, this singer-songwriter, fiddler and guitarist has spent most of his life capturing our heritage in song.
Before being discovered in Timmins, Ontario, Charles Thomas "Stompin' Tom" Connors spent many years traveling across the country, working and writing songs along the way. Today, 300 songs and 50 albums into his career, Connors remains mindful and proud of his humble roots.
"I am delighted, humbled and overwhelmed at this wonderful recognition that Canada Post, and indeed all Canadians, have given me with this great honour."
Robert Charlebois
Touted for his charismatic on-stage performances, Robert Charlebois pioneered the chanson and revolutionized the French-Canadian music scene when he brought British and American pop influences to his folk roots. This legend, known to fans as "Garou," established a reputation as one of the most influential figures in the history of Québec music and la Francophonie.
"I have been stamped as a zany singer all my life, but now, finally, I am globally acknowledged as a man of letters," says Robert Charlebois of the upcoming stamp issue.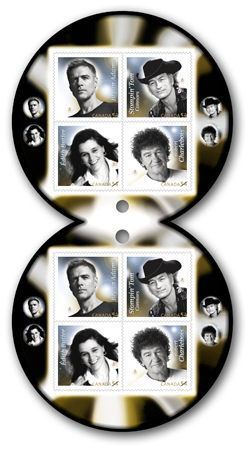 Booklet of 8 stamps
$4.32
Product #: 413738111
Denomination: 4 x 54¢
Design: CIRCLE
Dimensions: 32 mm x 32 mm (square)
Printer: Lowe-Martin
Printing Process: Lithography in 9 colours plus varnish
Quantity: 4,000,000
Gum Type: Pressure sensitive
Perforations: Simulated perforation
Tagging: General, 4 sides
Photography: Robert Charlebois: Manon Boyer Édith Butler: Pierre Dury Bryan Adams: Self portrait Stompin' Tom Connors: Art Stanton
Paper Type: Tullis Russell
OFDC Cancellation Location: Paquetville, New-Brunswick
Shop