Captain Robert A. Bartlett
July 10, 2009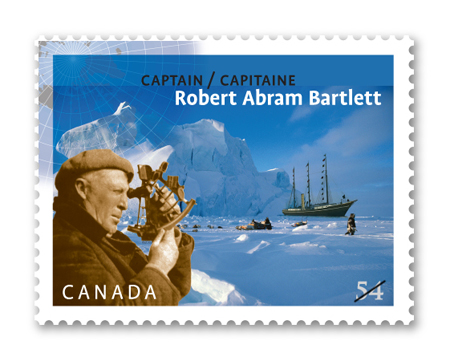 Issue Date: July 10, 2009
"The truth was I could not stop myself in pursuit of adventure. I was committed to the Arctic. I'd got the poison in my veins."
Captain Bartlett (from his journals)
In the golden age of Arctic exploration, there was only one "Captain Bob." Deemed the greatest ice captain of the 20th century, Bob worked as a sealer, Arctic explorer, ice captain and scientist. In more than half a century at sea, he sought high adventure and fresh discoveries in some of the wildest, remotest corners of the world.
Robert Abram Bartlett was born in Brigus, Newfoundland, on August 15, 1875, into a family of renowned seal hunters and sailing masters. His mother hoped he would enter the ministry, but, alas, the sea was in his blood.
From 1898 to 1909, Captain Bob accompanied renowned American explorer Robert E. Peary on three separate attempts to reach the North Pole. During the third voyage, he led the expedition to 87°48' N latitude—farther north than anyone had reached before him. He later captained the Karluk on the Canadian Arctic Expedition. When the ship was crushed in the Arctic pack ice, Bartlett and an Inuk made a 700-mile journey to land and down the Siberian coast to rescue the stranded crew. During the last two decades of his seafaring career, Captain Bob led the Effie M. Morrissey on scientific expeditions to Greenland, Iceland and the high Arctic. In 1969, Bartlett was designated a person of national historic importance by the Historic Sites and Monuments Board of Canada.
Icy blues and snowy whites make a fitting backdrop for the commemorative stamp issued to mark the 100th anniversary of Captain Bob's legendary attempt to reach to the North Pole. The issue features Bartlett holding a sextant, an instrument used to measure latitude and longitude at sea. "We chose the photo because it represents the navigational expertise for which he was renowned," explains designer Karen Smith. The top-left corner of the stamp features an outline of the globe from the North Pole downward, which bleeds onto the stamp's frame. The background features an image of the Roosevelt (the ship that Bartlett both skippered and captained on the Peary Polar Expeditions) superimposed onto a recent photograph of the Canadian Arctic. Smith adds, "We opted for a newer photo because the vivid colours capture the cool, harsh conditions of the region." Scattered between the on-looking Captain and his ship are the Inuit people whose knowledge of the region ensured the survival of the explorers in the harsh Arctic climate.
Those involved with Bartlett's legacy are thrilled with this postal tribute. "Captain Bartlett brought the Arctic to the world," says the Honourable Edward Roberts, Chair of the Celebrating Bartlett 2009 Steering Committee and former Lieutenant Governor of Newfoundland and Labrador. "His accomplishments and popular lectures changed the way the world looked at Canada's Arctic lands. We are delighted that Canada Post is putting its "stamp of approval" on his legacy."
To learn more about Captain Bartlett's legacy and associated celebrations, visit www.bartlett2009.com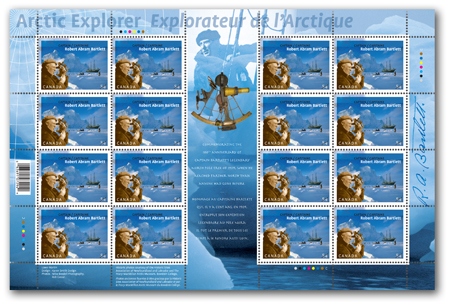 Product #: 403734107
Denomination: 1 x 54¢
Design: Karen Smith Design
Dimensions: 40 mm x 31 mm (horizontal)
Printer: Lowe-Martin
Printing Process: Lithography in 7 colours plus varnish
Quantity: 1,750,000
Gum Type: P.V.A.
Perforations: 13+
Tagging: General, 4 sides
Photography: Mike Beedell Photography; Rob Gosse; Historic photos courtesy of the Historic Sites Association of Newfoundland and Labrador and The Peary-MacMillan Arctic Museum, Bowdoin College
Paper Type: Tullis Russell
OFDC Cancellation Location: Brigus, Newfoundland and Labrador
Shop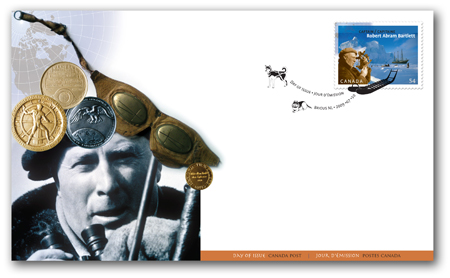 Product #: 403734121
Quantity: 19,000
OFDC Cancellation Location: Brigus, Newfoundland and Labrador
Shop