Mental Health
September 14, 2009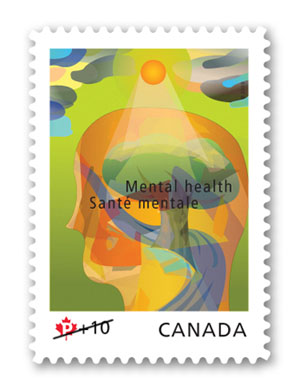 Did you know that one in five Canadians will suffer from a mental illness at some point in their lives? Unfortunately, despite its far-reaching scope, this issue is too often overlooked and stigmatized. In fact, it is so commonly kept hidden that it's been called the "Invisible Disease.
Last year, Canada Post set out to eliminate the stigma associated with mental illness so that those affected feel more able to discuss their challenges and seek solutions. We established the Canada Post Foundation for Mental Health, collecting donations at retail counters last fall during Mental Illness Awareness Week, and through the sale of a semi-postal (fundraising) stamp. Thanks to the generous support of Canadians, Canada Post has raised 1.2 million dollars for the Foundation over the past year, more than $300,000 of which came from the sale of the stamp. Funds will be used to help communities deliver mental health services to those in need, and to support families facing the challenges of mental illness.
This September, as we continue our pledge to raise awareness about this pervasive problem, a new PERMANENT™ domestic rate semi-postal stamp will be issued, again with a 10-cent surcharge. "The success of last year's fundraising campaign has proven that Canadians are ready to actively acknowledge and address mental illness and the stigma surrounding it," says Janie Randolph, Director of Canada Post's Cause of Choice. "With this new stamp, we can continue to heighten awareness and to raise funds to help those who are dealing with it.
The stamp, which features natural scenery flowing through the outline of a human figure, was designed by Vancouver's Signals Design Group. A tree was chosen as the stamp's central element because it symbolizes health, growth and maturity, all attainable for people affected by mental illness. The shape of the tree refers subtly to the human brain, while the path progresses towards better health and a fulfilled life. "I thought of this as a moment of hope for this individual—a moment when the clouds break and the sun shines through," explains John Belisle, Creative Director at Signals.
Working from his sketches, Belisle created this digital illustration by layering shapes and colours, a technique that captures the complexity of mental illness. The vivid colour palette captures the sense of hope that forms the core of the stamp's message. Kosta Tsetsekas, Principal at Signals, elaborates, "Instead of defaulting to a blue, cloudless sky, we opted for an unconventional green. It helps to show that people with mental illness may see the world from a different angle. But different doesn't mean wrong; in fact, this altered perspective can be creative and beautiful.
The stamp will be cancelled in Ottawa, home to the Foundation's headquarters.
To learn more about the Canada Post Foundation for Mental Health, or to make a donation, please visit www.canadapost.ca/foundation

Booklet of 10 stamps
$6.40
Product #: 413752111
Denomination: 1 x PERMANENT™ domestic stamp + 10¢ donation
Design: Signals Design Group
Dimensions: 24.75 mm x 35.25 mm (vertical)
Printer: Lowe-Martin
Printing Process: Lithography in 7 colours
Quantity: 3,750,000
Gum Type: Pressure sensitive
Illustration: John Belisle
Perforations: Simulated perforation
Tagging: General, 4 sides
Paper Type: Tullis Russell
OFDC Cancellation Location: Ottawa, Ontario
Shop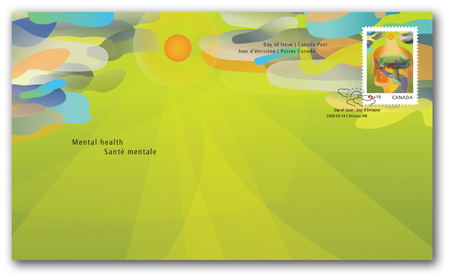 Product #: 413752131
Quantity: 19,000
OFDC Cancellation Location: Ottawa, Ontario
Shop